Page 1
Court of Appeal:
Onica Cole Was Properly Fired as Deputy City Attorney
Baker Says Employment Termination Not Excessive Penalty for Serving As Pro Tem Judge Despite Prohibition
By a MetNews Staff Writer
Onica Valle Cole—an unsuccessful candidate in the June 7 primary for Los Angeles city attorney—was appropriately fired as a deputy city attorney for insubordination, Div. Five of the Court of Appeal for this district held yesterday.
In her two ill-fated campaigns for election to the Los Angeles Superior Court, in 2016 and 2018, Cole ballyhooed her service as a pro tem judge. On three occasions in 2017, she sat in that capacity despite having been expressly denied permission by her office to so—in light of her reduced work hours, occasioned by an injury—giving rise to the finding of insubordination.
Also serving as a basis for the termination was falsifying a doctor's note as to her condition by adding to it a statement that she was undergoing therapy sessions, which she was not, and absenting herself from work pursuant to her supposed need for such treatment. Two charges contained in a proposed termination notice served on Sept. 5, 2017, that were omitted from the final notice served on Jan. 3, 2018, after a hearing, were that she falsely claimed to be unable to work on June 1, 2017 "Due to Workplace Injury," when she handled a half-day calendar that day, and mentioning her unauthorized service as a pro tem on her campaign website. In 2017, her "Onica for Judge 2018" website was in operation.
Chalfant's View
A full-fledged administrative hearing was held in 2018 and the termination was upheld, solely on the basis of insubordination. Los Angeles Superior Court Judge James Chalfant denied a petition for a writ of administrative mandamus, commenting:
"It is obvious that Cole was more interested in being elected as a judge than performing her job as Deputy City Attorney, and the reasonable conclusion is that she would act insubordinately again if it would benefit her in achieving this goal."
Chalfant noted that he would not have fired Cole over her disobedience of the order not to serve as a pro tem but said that City Attorney Mike Feuer did not abuse his discretion in imposing that penalty.
Baker's Opinion
Affirmance came in an opinion by Justice Lamar Baker, who wrote:
"[B]ecause termination was within the range of punishments for a single act of insubordination and Cole committed three such acts, substantial evidence… supports the trial court's finding that her termination was not a manifest abuse of discretion."
The opinion rejects Cole's contention that appeal procedures were inadequately delineated, in violation of Government Code §1126; observes that substantial evidence shows that denial of permission to work as a pro tem was not for discriminatory reasons; and declares that substantial evidence points to detriment to the unit in which Cole served if additional time were sapped from her "already limited work schedule."
Likelihood of Recurrence
Baker set forth:
"There was also substantial evidence suggesting a likelihood of recurrence. Cole served as a pro tem three times after her request to do so was denied….[N]othing in the record suggests Cole took responsibility for her actions or understood why they were problematic. Having thrice demonstrated her belief that her interest in volunteering as a judge pro tem was more important than her obligation to follow orders issued by her employer, it is reasonable to conclude she would continue acting in that manner in the future.
"Cole also suggests that she was barred from all volunteer work "beneficial to her psyche." This is not supported by the record, which indicates only that she was barred from service as a judge pro tem, a position the Office specifically identified as volunteer service requiring prior approval. Nothing in the record indicates the Office would, or could, have prevented her from volunteering as a Sunday school teacher."
Cole Comments
Cole said yesterday:
"The United States Constitution still matters, the outside employment regulation was and is unconstitutional on its face and as applied. May God give me the strength to persevere."
On her campaign website in her race for the post of Los Angeles city attorney (she came in sixth in a field of seven candidates), Cole had an explanation for the termination of her employment that differed from the reasons set forth by the city. She said:
"I worked in the City Attorney's office for 16 years as a Deputy City Attorney, but my career was cut short and I was fired for refusing to prosecute a case I knew was purely for profit and show. I am not ashamed of this fact, especially in light of recent allegations against the current City Attorney's office (and my former boss) for corruption and perjury. Los Angeles deserves a City Attorney that will restore justice to City Hall again."
She explained yesterday that her office wanted her to file an action under the Unfair Competition Law against Hermanidad Nacional, which she said is "a separate legal entity in Las Vegas" and that entity "was actually a victim of Gloria Saucedo (she used their name and reputation to defraud consumers.)"
Cole continued:
"They actually tried to write me up for insubordination for asking the Judge to conduct an investigation into our office for prosecutorial misconduct."
Cole was prosecutor in a case in which Saucedo and her business Hermandad Mexicana Transnacional, Inc. in 2016 were charged with three counts of failing to comply with the Immigration Consultants Act and two counts of unlicensed practice of law. (Saucedo would up pleading no contest to one count of unauthorized practice of law and was placed on probation and Hermandad pled no contest to an infraction of providing unauthorized paralegal services and was fined $2,000.)
The case decided yesterday is Cole v. City of Los Angeles, B304028.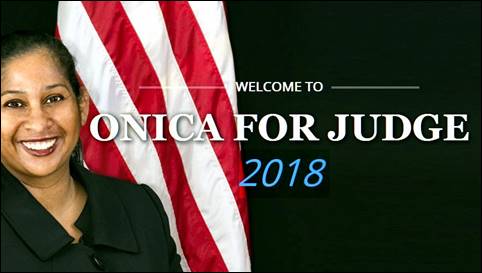 Onica Cole in 2017 had a campaign website promoting her candidacy in the next year's judicial election. Below is a screen shot from that website making reference to her service as a voluntary temporary judge for the Los Angeles Superior Court. At the time the claim appeared, she was under orders of her employer—the Los Angeles City Attorney's Office—not to provide such service. Insubordination was a ground for her termination as a deputy in that office. Her reference to that service on her campaign website was initially cited as a basis, but was eliminated from the final notice of termination. The Court of Appeal yesterday affirmed the denial of her writ petition challenging the termination.

Copyright 2022, Metropolitan News Company