Page 1
Husband-Slayer Not Entitled to Reversal of Her Conviction, Appeals Court Declares
Bedsworth's Opinion Rejects Contention That Statements Were Admitted in Violation of Miranda Decision
By a MetNews Staff Writer
Div. Three of the Fourth District Court of Appeal on Thursday affirmed the conviction of a woman for the murder of her husband, who was 21 years her senior, and conspiring with a man with whom she was having an affair, to do the deed, rejecting her claim that statements to police in violation of her Miranda rights were erroneously admitted into evidence.
Adrián Zapata, 58, was bludgeoned to death on his bed on May 22, 2014, and his wife, Olga Vásquez-Collazos, quickly came under suspicion and she was questioned multiple times by police in the Orange County city of Westminster. She was arrested following an interview on Nov. 25, 2014.
Police suspected her adulterous relationship with Roberto Saavedra, but Vásquez-Collazos insisted she only knew him casually and that he and Zapata had been friends. All three had come to the U.S. from Peru.
She had dated Saavedra in Peru but married Zapata, who lived and worked in Orange County. Two months after Vásquez-Collazos moved into her husband's Westminister apartment, Saavedra moved to the U.S. and rented an apartment in Van Nuys.
<![if !vml]>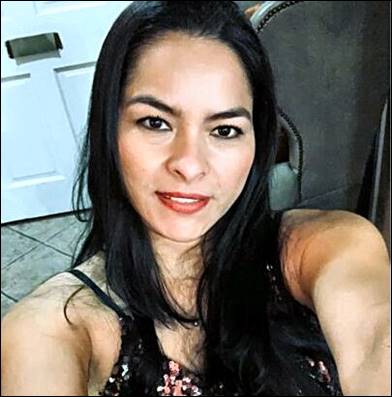 <![endif]>
OLGA VASQUEZ-COLLAZOS
murderer
Four-and-a-Half-Year Investigation
Evidence was, initially, too slim to warrant a prosecution, but the investigation continued. It was not until March 15, 2019, when Vásquez-Collazos returned from one of her several visits to Peru, that she was again arrested and taken to the police station for questioning.
She was not advised of her right to counsel before questioning began. This time, she admitted maintaining a relationship with Saavedra while married to Zapata and that lingerie found in Zapata's car on the day of the slaying was hers, and was a gift from Saavedra.
Vásquez-Collazos was charged with first-degree murder and conspiracy to commit murder, and was convicted. However, the jury found untrue that the murder was committed for financial gain, sparing the defendant from a sentence of life imprisonment without possibility of parole.
Motive Alleged
The prosecution had contended that Zapata was slain so that Vásquez-Collazos and Saavedra could have the victim's assets, including his penthouse in Peru, and derive benefits of his life insurance policy.
Orange Superior Court Judge Richard M. King sentenced her to 25 years to life in prison. Acting Presiding Justice William W. Bedsworth authored the unpublished opinion affirming the judgment. He wrote:
"We find appellant was not in custody for Miranda purposes during the 2014 interview so that interview was properly admitted into evidence at her trial. Regarding the 2019 interview, we hold appellant's Miranda advisement was legally insufficient for failing to inform her she had the right to an attorney before questioning. However, because appellant did not raise this issue below, and she has not proven her attorney was ineffective for failing to do so, there is no basis for reversal."
2014 Questioning
During the Nov. 25, 2014 interrogation, in Spanish, Officer Jim Garcia told Vásquez-Collazos that he knew Saavedra had murdered Zapata and declared that she was lying about her relationship with him, engendering suspicion. When Garcia commenced questioning her about a secret phone on which she carried on conversations with Saavedra, she said:
"[I]f you guys are accusing me of something, then I think I need to get a lawyer, right?"
Bedsworth wrote:
"She insists that even if that request for counsel was equivocal—which it certainly was—it was sufficient to require the officers to stop questioning and advise her of her Miranda rights. However, that argument puts the cart before the horse. Because the dictates of Miranda are not triggered until the suspect is in custody, the police are not required to cease questioning or administer Miranda warnings during a noncustodial interview, even if the suspect attempts to assert his Miranda rights."
He pointed out that while Vásquez-Collazos had not been expressly told she was free to leave, she was not told shge was under arrest, was not handcuffed, and officers did not draw their guns or otherwise show force.
"Viewing the totality of the circumstances surrounding the interview, we do not believe appellant was in custody until she was formally arrested," Bedsworth said. "Therefore, the trial court did not violate Miranda by admitting statements appellant made before that point." With respect to the admission of statements Vásquez-Collazos made at the March 15, 2019 interview, in the absence of an advisement as to her right to have an attorney present during questioning, Bedsworth said:
"A party must make a timely and specific objection to the erroneous admission of evidence in order to preserve the error for appeal….This rule applies even to errors of constitutional magnitude, like those involving the application of Miranda….Because appellant did not challenge her interview statements below on the basis her Miranda advisement was defective, she has forfeited her right to do so now."
The question that then arises, he noted, was whether her counsel provided inadequate representation by virtue of failing to object. He answered that the attorney erred but that reversal was not warranted.
"Because the right to speak with an attorney before police questioning is an integral safeguard against self-incrimination, and because appellant was not reasonably apprised of that right at the start of her 2019 interview, her Miranda advisement was defective, as was her purported waiver of rights," Bedsworth set forth, adding:
"Therefore, defense counsel was remiss for failing to move to suppress her interview statements on that basis."
Not Damaging
He went on to say, however:
"[A]ppellant never confessed. While the erroneous admission of a criminal confession is uniquely harmful to a defendant's prospects for success at trial, appellant never admitted any personal criminal wrongdoing. Nor did she incriminate Saavedra, for that matter. The most damaging aspect of her interview was her propensity to perpetuate the lies she had told during her previous interviews…."
Bedsworth drew the conclusion that "there is not a reasonable probability…appellant would have obtained a more favorable verdict had her 2019 interview statements been excluded from the trial."
The case is People v. Vásquez-Collazos, G060525.
Copyright 2022, Metropolitan News Company