Page 1
C.A. Affirms Dismissal of Defamation Suit Against Former Amazon CEO Bezos
By a MetNews Staff Writer
The Court of Appeal for this district yesterday affirmed the scuttling of a lawsuit against Amazon's former chief executive officer, billionaire Jeff Bezos and his head of security for defamation, holding that a Los Angeles Superior Court judge properly granted an anti-SLAPP motion in light of the plaintiff having failed to produce first-hand accounts of the statements in issue having been uttered.
The judge, John P. Doyle, found that while the lawsuit stemmed from protected speech, plaintiff Michael Sanchez did not satisfy the second prong of the anti-SLAPP statute, Code of Civil Procedure §425.16: showing a probability of prevailing on the merits. That was because, Doyle found, the only evidence of the statements having been made was Sanchez's declaration as to what reporters told him that Bezos and security specialist Gavin de Becker had said, which was hearsay.
Sanchez is the brother of former Fox News Anchor Lauren Sanchez, Bezos's ex-mistress. According to news reports, he was paid $200,000 by American Media LLC for copies of racy text messages exchanged by Bezos and Lauren Sanchez.
What he denies is that he supplied photographs of Bezos of a lewd nature. His lawsuit was based on the allegation that several reporters told him that Bezos and de Becker had accused him of being the source.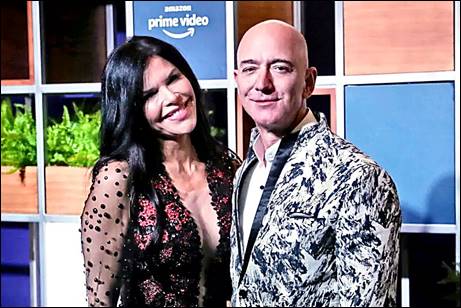 —AP
Ex-television anchor Lauren Sanchez is seen with entrepreneur Jeff Bezos in a 2020 photo. Sanchez's brother yesterday lost his bid in the Court of Appeal for reinstatement of his defamation lawsuit against Bezos which was dismissed after a judge granted a special motion to strike.
Bendix's Opinion
Justice Helen I. Bendix of Div. One authored yesterday's opinion affirming the judgment of dismissal and Doyle's order awarding the defendants $218,385 in attorney fees and $36,019.26 in costs. She wrote:
"Plaintiff is correct that a witness who personally hears a slanderous remark does not run afoul of the hearsay rule by testifying to the content of the remark and its speaker. Although the slanderous remark is an out-of-court statement, it is not being offered for its truth, but simply for the fact that it was uttered.
"Plaintiff, however, has not offered a declaration from anyone who personally heard defendants make any defamatory comments. Instead, he offered his own declaration describing what reporters purportedly told him defendants said….Whereas defendants' alleged defamatory comments are not being offered for their truth, the reporters' statements describing those comments and identifying defendants as the speakers are being offered for their truth. If what the reporters told plaintiff is not true, then he has no evidence of publication and no case against defendants. Accordingly, the reporters' purported out-of-court statements recounted in plaintiffs declaration are hearsay."
Amplifying, she said that "plaintiff necessarily offers the reporters' out-of-court statements for their truth, because those statements are the only evidence linking the purportedly slanderous comments to defendants."
Supreme Court Decision
The plaintiff, a talent agent, cited the California Supreme Court's 2019 decision in Sweetwater Union High School District v. Gilbane Building Co. for the proposition that hearsay may be admitted in connection with an anti-SLAPP motion if there is a reasonable possibility that non-hearsay will be offered at trial.
"We reject plaintiffs broad interpretation of Sweetwater, Bendix said, pointing out:
"[T]hat decision supports the proposition that out-of- court statements made under oath or penalty of perjury, such as in an affidavit, declaration, or transcript of prior court testimony taken under oath, may be considered for anti-SLAPP purposes, despite being hearsay. The reporters' unsworn out-of-court statements plaintiff offers in the instant case do not meet this requirement."
The case is Sanchez v. Bezos, B309364.
Copyright 2022, Metropolitan News Company