Page 8
EDITORIAL
Los Angeles Superior Court Office No. 116
EPUTY PUBLIC DEFENDER LLOYD HANDLER is a candidate for the Los Angeles Superior Court in the June 7 primary. He has embarked on an election assault on Judge David Gelfound, who holds Office No. 116, declaring, in essence, that Gelfound has it coming.
Handler contends in a position statement supplied to this newspaper that there is growing public sentiment in favor of "providing meaningful rehabilitation" of criminals "by addressing the root problems that led to their criminal behavior rather than merely incarcerating them," remarking:
"I believe that as State Court judges are subject to election, sitting judges who oppose these trends in public opinion should expect to be challenged."
Without pointing to any specific conduct on Gelfound's part or any particular utterances by him, the challenger proclaims the incumbent to be among the judges "deserving of a challenger" based on "their reactionary actions in the courtroom."
S WE SEE IT, A JUDGE WHO IS LAZY, erratic, testy, or biased, who fails to keep up with changes in the law or fails to apply the law faithfully, as it has been laid down by the Legislature or by higher courts, is someone who "should expect to be challenged." (Challenges to such judges occur far less frequently than they should; three derelict judges who come readily to mind regrettably drew no opposition this year.)
On the other hand, a judge who—like Gelfound—is industrious, temperate, knowledgeable, and fair should have no expectation, no worry, of being subjected to an election challenge, especially not by way of an intended punishment for being perceived by the competitor as not embracing a particular philosophy.
The challenge to Gelfound is, in our view, unwarranted and irresponsible.
ROBLEMS JUDGES" ARE NOT REWARDED with such assignments as being made supervising judges. Gelfound oversees the court's North Valley District which includes the San Fernando, Chatsworth, Santa Clarita courthouses.
He would not have been entrusted with that role if he did not enjoy the confidence of the bar. That he is vested with such faith on the part of lawyers is evidenced by the fact that he was honored by the San Fernando Valley Bar Association in 2019 as "Judge of the Year."
We have asked around. Gelfound is not controversial. Plainly, he is a highly regarded member of the judiciary.
ANDLER COMPLAINS THAT GELFOUND was remiss, as a supervising judge, in not cracking down on Judge Michael J. O'Gara for posting messages on Facebook critical of District Attorney George Gascón based on controversial special directives the D.A. issued. (Implementation of some of the soft-on-crime policies have been blocked by a Superior Court judge.) O'Gara drew a public admonishment by the Commission on Judicial Performance for his postings.
Handler criticizes Gelfound for not recognizing that O'Gara "may have been the wrong judge to officiate over a criminal calendar."
Yet, a supervising judge of a district has no disciplinary authority over judges in the district and assignments are made not by supervising judges but by the court's presiding judge. (As an aside, we view the commission's publicized rebuke to have been a gross overreaction, failing to take into account that a judge is a citizen, vested with the constitutional right of free expression on public issues, albeit within established limitations that are necessarily imposed in light of the judge's role. A "stinger letter" pointing to concerns that were raised by the postings would have been more appropriate; the public scolding, with the inevitable effect of stifling legitimate speech by judges, clearly was not warranted.)
Handler also asserts that Gelfound's supposed "attitudes" (not clearly defined) "infect the entire San Fernando courthouse" and that his role in running a diversion courtroom does not truly reflect a sincere commitment to alternative sentencing in light of the limited breadth of the program.
Gelfound has responded:
"My job is not to dictate to other judges how they are to rule on a given case or legal issue. Each judge in the district is an independent judicial officer who makes their own decisions, and I am precluded by law to reverse or overrule another judge's decision—that is the job of the Courts of Appeal."
He laments the lack of funding for programs to which his diversion court has access and for "other similar programs."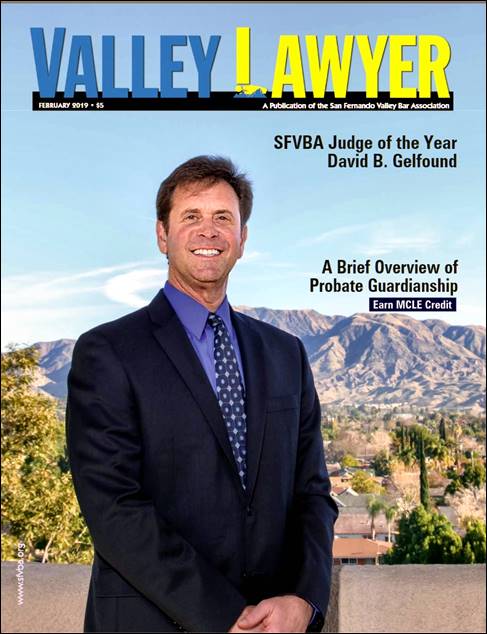 High regard for Gelfound on the part of the bar is reflected by his being named in 2019 by the San Fernando Valley Bar Association as "Judge of the Year."
NE JUDGE, IN A COMMUNICATION TO US IN RECENT DAYS, POINTS OUT:
"[T]to the extent the challenge is based upon the perception that he hasn't forced the other judges at San Fernando to follow the Gascon directives, or even to be more accommodating to things like diversion programs, this shows a fundamental misunderstanding of the role of the supervising judge. The role is administrative, and the supervising judge has no responsibility and indeed no right to become involved in any other judge's rulings. Judge Gelfound certainly deserves to remain in his position."
The colleague says of Gelfound:
"He is the epitome of what a judge should be. Fair-minded, friendly, and efficient. He's also been an outstanding leader of the bench in San Fernando. He has done nothing to warrant this challenge."
Another judge, who notes having known Gelfound for more than 25 years, "both as an attorney and as a Superior Court judge, a position he has held for over 14 years," remarks:
"I have found him to be intelligent, compassionate, open-minded, driven, honest, hard-working, ethical, fair and respectful—all qualities that must be possessed to be an excellent judge—which he is. A judge is mandated to be fair and impartial and to follow the law, which is exactly how Judge Gelfound approaches his job. He is the kind of guy who always takes the 'high road' when making a choice. His ethics and courtesy to others is beyond reproach. Judge Gelfound is the embodiment of the 'blind justice,' and he treats everyone who comes before him with respect and dignity. He ensures that all litigants in his courtroom receive 'equal justice under the law.'…Judge Gelfound is the type of judge that we should all strive to be."
A third colleague, acquainted with Gelfound for 15 years, commented yesterday. He terms Gelfound "a great man on all fronts" and "an excellent and fair judge," adding:
"The allegations that are being made as a basis for the challenge are outrageous, not true and activist in nature."
T IS TEMPTING TO POINT TO THE DEFICIENCIES of the challenger. But there is no need to do so under the procedure we have followed through the years of examining a challenger's qualifications only where there is reason to question the fitness of an incumbent to remain in office.
One judge's thoughts on the race, expressed in a Feb. 13 email, were quoted in the Feb. 15 issue of the METNEWS. The comments included a reference to Gelfound's "calm, deliberative, reasoned manner" and a labeling of the jurist as "the paradigm of an independent judicial officer."
Not quoted was the tag line:
"It is for that reason that I implore the Met News to wholeheartedly endorse the reelection of Judge David Gelfound."
We do, indeed, endorse Gelfound wholeheartedly—and decry the campaign offensive by a deputy public defender who has no reasoned basis for entreating voters to oust the worthy incumbent.
Copyright 2022, Metropolitan News Company