Page 1
Court of Appeal:
Hearing a Rumor Does Not Mark Start of Investigation
Probe of Law Enforcement Officer's Sexual Conduct Was Triggered by Inquiry to Him, Ramirez's Opinion Says, Rejecting Contention That One-Year Period for Looking Into Possible Cause for Discipline Was Exceeded
By a MetNews Staff Writer
The one-year period within which to conduct a disciplinary investigation of a law enforcement officer, provided for in the Public Safety Officer's Bill of Rights, does not commence upon higher-ups in the department hearing rumors of misconduct, Div. Two of the Fourth District Court of Appeal has held in rejecting the appeal of an ousted Sheriff's Department captain who had sexual relations with several females under his command.
"[R]umors of sexual relationships are not a sufficient basis to trigger the duty of investigation of misconduct leading to discipline," Presiding Justice Manuel A. Ramirez said in the opinion, filed Thursday. It affirms Riverside Superior Court Judge Irma Poole Asberry's denial of a writ of administrative mandamus sought by the former captain, Andrew Shouse.
It was in April or May of 2016 that Riverside Sheriff's Department Deputy Chief Lyndon "Ray" Wood heard rumors that Shouse was engaged in sexual relations with a deputy, Karen Birchard. In May of that year, Wood met with Shouse, who confirmed that he had an involvement with Birchard from 2010-15 and that she had been under his command during that time.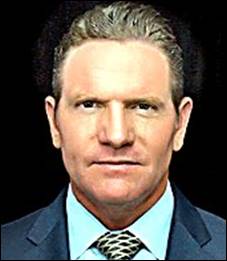 ANDREW SHOUSE
Former Sheriff's department captain
Other Relationships
It emerged from an investigation that Shouse had engaged in sexual relations with four other female deputies during the period from 2006 to 2016. On April 25, 2017, the department notified Shouse that he was fired.
That action, the appellant contended, was unlawful under Government Code §3304, a portion of the Public Safety Officer's Bill of Rights. It provides, with exceptions that were not applicable, that "no punitive action, nor denial of promotion on grounds other than merit, shall be undertaken for any act, omission, or other allegation of misconduct if the investigation of the allegation is not completed within one year of the public agency's discovery by a person authorized to initiate an investigation of the allegation of an act, omission, or other misconduct."
Shouse argued that the department did not complete its investigation within one year of it learning that it had a basis to conduct one, declaring that "there were at least a half-dozen supervisors and senior officers who were aware of allegations of misconduct involving Shouse prior to April 10, 2016, all of whom could have, like Chief Deputy Wood, initiated a complaint inquiry." Ramirez responded:
"The administrative record shows there were rumors of petitioner having intimate relationships and drinking to excess, but petitioner omits to identify a single officer who was 'authorized to initiate' an investigation or demonstrate that the public agency had determined that discipline should be taken prior to May 2016."
On-Duty Sex
He set forth:
"In the present case, there is no dispute that Chief Wood was the officer 'authorized to initiate an investigation.' However, his testimony at the administrative hearing reveals while he had heard rumors of sexual relationships between petitioner and female deputies, it could not be determined that these relationships were 'improper' in violation of Department polices. As both Chief Wood and Undersheriff [Joseph] Cleary each testified, the issue of petitioner having sexual relationships wasn't the issue; it was petitioner's failure to report the relationships to the Department, and petitioner's conduct in having sex with female deputies while on duty that was improper. Thus, while he may have been aware of certain conduct, it was premature to initiate an investigation of misconduct unless and until he learned that petitioner was engaged in misconduct."
Under a department directive, the jurist pointed out, Shouse's sexual relations with a deputy would only be improper if she were under his command. He wrote:
"Wood testified that before his conversation with petitioner in May 2016, he did not know whether Birchard was in petitioner's chain of command. Because this fact is the critical fact in determining if petitioner had committed misconduct in violating Department directives, which would subject petitioner to investigation and discipline, and because the evidence is undisputed that Chief Wood gained this information in May 2016, the investigation, which concluded with the Departmental Notice of Intent in April 2017, was timely initiated."
Ramirez commented:
"We are certain petitioner does not wish to promote a policy of launching into the intimate relationships of public safety officers on the basis of mere rumors. Instead, an investigation into conduct that can have a devastating impact on the career of a public safety officer should only be initiated when the officer authorized to initiate an investigation knows or has reason to know that the conduct involves actionable misconduct.
"An officer authorized to initiate an investigation should not be required to do so on the basis of unsubstantiated rumors."
The case is Shouse County of Riverside, 2022 S.O.S. 5528.
Robert M. Rabe, Michael P. Stone, and Muna Busailah of the Pasadena firm of Stone Busailah represented Shouse and Donald V. Le and Jennifer M. Rosner of the Century City firm of Liebert Cassidy Whitmore were attorneys on appeal for the county.
Copyright 2022, Metropolitan News Company