Page 1
Court of Appeal:
Lawyer's Recitation of Client's Allegations Not Privileged
Accusations Against Television Surgeon Dubrow Were Not Protected Because a Complaint Containing Them
Had Not Yet Been Filed, Opinion Says, Affirming Denial of an Anti-SLAPP Motion in a Defamation Action
By a MetNews Staff Writer
A lawyer's statement to a celebrity-news website that his client's plastic surgery was "botched" because the doctor, about to be filmed for his television show operating on another patient, was in a hurry is not protected by the "fair report" privilege inasmuch as his comments related to allegations that were to be made in a forthcoming lawsuit and not to present litigation, Div. Three of the Fourth District Court of Appeal held yesterday.
In light of the unavailability of the privilege provided by Civil Code §47(d)(1), Orange Superior Court Judge Nathan R. Scott properly denied an anti-SLAPP motion made by Texas attorney Stephen Le Brocq, the court said. Le Brocq is being sued for libel and false light invasion of privacy by Newport Beach surgeon Terry Dubrow, co-host and co-executive producer of the E! network reality show, "Botched."
In that show, Dubrow corrects surgery performed by others.
Le Brocq is the attorney for a former patient of Dubrow, Sandy Scoggins. She sued him on Oct. 12, 2020, in the U.S. District Court for the Southern District of Texas for malpractice and other torts; the action was transferred to the Central District of California on June 7, 2021; it was dismissed, pursuant to stipulation, last Dec. 17.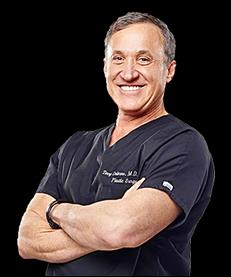 TERRY DUBROW
surgeon
Comments Requested
However, that action had not yet been filed when Le Brocq responded, by email, to "Page 6"'s request for comment on the surgeon's Los Angeles Superior Court petition seeking an order for arbitration, pursuant to a contractual provision, of Scoggins's claims against him. His comments appear at right.
Scroggins's malpractice claims had been set forth in two demand letters. Dubrow asserted they were efforts at extortion.
Le Brocq related his client's allegations to Page 6 on Oct. 8, 2020—four days before the complaint was filed in Texas. He contended that Dubrow "rushed a surgery," leaving medical implements in Scroggins's body, "to get to filming his TV show."
His remarks were picked up by TMZ.
Zelon's Opinion
 Yesterday's unpublished opinion affirming the denial of an anti-SLAPP motion in Dubrow's defamation action was authored by retired Justice Laurie Zelon (formerly of this district's Div. Seven), sitting on assignment. She wrote:
"Whether the fair report privilege can apply depends first on whether Le Brocq was commenting on an existing judicial proceeding. When Le Brocq made the statements to Page Six and TMZ, only one judicial proceeding was underway—Dubrow's petition to compel arbitration. That petition was very limited in scope. In it, Dubrow alleged that Scoggins had claimed Dubrow committed medical malpractice and was threatening to sue Dubrow in federal court unless Dubrow paid her $5,000,000. Dubrow also alleged that Scoggins had signed a contractual arbitration provision before her surgery, and that the malpractice contentions must therefore be decided by an arbitrator. The statements by Le Brocq to Page Six and TMZ, in contrast, pertain to a proceeding that had not yet been commenced. Moreover, the statements contained information well outside the scope of the arbitration petition, which Le Brocq had not even reviewed at that time. Therefore, Le Brocq's statements were not a fair report on a judicial proceeding."
Civil Code §47(d)(1) renders privileged "a fair and true report in, or a communication to, a public journal, of…a judicial…proceeding."
Precedent Cited
Zelon noted that Le Brocq did not deny that the action stemmed from protected activity—the first prong of the anti-SLAPP statute, Code of Civil Procedure §425.16—and therefore jumped to the second prong: an inquiry as to whether the plaintiff has a probability of prevailing on the merits. In finding that the statements were not privileged, Zelon cited the Dec.19, 2016 opinion from Div. One of this district's Court of Appeal in Healthsmart Pacific, Inc. v. Kabateck.
There, it was held that statements by downtown Los Angeles plaintiffs' attorney Brian Kabateck to Fox 11 and civil litigator Robert Hutchinson to CBS radio were shielded by §47(d)(1) because "fair and true communications to the news media about allegations in a complaint are covered by the privilege" and their statements mirrored averments in a pleading.
Zelon found that, by contrast, Le Brocq was not protected because "he had not made the allegations in an existing proceeding."
The case is Dubrow v. Brocq, G060450.
Copyright 2022, Metropolitan News Company