Page 1
C.A. Disallows Attorney-Fee Award Before Final Judgment
Fees Were Granted Pursuant to Fee-Shifting Proviso in Contract After Plaintiffs, on Summary Adjudication,
Prevailed on Their Sole Cause of Action Under That Contract; Award, Opinion Says, Was Premature
By a MetNews Staff Writer
The First District Court of Appeal on Friday reversed an order granting roughly $1.1 million in attorney fees to a group of tenants who won, by means of summary adjudication, on their sole cause of action on a contract that provided for fees to the prevailing party, with the justices explaining that once the non-contract claims are adjudicated, the tenants might not be the overall victors.
A ruling on summary adjudication is an interim one, Div. Four said, declaring that an award of fees is premature in advance of a final determination of all causes of action.
Justice Tracie L. Brown's opinion—which addresses an issue of first impression—comes in a case in which residents of San Francisco's Chinatown are claiming unlawful and abusive actions by property manager Valstock Ventures, LLC, and others. San Francisco Superior Court Judge Ethan P. Schulman on Nov. 18, 2020, awarded attorney fees in the amount of "$1,113,860.75 in favor of the plaintiffs after determining that the original leases they signed, in both Chinese and English, were the operative instruments, not an oppressive version, in English only, they were bullied into executing.
"Plaintiffs prevailed 'on the contract' when the Court determined that the original lease regulates the tenancies," Schulman explained.
However, causes of action remain to be tried under the Fair Employment and Housing Act, the Unfair Competition Law, and a San Francisco housing ordinance.
Civil Code §1717
Brown said that although Civil Code §1717, which governs awards under contractual fee-shifting provisions, does not spell out "when a trial court may make a fee award," its wording "generally supports Valstock's contention that fees should be awarded only at the complete end of litigation, including on non-contract claims."
She drew attention to §1717(b)(1) which provides that, in general, the party prevailing on the contract shall be the party who recovered a greater relief in the action on the contract." She reasoned:
"The use of the past tense in the definition of a prevailing party for the purposes of section 1717 as the party who "recovered" indicates that the determination would be made after a final resolution of the litigation, not merely an interim resolution of only some of the causes of action in the case."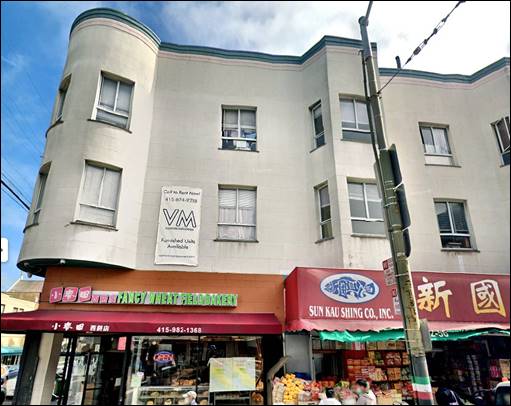 Depicted above is a building at Stockton and Vallejo streets in San Francisco's Chinatown. Tenants in residential units on the upper floors are suing the building management company, alleging oppressive conduct. The Court of Appeal on Friday invalidated, as premature, an award of attorney fees based on their victory on a contract cause of action.
Other Wording
The justice also pointed out:
"Section 1717, subdivision (a) states, in pertinent part, 'In any action on a contract, where the contract specifically provides that attorney's fees and costs, which are incurred to enforce that contract, shall be awarded either to one of the parties or to the prevailing party, then the party who is determined to be the party prevailing on the contract, whether he or she is the party specified in the contract or not, shall be entitled to reasonable attorney's fees in addition to other costs' (Italics added.) The same subdivision later declares, 'Reasonable attorney's fees shall be fixed by the court, and shall be an element of the costs of suit' (Italics added.)
"The inclusion of section 1717 fees as an element of costs is significant because costs are awarded at the end of an action. Section 1032 of the Code of Civil Procedure defines the prevailing party entitled to costs in terms of the total outcome of the litigation."
Sec. 1717 was amended in 1986 and 1987, she noted, and there's nothing in the legislative history indicating an intent to authorize the award of attorney fees before the litigation has terminated.
Brown observed that—while there are some exceptions, such as in family law cases, private attorney general actions, and where a special motion to strike has been granted as to only a portion of a pleading—"interim attorney's fees awards are anomalous in civil litigation."
The case is Chen v. Valstock Ventures, LLC, A161885.
A jury trial in the case commenced on June 2 but a mistrial was declared after it was ascertained that two jurors had tested positive for COVID-19.
Allegations of Complaint
The allegations of the amended complaint in the case portray egregious conduct. The pleading alleges:
"This case pits a group of low-income, mostly elderly, Chinese-speaking tenants who are longstanding residents of San Francisco's Chinatown neighborhood…against a family of predatory landlords and their agents who have deliberately engaged in a sustained campaign of unlawful intimidation, coercion, discrimination, and harassment designed to pressure these long-time tenants out of their homes in pursuit of profit."
It alleges that the defendants "have threatened and levied arbitrary and unlawful fines and fees on tenants, confiscated their property without their consent, trashed their personal clothing in dumpsters, posted false and misleading notices on their doors without adequate translation to Chinese, threatened them with punitive measures and legal action, and engaged in a concerted campaign to intimidate them from organizing to protect their rights."
Valstock in 2016 took over management of the building at 1350 Stockton Street. The plaintiffs aver that it "began a campaign of repeated and sustained harassment designed to push senior, low-income, and monolingual Chinese tenants out of the building."
English-Only Lease
The complaint tells of the new lease which Schulman invalidated:
"Now, VALSTOCK is brandishing a new lease in an effort to provide cover for their unfair and unlawful tactics. No later than the fall of 2017, VALSTOCK began unilaterally taping multi-page, English-only leases…on tenants' doors, falsely stating that the tenants did not have a current lease and instructing them to sign the new English-Only Lease. In fact, VALSTOCK knew that its representations were false—every Individual Plaintiff had, and continues to have, a previously negotiated, valid, and enforceable lease. Nowhere did VALSTOCK inform the Individual Plaintiffs of that fact, or that their tenancies would continue to remain valid even if they did not sign the English-Only Lease. Unsurprisingly, this new untranslated lease contains numerous provisions that were not present in the tenants' prior leases. Nor is it surprising that those leases impose harsh terms, including arbitrary and excessive fines and fees for hanging laundry, for paying rent late, or for getting locked out of their apartments."
Valstock filed a general denial.
Copyright 2022, Metropolitan News Company