Page 1
VanDyke Slams Fletcher and Visiting Jurist Over Opinion
In Dissent to Order Denying En Banc Review, Jurist Accuses Three-Judge Panel's Majority of Unorthodox Decisionmaking, Chides Ninth Circuit Over High Reversal Rate
By a MetNews Staff Writer
Ninth U.S. Circuit Court of Appeals Judge Lawrence VanDyke, in a dissent to an order denying en banc review of a decision by a three-judge panel, excoriated that panel's majority for stuffing its opinion with "an odd and lengthy dicta discussion" taking a "weird" approach, and engaging in a "bizarre and gratuitous frolic" by launching into a discourse on a "made-up issue."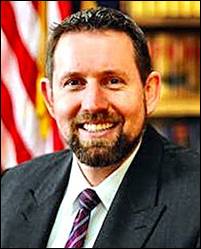 LAWRENCE J. VANDYKE
Judge, Ninth U.S. Circuit
Court of Appeals
He also derided the circuit for its high level of reversals in the U.S. Supreme Court.
 Van Dyke's dissent, filed yesterday, begins with a slap at his court for its pattern of defying the dictate of the Antiterrorism and Effective Death Penalty Act of 1996 ("AEDPA") that deference be accorded, in acting on habeas corpus petitions, to state court determinations, resulting in a high rate of reversals, remarking in a footnote:
"To give credit where credit is due: my diligent clerk did prepare a very nice string-cite spanning multiple pages. But including it felt awkward—like trying to shame a career offender with his rap sheet."
The opinion ends by citing a website which, he said, shows "our court was reversed 15 out of 16 times in the October 2020 term, three times more than any other circuit."
Criticizes Fletcher's Opinion
VanDyke, appointed by President Donald Trump and assuming office on Jan. 2 of last year, is the court's newest member. Authoring the June 8 opinion he disparaged was an appointee of President Bill Clinton, Circuit Judge William A. Fletcher, who went on the court on Oct. 9, 1998. Joining in Fletcher's opinion was another Clinton appointee, District Court Judge Donald W. Molloy of the District of Montana, sitting by designation. Circuit Judge Ryan D. Nelson, a Trump appointee who has served since Oct. 18, 2018, wrote a concurring and dissenting opinion.
The primary issue was whether Keith Undray Ford's conviction of first-degree murder can stand in light of the prosecutor having told jurors:
"This idea of this presumption of innocence is over. Mr. Ford had a fair trial. We were here for three weeks where...he gets to cross-examine witnesses; also an opportunity to present evidence information through his lawyer. He had a fair trial. This system is not perfect, but he had a fair opportunity and a fair trial. He's not presumed innocent anymore." Other remarks by the prosecutor were to the same effect.
California Decision
Then-Court of Appeal Presiding Justice Barbara J.R. Jones (now retired) of the First District's Div. Five said in a Sept. 10, 2014 unpublished opinion upholding the conviction:
"[W]e conclude any assumed error is harmless under either the state…or federal constitutional standard…. The court instructed the jury Ford was presumed innocent until the contrary was proven beyond a reasonable doubt…and to disregard any conflicting statements made by the attorneys concerning the law….Additionally, the prosecutor repeatedly reminded the jury of his burden to establish guilt beyond a reasonable doubt. The jury was properly informed about the prosecution's burden. Finally…, the evidence of Ford's guilt was strong."
The California Supreme Court denied a petition for review.
Initial Opinion
District Court Judge Morrison C. England Jr. of the Eastern District of California denied Ford's petition for a writ of habeas corpus. In its initial opinion in the case, filed Sept. 28, 2020, the Ninth Circuit panel's majority reversed England's decision. Writing for himself and Molloy, Fletcher said the prosecutor's statement violated due process and that, under the U.S. Supreme Court's 1986 holding in Darden v. Wainwright, reversal was required if it were reasonable that the error affected the outcome. The Court of Appeal's determination that the error was harmless, he said, was "unreasonable."  In his dissent, Nelson accused the majority of "ignoring the highly deferential standard we owe to the California Court of Appeal's harmlessness conclusion under the Antiterrorism and Effective Death Penalty Act."
Second Opinion
The panel granted a rehearing sought by the warden at the California Correctional Center at Susanville, and on June 8 rendered a new opinion affirming England's denial of relief. This time, Fletcher said:
"Even with AEDPA deference, we view this as a close case. But we hold that a reasonable jurist could have concluded that there was no reasonable probability that, in the absence of the prosecutor's statements that the presumption of innocence was 'over,' the jury would have reached a different conclusion, for there was substantial evidence of guilt…."
He also wrote:
"Because the California Court of Appeal assumed without deciding that the prosecutor misstated the law, there is no state-court decision to which we can defer on this point. However, even if there were a state-court decision holding that the prosecutor did not misstate the law, we would conclude that such a holding would have been unreasonable. In stating that the presumption of innocence was 'over,' the prosecutor misstated clear and long-standing federal law as articulated in a number of Supreme Court decisions. A jury must evaluate the evidence based on the presumption that the defendant is innocent. If the jury concludes beyond a reasonable doubt that the defendant is guilty, then—and only then-—does the presumption disappear."
In a concurring and dissenting opinion, Nelson took issue with Fletcher's comment that "even if there were a state-court decision holding that the prosecutor did not misstate the law, we would conclude that such a holding would have been unreasonable." He asserted:
"[T]his dictum is not germane, not well-reasoned, and thus not binding on any future panel. In reversing course on harmlessness, the majority ultimately backs into the correct result. But the majority's analysis remains riddled with unnecessary errors."
VanDyke's Concern
VanDyke, in yesterday's dissent from the order denying en banc review, said it's not clear that the dictum would not be latched onto into the future and declared to be compelling, noting that the Ninth Circuit has declared "well reasoned" dicta to be binding.
He charged:
"The majority's misstatement-of-law dicta misconstrues the Darden inquiry, is substantively wrong, misapplies AEDPA deference, and inappropriately predicates its conclusion on a made-up state-court decision. Given the dicta's utter irrelevancy to the prejudice-focused Darden analysis or the record before it, the majority's insistence on its inclusion in its revised opinion suggests that the dicta is not really meant for this case. Its refusal to remove the dicta evinces a more sinister motivation: after being forced to withdraw its original, deeply flawed opinion, the panel majority is seeking to wring some drop of lemonade from what it now perceives to be a lemon of a case by squeezing a completely advisory rule into its revised opinion. In doing so. the majority is trying to lay the groundwork for future AEDPA cases by proffering dicta that it hopes will simply be accepted as binding by future parties and panels of our court."
Jurist's Analysis
The circuit judge provided this commentary:
"[T]his case takes our habeas dysfunction to a new level. Initially, the panel majority here refused to provide AEDPA deference, granting habeas relief to Petitioner Keith Ford in a split opinion. Confronted with an en banc petition, the panel was forced to reverse itself, issuing an amended opinion that, this tune, begrudgingly deferred to the state court's conclusions on the part of Ford's case that mattered, and so appropriately denied habeas relief. As Judge Nelson observed in his partial dissent from the panel's amended opinion, this was a commendable move that likely saved the panel majority from being reversed either by our own court en banc or by the Supreme Court….
"If that had been all that the panel majority did. there would be cause for celebration in the West and hope that perhaps our court was really turning over a new leaf. But alas, like a sullen kid who spits in the cookie jar after being caught red-handed, the panel majority decided that if they couldn't get away with directly defying AEDPA in this case, they could at least opine in their revised opinion about how they would refuse to defer to a purely hypothetical state court ruling not presented in this case at all."
'Pummeling a Strawman'
VanDyke continued:
"This appears to be an entirely new phenomenon. Our court has a well-documented habit of not properly deferring to actual state court rulings in AEDPA cases, including a long list of summary reversals from the Supreme Court. But I'm not sure I've ever seen our court make up a pretend state court ruling just so it could refuse to apply AEDPA deference to it while pummeling a strawman of its own making. Weird.
"Have things gotten so bad for my AEDPA-disdaining colleagues that they are forced to invent stuff that then can then hypothetic ally refuse to defer to. secure in the knowledge that at least those advisory rulings won't get reversed? It's possible.
"But I tend to think they're likely trying to do something more nefarious. Instead of starting down a new path of issuing advisory AEDPA fumbles, our court should have taken the panel's amended opinion en banc to nip this new practice in the bud. And in doing so. we could have taken this opportunity to clarify our badly amorphous 'binding dicta' rule, making clear that attempts like the panel majority's here won't work. Because we didn't, I respectfully dissent from the denial of rehearing en banc."
The dissent comes in Ford v. Peery, 18-15498.
Copyright 2021, Metropolitan News Company