Page 1
Ninth Circuit:
No Royalties Under California Law for Playing Pre-1972 Songs on Sirius XM
By a MetNews Staff Writer
A 1982 amendment to California's 1872 copyright statute, maintaining "exclusive ownership" of existing sound recordings in the creators, does not extend to "public performances," the Ninth U.S. Circuit Court of Appeals held yesterday, stripping the two founding members of The Turtles of a partial summary judgment against Sirius XM satellite radio for royalties based on the playing of "Happy Together" and other songs.
Circuit Judge Kenneth Kiyul Lee authored the opinion for a three-judge panel.
Although Howard Kaylan and Mark Volman, founders of the rock band which attained huge success in the mid-1960s, reached a settlement with Sirius in 2016 of a class action after liability had been proclaimed by District Court Judge Philip S. Gutierrez of the Central District of California and before a jury was empaneled to determine damages.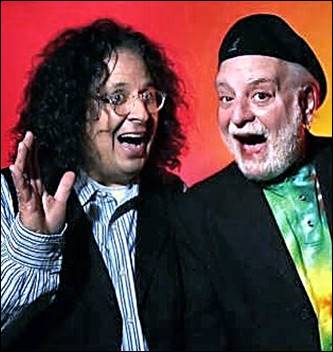 Above are Howard Kaylan and Mark Volman, who perform as Flo & Eddie. They founded The Turtles, a rock band, in 1965, and formed Flo & Eddie, Inc. in 1971. The corporation, which holds copyrights on their songs, including their 1967 hit, "Happy Together," lost to Sirius XM yesterday in the Ninth U.S. Circuit Court of Appeals in a dispute over royalties.
State Laws Invoked
Kaylan and Volman, suing as Flo & Eddie Inc., which they formed in 1971, brought actions under state laws because, up until 2018, digital and satellite radio providers such as Sirius were not obliged to pay royalties based on broadcasting pre-1972 recordings. But, they contended, royalties were due under the laws of New York, Florida, and California.
The Second U.S. Circuit Court of Appeals, after certifying the question to the New York Court of Appeals, and the Eleventh U.S. Circuit Court of Appeals, after consulting the Florida Supreme Court, ruled in favor of Sirius.  
"With these losses in the Second and Eleventh Circuits," Lee observed, "Flo & Eddie has nowhere to run but to the Ninth Circuit."
He noted that if Flo & Eddie were to win in the Ninth Circuit, the class would receive about $5 million, in addition to the fixed $25.5 million rate ($25 million in royalties and $500,000 for an administration fee) payable under the settlement.
"At issue in this case is whether California law creates a right of public performance for owners of pre-1972 sound recordings," Lee said, finding that it does not. His conclusion was based on California's adherence to common law except where a statute expressly abrogates it.
At right is California's Civil Code §980, as it appears in the 1872 Civil Code:
Sec. 980(a)(2), enacted in 1982, provides:
"The author of an original work of authorship consisting of a sound recording initially fixed prior to February 15, 1972, has an exclusive ownership therein until February 15, 2047, as against all persons except one who independently makes or duplicates another sound recording that does not directly or indirectly recapture the actual sounds fixed in such recording, but consists entirely of an independent fixation of other sounds, even though such sounds imitate or simulate the sounds contained in the prior sound recording."
Lee's Opinion
Lee wrote:
"[N]o court as of 1872 had recognized the right of public performance under any nascent understanding of copyright law, So when California first enacted its copyright statute in 1872, the term 'exclusive ownership' almost certainly did not include a right of public performance. Rather, 'exclusive ownership' referred, and still refers, to the owner's common law copyright in an unpublished work to reproduce and sell copies of that work."
He went on to say:
"Flo & Eddie suggests that we need not bother with the 1872 common law understanding of 'exclusive ownership' because that was yesterday. We should instead look at California's modern 1982 version of Section 980. But the statute's use of the term 'exclusive ownership' has remained unchanged for almost a century-and-half, despite the legislature's three amendments to the statute in 1947, 1949, and 1982. We see no textual reason to believe that the California legislature retained the same statutory language yet altered the original meaning of 'exclusive ownership' as it existed in 1872.
"…[I]f 'exclusive ownership' under California's common law in 1872 did not include the right of public performance, then that original meaning of 'exclusive ownership' remains the only legal meaning unless the California legislature expressly changed it. Flo & Eddie does not point to any evidence suggesting that the California legislature intended to upend the common law understanding of 'exclusive ownership' when it enacted its first copyright statute in 1872."
The case is Flo & Eddie v. Sirius XM Radio, 17-55844.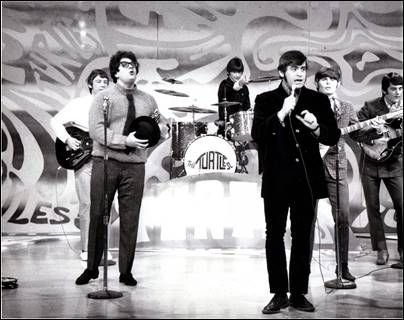 The Turtles are seen performing "Happy Together"—termed by Ninth U.S. Circuit Court of Appeals Judge Kenneth Kiyul Lee "their iconic anthem" on the Ed Sullivan Show on May 14, 1967. Lee wrote yesterday's opinion which reverses a District Court decision which, upheld, would have added $5 million to the settlement of a class action against Sirius led by Flo & Eddie, Inc. which holds the copyright on the band's songs.
Copyright 2021, Metropolitan News Company