Page 1
Judge Rolf M. Treu Goes Into Retirement
By a MetNews Staff Writer
Los Angeles Superior Court Judge Rolf M. Treu's last day on the bench was yesterday.
He will be using up earned vacation time between today and his official retirement date of Aug. 16.
"It has been my privilege to serve the people of our state for over 26 years," Treu said yesterday. "The friendships and collegiality of my peers has been a great blessing to me as has been the leadership of the court over the years."
He added:
"My joy has been in my work. I leave this stage of my life with the sure knowledge that new blood will be in the court's best interest.
"I plan to travel and stay active in court-related matters."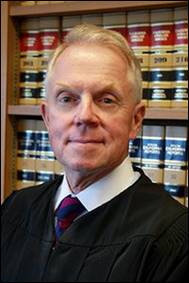 ROLF M. TREU
Retired Judge
1995 Appointment
Treu, 72, was appointed by then-Gov. Pete Wilson in 1995 to the Citrus Municipal Court. He was presiding judge of the court—its facility being located in located West Covina—in 1999 and 2000.
It was in 2000 that municipal courts were merged into the Los Angeles Superior Court. After unification, he requested and received a transfer to the Mosk Courthouse and was assigned to family law.
He held that assignment for 2½ years, and was then shifted to a civil assignment, remaining there until 2016, when his request to return to family law was granted. Treu presided over a long cause courtroom.
Treu, who was born in Germany, received his law degree from Loyola in 1974. He was an associate in Ritner, Lockwood, Zanghi and Gartner from 1975-78, was in private practice in El Monte from 1978-82, and practiced in West Covina from 1982 until his appointment to the bench in 1995.
FEHA Case
His rulings have spawned several published appellate court decisions. In a Jan. 14, 2010 opinion by then-Justice Joyce Kennard, it reversed an opinion of the Court of Appeal for this district in which his decision denying attorney fees in a case brought under the Fair Employment and Housing Act ("FEHA") was upset.
The award in the case was for $11,500, and given that the amount was less than the $25,000 jurisdictional limit for an unlimited civil case, Treu reasoned that Code of Civil Procedure §1033(a) applied. That section authorizes denial of costs where the amount of the judgment could have been obtained in a limited jurisdiction courtroom.
The Court of Appeal held that "section 1033 does not apply in actions brought under FEHA." The Supreme Court declared that it does.
For years, Treu rode his bicycle to and from his home, located about 20 miles from the Mosk courthouse.
Copyright 2021, Metropolitan News Company