Page 1
Ninth Circuit:
Instagram Ads Aimed at U.S. Create Jurisdiction Over Foreign Company
By a MetNews Staff Writer
The U.S. District Court for the Northern District of California has jurisdiction over an Australian company that directs ads on Instagram to U.S. consumers, the Ninth U.S. Circuit Court of Appeals held on Friday, reinstating a trademark infringement action brought by a San Francisco-based producer of skincare and hair products.
The District Court recited that the operation of a website offering online sales of products does not establish the minimal contacts with the forum which due process requires for the exercise of extraterritorial jurisdiction, and that "something more" is required. It found that "something more" was lacking; the Ninth Circuit found that advertisements on Instagram aimed at U.S. consumers
Plaintiff Ayla, LLC alleges that the Australian company, Alya Skin Pty. Ltd., founded in 2018, "has attempted to capitalize on Ayla's valuable reputation and customer goodwill in the AYLA® Mark by using the confusingly similar ALYA and ALYA SKIN marks in connection with the advertisement, marketing, promotion, sale, and/or offer for sale of beauty supplies and retail store services in a manner that creates consumer confusion."
District Court's Action
District Court Judge Haywood S. Gilliam Jr. on Nov. 13, 2019, dismissed the action for lack of personal jurisdiction, saying:
"Alva Skin's principal place of business is located in Victoria, Australia….Thus, as Plaintiff concedes, the Court docs not have general jurisdiction over Alva Skin….
"Nor does the Court have specific personal jurisdiction over Alva Skin."
Gilliam said that Alya Skin Pty. does not aim its sales efforts at California, has no presence in the state, and less than two percent of its online orders are placed by Californians. Nor is there nationwide jurisdiction, he declared, explaining:
"Defendant's contacts with the United States are very limited. Defendant's marketing strategy is global in nature, reaching customers around the world through Instagram influencers. That some are located within the United States does not establish purposeful injection, especially when the influencers' followers are not necessarily from any specific region."
Ninth Circuit's Opinion
The Ninth Circuit disagreed. Writing for a three-judge panel was District Court Judge Jed S. Rakoff of the Ayla Southern District of New York, sitting by designation.
He wrote:
"By advertising on Instagram with the words 'ATTENTION USA BABES WE NOW ACCEPT afterpay,' Alya Skin targeted its promotional materials specifically towards the United States. This post was an intentional, explicit appeal to American consumers and no others. "The district court found that Alya Skin's marketing targeted sales internationally rather than specifically at Americans. But, in so finding, the district court ignored instances where Alya Skin did target its sales specifically at Americans, most notably the 'ATTENTION USA BABES' post. Moreover, the district court improperly discounted the significance of Alya Skin's advertising for 'Black Friday' sales, i.e.. sales on the day after the U.S.'s distinctive Thanksgiving holiday. Although Alya Skin presented evidence that Black Friday is 'slowly catching on in Australia.' Alva Skin's own evidence underscores that Black Friday originated in the U.S. and remains 'America's biggest shopping day.' "
In light of the "purposeful direction" of its sales efforts to the United States, Rakoff said, it does not matter that less than 10 percent of the defendant's worldwide sales are to this nation.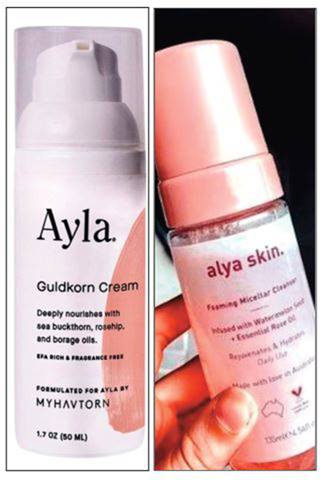 At left is an Ayla product manufactured by a San Francisco company and at right is an Ayla Skin product offered by an Australian rival. The Ninth U.S. Circuit Court of Appeals on Friday held that the U.S. District Court for the Northern District of California has specific personal jurisdiction over the Australian company.
Direct Sales Offered
He pointed out:
"Alya Skin offers its products directly for sale to the United States on its website. Though some of its sales to the United States may have occurred through third-party websites, like Instagram and Facebook, Alya Skin operates those social media accounts. Further, Alya Skin is not a parts manufacturer with no control over the ultimate distribution of its products."
Rakoff noted that Alya Skin ballyhoos that its products are "FDA approved," remarking:
"Obtaining and advertising approval by the FDA, a United States regulatory agency, is an appeal specifically to American consumers for whom the acronym 'FDA' has meaning."
Messages on Website
The company's website has a feature allowing orders to be placed in U.S. dollars. It advises:
"Shipping within the USA takes between 1-4 business days. We have a warehouse in USA so that we can ship domestically to all our USA customers."
It also says:
"We are based in Melbourne, Australia. We ship from two locations, Australia and USA. Depending on stock levels, your order will be shipped from either of our two warehouses."
Rakoff's opinion notes that all shipments except to Australia and New Zealand are from a company in Idaho.
The case is Ayla, LLC v. Alya Skin Pty. Ltd., 20-16214
Copyright 2021, Metropolitan News Company