Page 1
Court of Appeal: Daniels's Cancellation of Appearance Wasn't a Contractual Breach
By a MetNews Staff Writer
The Court of Appeal has declared that porn star "Stormy Daniels" did not breach a contract by cancelling appearances scheduled at two Orange County strip clubs because the agreement contained a clause under which either the proprietor or the performer could back out, provided advance notice was given, rejecting the club owners' contention that under a "nonperformance" clause $15,518 is owed for its cost of advertising.
The opinion by Presiding Justice Kathleen E. O'Leary of the Fourth District's Div. Three, filed Thursday, affirms a judgment in favor of Stephanie G. Clifford, who uses the stage name of Stormy Daniels. Judgment was awarded by Orange Superior Court Judge Thomas A. Delaney following a bench trial.
Clifford had contracted in April 2018 with Bailey Food and Beverage Group, LLC to appear the following September at one of its Library Gentlemen's clubs one night, and at another of those clubs the next night.
The appearances were part of her nationwide "Make America Horny Again" tour of strip clubs, capitalizing on her widely publicized erstwhile intimate relationship with then-President Donald Trump.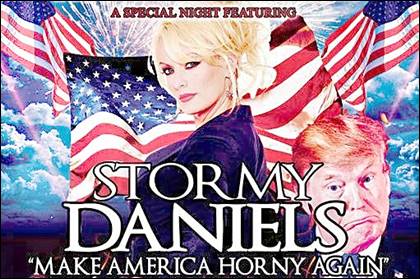 —AP
Above is an ad for one of the appearances by porn star "Stormy Daniels" during a 2018 tour of adult-entertainment clubs. Div. Three of the Fourth District Court of Appeal on Thursday held that the owner of two clubs in Orange County which had booked her performances is not entitled to reimbursement of what it spent on advertising before she announced she was cancelling the engagements.
Provided Notice
In June 2018, Clifford cancelled the Orange County appearances based on obligations outside the U.S.
She satisfied the two conditions to cancellation set forth in ¶15 of the contract: providing seven days' notice and refunding to the club $900 it had paid as an agent's booking fee.
"[I]t is undisputed Clifford properly cancelled the contract," O'Leary wrote. "There can be no breach where a party was given the right to do what it did by the contract's express provisions."
But as Bailey saw it, that did not end the matter.
It pointed to ¶7 of the contract which says that if the performer "willfully fails to appear or perform in accordance to the terms herein, or for any reason whatsoever other than those" specified in another paragraph, the performer must "financially reimburse the [Clubs] in full for all proven and documented expenses incurred including those costs for:  advertising…."
Performance Not 'Due'
O'Leary responded:
"Nonperformance means 'an unjustified failure to perform a material contractual obligation when performance is due.'…Bailey states section 7 concerns nonperformance and section 15 concerns cancellation….Bailey admits those concepts are 'different.' Because Clifford cancelled the contract, performance was not due, and therefore, section 7 was inapplicable."
The case is Bailey Food and Beverage Group v. Clifford, G059436.
Copyright 2021, Metropolitan News Company