Page 1
Sacramento D.A. Slams Gascón Over His 'Extreme' Directives
Says She Won't Allow Any Prosecutions for Crimes Committed in Her County to Be Tried in Los Angeles; Judge Grants Request of San Diego District Attorney for Return of Accused Armed Robber's Case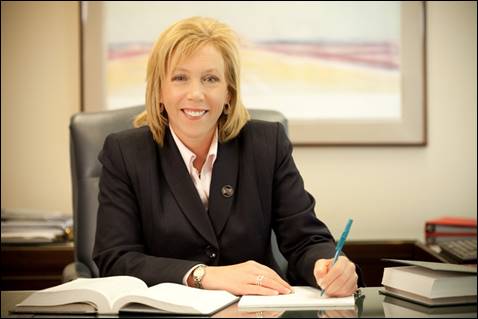 ANNE MARIE SCHUBERT
Sacramento District Attorney
By a MetNews Staff Writer
The district attorney of Sacramento County yesterday dispatched a letter to Los Angeles County District Attorney George Gascón slamming him for his "special directives" aimed at minimizing sentences and announcing that there will be no consent to persons accused of crimes committed in her county being tried here.
The action by Sacramento District Attorney Anne Marie Schubert comes on the heels of last week's request by San Diego District Attorney Summer Stephan that the prosecution of a man charged with five armed robberies in San Diego County be returned to her jurisdiction. She had consented to trial of defendant Rhett Nelson in Los Angeles Superior Court for sake of economy because he's being tried there for two murders—but that consent was given before Gascón took office on Dec. 7 and issued his directives, one of which is to seek withdrawal of all strike allegations.
Los Angeles Superior Court Judge Jose Sandoval yesterday granted Stephan's request, and also denied the motion by Deputy District Attorney Antonella Nistorescu for the withdrawal of strikes and special allegations in Nelson's case.
Schubert's Letter
Schubert said in her letter:
"Your Special Directives are not just extreme but will undoubtedly wreak havoc on crime victims and their Constitutional rights. Your lack of concern for their rights and safety disturbs me greatly. Additionally, because crime has no boundaries, these Special Directives will have far greater impact than on Los Angeles County alone. Rather, victims across California will be negatively impacted and the safety of all Californians will be jeopardized.
"Because of your Special Directives, you are hereby given notice that, as the Elected District Attorney of Sacramento County, I will never grant you jurisdiction over any crimes that involve Sacramento County while these policies of yours remain in place."
Policy Violates Law
She admonished Gascón:
"[Y]our Special Directive prohibiting the filing of strikes (and dismissing all pending strikes) is a clear violation of the Three Strikes law. Settled caselaw establishes that prosecutors are required to file all such strikes."
She noted that Gascón had initially decreed that no sentencing enhancements would be sought, then backed down to an extent, allowing enhancements to be pled in limited circumstances. Schubert remarked:
"Undoubtedly, there are thousands of violent crime cases pending in your office that are impacted by your Special Directive, including murder, robbery, carjacking, rape, child abuse and domestic violence. Your adoption of this Special Directive abandons your Constitutional and legal duties to protect crime victims."
'Shocking and Contemptable'
Sacramento's top prosecutor blasted Gascón for directing that no deputy appear at a parole hearing, saying:
"This order is shocking and contemptable. Under it, even if the inmate has behaved poorly in prison, has done nothing to rehabilitate himself and presents a high risk of victimizing again if released, your office will stand silent, leaving the victims and the community to fend for themselves and with no practical or legal ability to do so."
Addressing the special directive that forbids deputies to seek pretrial release conditioned on putting up cash bail where the charge is a "misdemeanor, non-serious, or non-violent felony offense," Schubert told her Los Angeles counterpart:
"This Special Directive unilaterally attempts to usurp judicial discretion in setting bail and jeopardizes the safety of crime victims and the public at large, including Sacramento victims if you were allowed to prosecute a case which occurred in Sacramento County."
Trial of a juvenile in a criminal court is quite rare, she noted, but questioned his total ban on seeking that, declaring that "some cases are so egregious that justice demands filing a case in adult court," and charging that his policy "abandons victims' rights" and "fails to consider the safety and protection of the public and the importance of redressing injuries to the victims."
Other Criticism
Schubert is the fourth district attorney of another county to take Gascón to task. Orange County District Attorney Todd Spitzer last month asserted that Gascón has gone "far off the reservation" with his policies and charged that his "grand experiment" has "dangerous implications." Kern County District Attorney Cynthia Zimmer has written:
"Criminals, you really must ask yourselves, why continue living in our county when you can take your criminal activity to Los Angeles, where you will be greeted with open arms? Let me share why relocation of your criminal activity is really in your best interest."
Stephan said in her letter to Gascón, asking that the prosecution of Nelson be returned to her:
"I do not want our San Diego County cases to be connected to any publicly-announced special directive that dismisses special circumstances and serious gun use allegations where your stated reason is 'in the interest of justice' when clearly the facts of this defendant's multiple violent offenses show it is not."
Former Los Angeles County District Attorney Steve Cooley has asserted that Gascón is the worst district attorney in Los Angeles County's history.
Commenting on the letters to Gascón, Cooley said:
"San Diego DA Summer Stefan is a real prosecutor who follows the law and protects the people. Los Angeles DA George 'Soros' Gascón would not know the law if it bit him and the last thing he cares about is protecting the people he is sworn to serve. Gascón is a disgrace!"
He continued:
"I understand he has received a multi-page letter from Sacramento DA Anne Marie Schubert explicating the illegality of his numerous directives," adding:
"Mr. Gascón should get used to these such letters from other elected DAs, with the likely exception of the DA in San Francisco."
Gascón is the former district attorney of San Francisco.
Copyright 2021, Metropolitan News Company