Page 1
Court of Appeal:
Disney Owes No Royalties for Song 'Bare Necessities'
Opinion Wipes Out Judgment for More Than $1 Million in Favor of Songwriter's Heirs
By a MetNews Staff Writer
Heirs of the man who composed the song "Bare Necessities," included in the 1967 animated Disney film, "The Jungle Book," are entitled to no royalties based on the commercial release of the movie on DVDs, the Court of Appeal for this district held yesterday, reversing a judgment in the plaintiffs' favor in excess of $1 million.
Under 1963 contracts, Disney promised to pay songwriter Terry Gilkyson (who died in 1999) "[a]n amount of money equal to Fifty Percent (50%) of the net amount received by our music publisher on account of licensing or other disposition of the mechanical reproduction rights in and to material so written by you." Disney's music publisher was its subsidiary, Wonderland Music Company, Inc.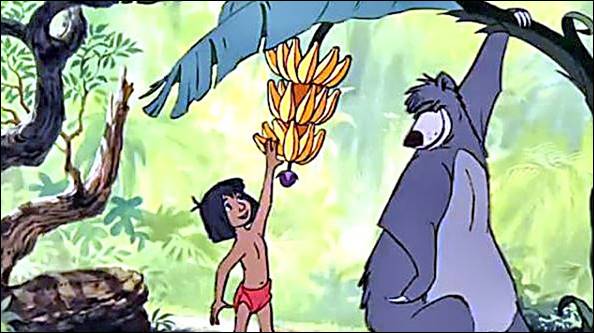 —AP
Above is a still from the portion of "The Jungle Book" where Bruce Reitherman, doing the voice of the boy Mowgli, and orchestra leader/radio star Phil Harris as the bear Baloo, sing "Bare Necessities." Heirs of the man who wrote that song are entitled to no royalties for use of it in the movie, as released on a DVD, the Court of Appeal for this district declared yesterday.
The contract also provided:
"Nothing contained in this agreement shall be construed as obligating us to publish, release, exploit or otherwise distribute any of the material, and the same shall be always subject to our sole discretion."
Div. Seven said, in yesterday's opinion by Presiding Justice Dennis M. Perluss, that no royalties are due the heirs—Gilkyson's three children—because Wonderland did not charge Disney's home entertainment division anything for the use of the songs. "Bare Necessities" was the only Gilkyson song included in the film (based on Rudyard Kipling stories), the other songs being by Richard M. Sherman and the late Robert B. Sherman. However, demonstration versions of six other songs by Gilkyson were included as "bonuses" in the DVD, song covered by a separate contract.
In his opinion reversing a $1,049,316.40 judgment—$350,000 having been awarded by a jury and $699,316.40 assessed by Los Angeles Superior Court Judge William D. Stewart for a period following the verdict—Perluss wrote:
"Based on the language of the 1963 contracts, Wonderland had the right to permit its home entertainment affiliate to use he Gilkyson-composed songs without charging an intercompany license fee and without incurring any liability to Gilkyson or his heirs when doing so….Had the parties intended that Disney would use its best efforts to exploit the mechanical reproduction rights in a manner that generated royalties for Gilkyson, the contracts would not have expressly granted Disney such unfettered discretion."
Perluss said that Stewart should have granted Disney's motions for summary judgment and nonsuit.
The case is Gilkyson v. Disney Enterprises, 2021 S.O.S. 4088.
John L. Hunter of the Pasadena firm of Hunter Salcido & Toms joined with Texas lawyer Craig Barker and Craig Barker in representing the heirs. Rollin A. Ransom, David R. Carpenter and Sheri Porth Rockwell of Sidley Austin were attorneys for Disney and Wonderland. Yesterday's opinion was the second one in the case. On Jan. 27, 2016, Div. Seven, also in an opinion by Perluss, reversed a judgment of dismissal which followed Stewart's sustaining of a demurrer without leave to amend based on the statute of limitations. Disney's distribution of "The Jungle Book" on DVDs began in 2007, predated by the release on VHS.
Perluss said in that opinion:
"The continuing nature of the obligation to pay periodic royalties renders each breach of that obligation separately actionable….The result is that, while portions of the Gilkyson heirs' contract claim are undoubtedly time-barred, the action is timely as to those breaches occurring within the four-year limitations period preceding the filing of the original lawsuit."
The jurist advised in a footnote:
"Although Gilkyson wrote several songs for the film, only "The Bare Necessities" was used. Fans of that song will recognize its oft quoted lyrics: "Look for the bare necessities/ The simple bare necessities/ Forget about your worries and your strife/ I mean the bare necessities/ Old mother nature's recipes/ That bring the bare necessities of life." In 1968 Gilkyson received an Academy Award nomination for Best Original Song and a Grammy Award nomination…."
Copyright 2021, Metropolitan News Company