Page 1
Former Colleagues Tell of Fond Memories of Retired LASC Judge Enrique Romero
By a MetNews Staff Writer
Present and former members of the judiciary remember warmly mediator/arbitrator Enrique Romero, who served as a judge in Los Angeles County for 11 years, displaying an especial talent for settling cases.
Romero died Tuesday at the age of 74. Services are pending.
He was appointed to the Los Angeles in Municipal Court in 1988 by Gov. George Deukmejian and elevated to the Los Angeles Superior Court in 1992 by Gov. Pete Wilson. Romero retired from the bench in 1999 to become a private judge with ADR Services, Inc., where he remained for 18 years.
Los Angeles Superior Court Presiding Justice Eric Taylor said yesterday:
"Judge Romero was a trailblazer in our judicial community. He was the first Latino judge that I had the pleasure of appearing before in my first months as a lawyer in Los Angeles. He was hard-working, exceptionally bright and dedicated. He left a lasting impression on me of what was possible for lawyers of color."
A former presiding judge, J. Steven Czuleger, worked with Romero in the 1980s when both were assistant United States attorneys for the Central District of California. Czuleger recalled that Romero "was an effective and ethical prosecutor who brought much credit to the office."
Romero was in that office's Organized Crime, Money Laundering, and Major Narcotics Unit. Earlier, he served as an assistant U.S. attorney in the criminal division of Southern District of Florida and as a special assistant to the assistant attorney general of the Civil Rights Division in the U.S. Department of Justice.
Czuleger recounted that when they were federal prosecutors, "many times we met over drinks at the long-gone Velvet Turtle to share our trial war stories," adding:
"Later he again joined me when he was appointed to the bench. I was his first supervising judge and on his first day I was compelled to give him a tough assignment. Typical of his earlier work, he handled his first judicial assignment with skill rarely shown by a new bench officer. "Every judicial assignment he tackled during his years on the bench, he did with aplomb. Early on he developed mediation skills which he translated into another career when he left our bench."
Czulger said that as a mediator and arbitrator, most recently with Signature Resolution, Romero "was simply the best."
He remarked that he will "smile knowing that he succeeded in all he did in the way he wanted to do it, his way!"
<![if !vml]>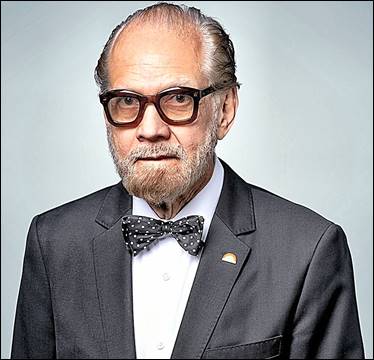 <![endif]>
ENRIQUE ROMERO
1946-2021
Municipal Court Days
Court of Appeal Justice Victoria M. Chavez of this district's Div. Two said she looks back "with fond memories" to days on the Los Angeles Municipal Court "when Enrique, Richard Paez, Jim Otero, Ed Ferns and I handled unlawful detainers and various other limited jurisdiction cases from the Sixth floor of what was then called the County Courthouse," now the Stanley Mosk Courthouse.
"I look back Enrique and I then went to Compton Court together and shifted to criminal calendars until Enrique and Owen Kwong began working together to settle the backlog of civil cases," she continued. "The rest of Enrique's professional story is well known: he used careful preparation and his incomparable personality to settle numerous cases over more than two decades both as a judge and as a neutral."
She termed Romero "one of a kind" who was "smart, kind, talented, hardworking and oh so much fun to be with," commenting:
"Everyone who had the privilege of knowing Enrique was lucky and better for the experience. He was a warm and loyal friend whose passing will be mourned by many for a long time to come."
Baron's Recollections
Retired Court of Appeal Justice Elizabeth Baron, who served in this district's Div. Five and was earlier a colleague of Romero on the Superior Court when he was supervising judge in the Compton Courthouse in the court's South Central District, said she was "so fortunate to have worked with Enrique."
Romero called the calendar in Compton for four years.
Baron said Romero "had a brilliant, quick mind, had a wonderful sense of humor and a loving personality among his friends."
She added:
"He could be tough on attorneys if they were late for court or unprepared. He took the bench at 8 a.m. and if you were not present when he called your case he dismissed the case.
"But he was also very kind and helpful to new attorneys. He was granted the Mexican American Bar Association's Lifetime Achievement Award last year and his daughter, attorney Sage Zermano-Romero, gave a heartwarming speech about him."
Romero was remembered by retired Los Angeles Superior Court Judge Isabel R. Cohen as "a charmer in his ubiquitous bow ties, and a serious jurist."
Retired Los Angeles Superior Court Judge Bruce J. Sotille reflected:
"Judge Enrique Romero shall always be remembered as a hardworking, intelligent, and well-meaning judge."
Los Angeles Superior Court Judge May Ann Murphy expressed these thoughts:
"Judge Enrique Romero was as fine a colleague as one could have. He was smart, supportive and greatly contributed to the court's esprit de corps. His kindness and caring humanity was a gift to all who had the privilege of working with him during his extraordinary career. We were fortunate to have Judge Romero as a colleague on the Los Angeles Superior Court."
Attorney's Memories
Dolores Y. Leal of the law firm of Allred, Maroko & Goldberg knew Romero for about 30 years, viewing him as "an extraordinary judge and an extremely skilled mediator."
She shared these thoughts:
"Because I represent many Spanish speaking Latinas who are sexually harassed, I used his services as a mediator many times over the years. He was one of very few mediators who were native Spanish speakers. "Despite his 'f' bombs and salty language, he had a heart of gold.
He was particularly empathetic when my client was in the same age group as his daughter, Sage. I knew he had a soft spot for those victims and would do the best he could for my clients. There were several mediations I recall where at the end of the day, he would end up 'counseling' my clients about the need to go back to school, learn English, and become a U.S. citizen. He truly tried to make the world a better place."
The Mexican American Bar Association ("MABA") said in a statement:
"A true trailblazer in the alternative dispute resolution world, Judge Romero was widely known for his incredible work ethic, his directness, and his ability to settle even the most difficult of cases. Judge Romero was also known for always being generous with his time, his words of encouragement, and his support of young Latino and Latina attorneys. "MABA and the legal community has lost a true trailblazer and friend."
Romero received his law degree from the University of South Florida and an LLM from Georgetown. He is survived by his wife, Minerva Romero, and his daughter.
Copyright 2021, Metropolitan News Company