Page 3
Court of Appeal:
Employer Duped by Job-Seeker Deserves Restitution
Presiding Justice Gilbert Says Court, Following Conviction of Fraudster for Identity Theft, Did Not Err in Ordering Payment to Surgery Center of Its Costs in Investigating Background of Man It Hired
By a MetNews Staff Writer
A court properly ordered a man convicted of identity theft to make restitution of $2,230 to a health care facility that employed him and paid that amount to a human resource consultant who uncovered his having used the credentials of another person to get his job, the Court of Appeal for this district has held.
Presiding Justice Arthur Gilbert of Div. Six authored the unpublished opinion, filed Friday.
Defendant Keith H. Moultry—who has incurred arrests in various cities in Southern California as result of posing as a holder of a license as a radiology technician—was convicted in San Luis Obispo of identity theft, identifying information theft, and false personation and was sentenced to two years in prison.
At a restitution hearing, Moultry maintained that the Galileo Surgery Center in the City of San Luis Obispo was only an "indirect victim" of his theft of the identity of a person identified in the opinion as "K.M.," and that it was K.M., who did not seek restitution, who was the actual victim. Rejecting that view, San Luis Obispo Superior Court Judge Matthew G. Guerrero ordered that the defendant pay Galileo $2,230
Gilbert's Opinion
In his opinion affirming the order, Gilbert said:
"Moultry speculates that Galileo did not suffer an economic loss because it routinely conducts background checks on all applicants for employment. Moultry did not present evidence to support this claim. The People note, had Moultry 'not applied for employment using a fraudulent identity and credentials, Galileo would not have expended resources to verify [his] information.'
"Even if employers find a benefit for paying for background checks for legitimate applicants, that does not mean they should have to bear those costs after being criminally victimized by a counterfeit applicant.
"To deny restitution to Galileo would force it to suffer the economic loss for incurring these costs….This undermines the purpose of the restitution laws."
The case is People v. Moultry, B309293.
Other Proceedings
The Victorville Daily Press in in San Bernardino County on March 7, 2012, reported that Moultry had been arrested in nearby Barstow for using false credentials as "Keith Miller" to get a job as an X-ray technician, and that criminal proceedings were pending against him in Victorville on like charges. The article noted:
"The Long Beach man is suspected of illegally working as an X-ray technologist in hospitals all over San Bernardino and Los Angeles counties."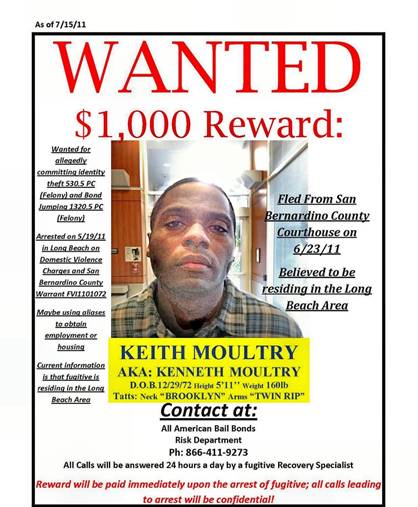 Above is a 2011 wanted poster published by a bail bond company after Keith G. Moultry became a fugitive. He has been charged multiple times with falsifying credentials to gain jobs as an X-ray technician. The Court of Appeal for this district on Thursday held that after he was convicted in San Luis Obispo of identity theft, a judge properly awarded to a surgery center its costs in determining that he lacked the credentials he claimed.
The American Registry of Radiologic Technologists sued Moultry in the U.S. District Court for the Southern District of California for using its registered marks in connection with the phony credentials he presented to prospective employers that had been issued to one Kevin Marshall. Senior Judge John A. Houston on Aug. 14, 2017 directed the entry of a default judgment against Moultry, ordering him to cease using the protected marks and to pay the plaintiff $20,721 in attorney fees and $4,500.03 in costs.
On Feb. 28, 2018, Houston found Moultry in civil contempt for failing to abide by the injunctive portion of the judgment, ordered that he pay the plaintiff $7,487 in attorney fees in connection with the contempt proceeding, and instructed that a copy of the order be forwarded to "[a]ll San Bernardino and Los Angeles County hospitals, clinics, medical offices and staffing agencies known to be subject to Defendant, Keith Moultry's, unlawful conduct."
Copyright 2021, Metropolitan News Company