Page 1
Ninth Circuit:
No Liability Based on Not Locking Up Gun That Was Stolen
Weapon Was Fired by Third Party Who Found It, Resulting in Death; Opinion Says Proximate Cause Lacking
By a MetNews Staff Writer
The U.S. government cannot be held liable, under California law, for the wrongful death of a woman who was fatally struck by a bullet from a gun fired either accidentally or purposelessly by a man who had just found the weapon by a park bench on which he was seated, rejecting the theory that a federal ranger was negligent in having left the gun, loaded, in a backpack in an unattended vehicle from which it was stolen four days earlier.
The shooting was an incident cited in the national debate over sanctuary cities, such as San Francisco, where the victim was killed. The man who discharged the weapon was an undocumented alien.
Circuit Judge Susan P. Graber wrote the opinion for a three-judge panel. It affirms a summary judgment granted by Magistrate Judge Joseph C. Spero of the Northern District of California in favor of the United States.
Spero reasoned that U.S. Bureau of Land Management ranger John Woychowski owed no duty to the decedent, Kathryn Steinle, and that proximate cause was not established.
'Rube Goldbergesque' Links
Graber did not reach the matter of duty, declaring that the "Rube Goldbergesque system of fortuitous linkages" presented by the facts "is comparable to the facts in cases in which California courts have held that proximate cause is lacking as a matter of law."
Goldberg (1886-1970) drew cartoons depicting complex contraptions featuring dominoes effects.
Woychowski had no direct connection with Steinle, whose parents sued for wrongful death. The Bureau of Land Management ranger, who is stationed in El Centro near the Mexican border, was en route in his personal vehicle to an assignment in Montana, accompanied by his girlfriend and her three children. The ranger parked the car on a street along San Francisco's Embarcadero; the gun was in a backpack rather than a locked glove compartment or the trunk; the vehicle was broken into while Woychowski and his passengers were at dinner; the backpack was stolen along with other property.
Although the backpack was recovered by police that night, the weapon wasn't. Juan Francisco Lopez-Sanchez found it on July 1, 2015 and, either inadvertently or on an impulse, fired it, with the bullet bouncing and hitting Steinle, 32, who was strolling on a pier with her father and a friend.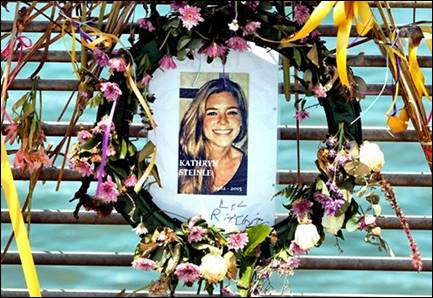 —AP
Flowers and a portrait of Kate Steinle are displayed at a memorial site on Pier 14 on July 17, 2015, in San Francisco. The bullet that killed her ricocheted off the ground about 100 yards away before hitting her in the back and later launching a criminal case at the center of a national immigration debate. The NINTH U.S. Circuit Court of Appeals yesterday held that her parents can receive no damages from the U.S. government because the act of U.S. Bureau of Land Management ranger John Woychowski in leaving his gun in a backpack in an unattended vehicle was not the proximate cause of the shooting which occurred after an undocumented alien found and picked up the weapon by a park bench.
Proximate Cause Lacking
Graber wrote:
"We conclude that the connection between Woychowski's storage of the pistol in his vehicle and Ms. Steinle's death is so remote that, as a matter of law, Woychowski's acts were not the proximate or legal cause of the fatal incident. Several events—many of which remain unknown-—intervened after Woychowski left the loaded pistol in his vehicle: (1) someone broke into the locked vehicle; (2) someone stole a seemingly innocuous backpack; (3) someone found a pistol in that backpack; (4) someone removed the pistol from its holster, then wrapped it in a cloth and abandoned or lost it a half-mile away; (5) Lopez-Sanchez picked up the firearm, four days later, and fired it, apparently aimlessly; and (6) the bullet ricocheted off the ground and struck Ms. Steinle." Case law, the circuit judge said, does not support the plaintiffs' contention that the shooting by a third party was the foreseeable result of Woychowski's negligence in leaving the gun accessible to a burglar.
The case is Steinle v. United States, 20-15419.
Lopez-Sanchez Acquitted
Lopez-Sanchez, tried under the name of Jose Ines Garcia Zarate, was acquitted by a jury on Nov. 30, 2017 of murder and manslaughter, but convicted in one count of being a felon in possession of a firearm.
Following the verdict, then-U.S. Attorney General Jeff Sessions said in a written statement:
"San Francisco's decision to protect criminal aliens led to the preventable and heartbreaking death of Kate Steinle. The Department of Justice will continue to ensure that all jurisdictions place the safety and security of their communities above the convenience of criminal aliens. I urge the leaders of the nation's communities to reflect on the outcome of this case and consider carefully the harm they are doing to their citizens by refusing to cooperate with federal law enforcement officers."
Donald Trump, during his 2016 campaign for the presidency, declared: "Countless Americans who have died in recent years would be alive today if not for the open border policies of this administration and the administration that causes this horrible, horrible thought process."
He provided examples and, turning to the shooting by Lopez-Sanchez, said: "Another victim is Kate Steinle, gunned down in the sanctuary city of San Francisco by an illegal immigrant, deported five previous times. And they knew he was no good."
Lopez-Sanchez in 2018 was sentenced on the gun count to time served. Last Aug. 11, U.S. District Court shooting Judge Vince Chhabria of the Northern District of California ordered a mental health evaluation of Lopez-Sanchez, charged with two counts of illegal gun possession, unrelated to the 2015 incident.
Five months after the shooting of Steinle, Woychowski was promoted to a supervisory position.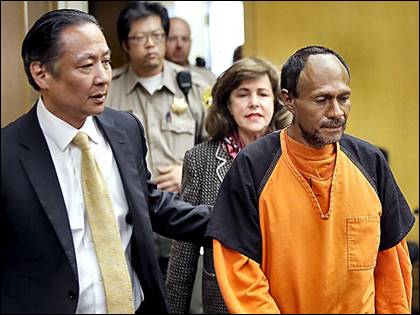 —AP
Juan Francisco Lopez-Sanchez, also known as Jose Ines Garcia Zarate, is led into the courtroom by San Francisco Deputy Public Defender Jeff Adachi in July 2015
Others Sued
The parents, James Steinle and Elizabeth Sullivan, also sued the City and County of San Francisco, then-San Francisco Sheriff Ross Mirkarimi, and Lopez-Sanchez. In a March 25, 2019 opinion in Steinle v. City & County of San Francisco, the Ninth Circuit declared that the city/county and the sheriff could not be held liable based on a memo Mirkarimi issued to deputies instructing them not to cooperate with Immigration and Customs Enforcement except where a judicial order or warrant had been issued for a deportation.
Circuit Judge Mark J. Bennett wrote, in an opinion affirming the dismissal of negligence claims:
"While we deeply sympathize with Steinle's family, the question of discretionary immunity raised in this case is controlled by California law. After careful deliberation, we conclude that California law bars Plaintiffs' negligence claim."
Bennett applied California Government Code §820.2 which provides that "a public employee is not liable for an injury resulting from his act...where the act...was the result of the exercise of the discretion vested in him, whether or not such discretion be abused."
Issuance of the memo, he said, was a discretionary act.
In a concurring opinion, Graber pointed to an additional Government Code section which she said was more specific.
Copyright 2021, Metropolitan News Company