Page 1
Videotaping Woman in Dressing Room, Broadcasting Footage Is 'Protected'
Stratton Says Unconsented Recording of Barely Clothed Model Falls Within Ambit of Anti-SLAPP Statute; However, Minimal Merit Shown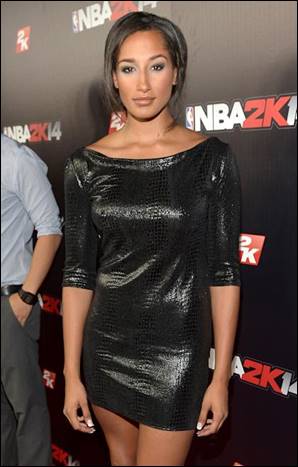 —AP
Above is Kiara Belen, who is suing in connection with use of footage of her, without her permission or knowledge, on television's "Shahs of Sunset."
By a MetNews Staff Writer
Photographing a woman in a dressing room without her knowledge or consent and airing shots of her near-naked body on television is protected conduct, Div. Eight of the Court of Appeal for this district held yesterday.
"It has long been accepted that the 'creation of a television show is an exercise of free speech,' " Justice Maria E. Stratton wrote, quoting the 2011 opinion from this district's Div. Four in Tamkin v. CBS Broadcasting, Inc.
While finding that the conduct is protected—satisfying the first prong of the anti-SLAPP statute, Code of Civil Procedure §425.16—the court agreed with Los Angeles Superior Court Judge Michelle Williams Court in denying a special motion to strike because the plaintiff, model Kiara Belen, met her burden under the second prong by showing a probability of prevailing on the merits.
Belen was videotaped while changing clothes, in a guarded dressing room for use by models, at a fashion show. The footage was used on Bravo's reality series, "Shahs of Sunset." She sued Bravo and others.
In opposing their anti-SLAPP motion, Belen argued:
"Plaintiff, a celebrity model, was the victim of the unlawful act of not only videotaping while she was in a changing room, where her intimate parts were exposed, these salacious images were used by Defendants, without Plaintiff's permission, for the purpose of sexually objectifying and demeaning her specifically, and the other unknowing models in the room. Defendants did so intentionally and with complete disregard for Plaintiff's permission. Defendants are television producers, and are well aware of the fact that it is industry standard to obtain a release from anyone whose likeness you will likely use in your show. Defendants simply didn't care."
Penal Code Cited
Her memorandum of points and authorities added:
"Because Defendants acts amount to criminal actions in violation of Cal. Penal Code §§647(j)(l) and (j)(4)(A), the protected speech they are asserting cannot be applied to an Anti-SLAPP motion in order to strike the complaint."
Sec. 647 provides that "every person who commits any of the following acts is guilty of disorderly conduct, a misdemeanor." Subd. (j), ¶(1) specifies use of a camera in "the interior of a…dressing room…with the intent to invade the privacy of a person or persons inside."
Subd. (j)(4)(A) lists distributing "the image of the intimate body part or parts of another identifiable person…under circumstances in which the persons…understand that the image shall remain private, the person distributing the image knows or should know that distribution of the image will cause serious emotional distress, and the person depicted suffers that distress."
Trial Court's View
The Superior Court judge ruled that the argument fails because conduct that is otherwise protected does not lose its protection unless criminality is shown conclusively. Court said:
"The evidence does not conclusively establish the challenged activity was illegal as a matter of law. It is undisputed that defendants had permission to film within the conference room, and that the filming was done openly."
The judge also found that the acts complained of related to a matter of public interest—a requirement of §425.16, explaining:
"All of the acts alleged were part of the creative process in making the episode of Shahs of Sunset, and are protected activity within section 425.16."
Stratton's Opinion
On appeal, Belen argued that the first prong of the anti- SLAPP statute is not met "where certain elements of… expression cross the lines of protected expression, and enter a realm where no such protections exist." Stratton acknowledged that under the California Supreme Court's 2006 opinion in Flatley v. Mauro, criminal conduct is not protected but, agreeing with Court, she said:
"Illegal conduct as a matter of law under Flatley must be based on a defendant's concession or on uncontroverted and conclusive evidence—neither of which is present at this stage of the proceedings….Appellants have not conceded that their conduct was illegal, and Belen has not conclusively proven that appellants' conduct was illegal as a matter of law."
She pointed to a declaration under penalty of perjury saying that the production company had "received permission" from the Temkin Beverly Hilton Hotel, where the fashion show took place, and from the fashion designer "to film at the time and location of the scenes in question." Stratton said:
"Given that fact, Belen has not conclusively established with uncontroverted evidence that appellants' acts were taken to 'intentionally' distribute images of her body as prohibited in Penal Code section 647, subdivision (D(4)(A)."
She also observed that "[t]he daily lives, experiences, and struggles faced by models constitute an issue of public interest."
Order Affirmed
Stratton also agreed with Court that Belen had shown a probability of prevailing on the merits.
Addressing the cause of action for invasion of privacy, Stratton said that the plaintiff "provided evidence that she had a reasonable expectation of privacy that she would not be filmed while nude with her intimate body parts exposed while changing clothes in a private dressing room," adding:
"Belen also provided evidence that the filming was done without her knowledge or consent, as she did not hear any announcement made that filming was in progress and did not see any signs in the vicinity announcing that she was subject to filming. The footage of her nearly completely naked body broadcast and 'exposed [her] to hundreds of thousands if not millions of people [she] didn't know,' causing her severe emotional distress, sleepless nights, nausea, and requiring her to return to therapy."
The jurist said Belen will probably prevail on a cause of action for misappropriation of name or likeness because, although her name was not used, her likeness was, both in the dressing room and while on the runway.
She declared that the plaintiff also showed a probability of success on her causes of action for intentional infliction of emotional distress—saying that the defendants "intentionally or recklessly exploited Belen's intimate body parts for their own purposes,: causing her emotional harm, and for negligence, not having obtained a signed release from her, not announcing that filming was in progress and not posting a sign on the door.
The case is Belen v. Ryan Seacrest Productions, LLC, B304642.
Attorneys on appeal were David A. Grossman and Todd J. Densen of Loeb & Loeb for the defendants and James A. Bryant of The Cochran Firm California for Belen.
Copyright 2021, Metropolitan News Company