Page 1
Court of Appeal:
Green Light to Outdoor Restaurant Dining Was Improper
Currey's Opinion Tied to 1905 U.S. High Court Decision Upholding City's Requirement That Adults Be Inoculated in Light of Smallpox Epidemic; Says L.A. Judge Did Not Adequately Defer to Local Health Department's View
By a MetNews Staff Writer
A Los Angeles Superior Court judge abused his discretion in issuing a preliminary injunction barring enforcement of the county's then-existing ban on outdoor dining at restaurants, the Court of Appeal for this district has held, relying largely on a 1905 decision of the U.S. Supreme Court stemming from an order of a local health department in response to a smallpox epidemic.
In an opinion filed late Monday, Justice Brian S. Currey wrote for Div. Four in granting a petition for a writ of mandate sought by the Los Angeles County's Department of Public Health. The writ directs the trial court to vacate its Dec. 15 order barring implementation of that department's Nov. 22 edict that the service of food outdoors be shut down, effective three days later.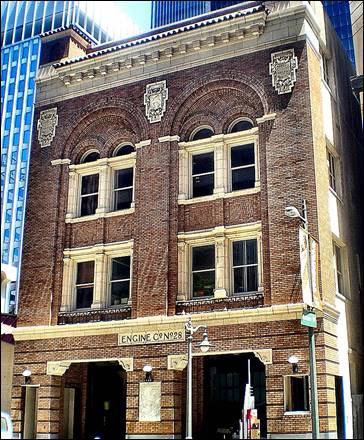 Depicted above is attorney Mark Gerges's Engine Co. No. 28, once a fire station (opened in 1912), now a restaurant at the street level. It was one of two plaintiffs that obtained from the Los Angeles Superior Court an order for issuance of a preliminary injunction barring enforcement of the County of Los Angeles's ban on outdoor dining. The Court of Appeal stayed the order in December and, on Monday, issued a writ of mandate directing that the order be vacated.
Serving food indoors, commercially, had been prohibited since June 1, 2020.
Three days after Judge James C. Chalfant granted the preliminary injunction—which provided that the county could not enforce the ban unless it could provide a "risk-benefit" analysis convincing him that its measure was justified—Div. Four ordered the Los Angeles Superior Court to show cause why a peremptory writ of mandate should not be issued countermanding that action, and declared:
"The Preliminary Injunction Order is stayed until further order of this court."
The challenge to the outdoor dining ban was brought in two cases, one by the California Restaurant Association, Inc. and the other by Mark's Engine Company No. 28 Restaurant LLC, owned by celebrity Los Angeles attorney Mark J. Geragos of Geragos & Geragos, which has its offices in the same building at 644 S. Figueroa St. that houses the restaurant and bar. The cases were consolidated below and on appeal.
Currey noted in Monday's opinion that with fewer COVID-19 cases developing, and the consequent freeing up of intensive care units at hospitals, both the state and county bans on outdoor dining were lifted on Jan. 25.
"While we hope we do not see another surge, we recognize that conditions may change and the County may re-impose its outdoor restaurant dining ban," Currey wrote. "Thus, the cases are not moot."
He declared:
"We now hold that courts should be extremely deferential to public health authorities, particularly during a pandemic, and particularly where, as here, the public health authorities have demonstrated a rational basis for their actions. Wisdom and precedent dictate that elected officials and their expert public health officers, rather than the judiciary, generally should decide how best to respond to health emergencies in cases not involving core constitutional freedoms. Courts should intervene only when the health officials' actions are arbitrary, capricious, or otherwise lack a rational basis, or violate core constitutional rights, which demonstrably is not the case here."
The "extremely deferential" standard of review, Currey said, harks to the Feb. 20, 1905 U.S. Supreme Court case of Jacobson v. Massachusetts.
Jacobson v. Massachusetts
There, a man who had suffered ill effects from a vaccination received at the age of 6 in his native Sweden refused to receive an inoculation which had been mandated in 1902 by the City of Cambridge, Massachusetts's Board of Health for all adult residents in light of an outbreak of smallpox.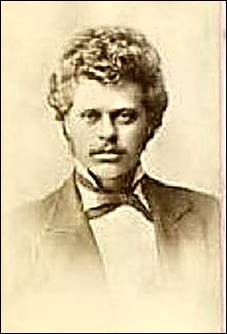 Henning Jacobson, a minister, pictured above in 1878, was fined $5 for refusing to be inoculated against smallpox during an epidemic in Massachusetts. The U.S. Supreme Court held in 1905 that the police power of the state extended to authorizing local health departments to require immunizations. The Court of Appeal for this district on Monday invoked that decision in finding that the Los Angeles County Health Department properly ordered a ban on outdoor dining.
The Massachusetts legislature had delegated to local health departments the duty to determine if area conditions warranted compulsory immunizations. The 1901-03 epidemic was centered in Boston where nearly 300 persons died of the disease.
Justice John Marshall Harlan wrote for the 7-2 majority in affirming a $5 fine imposed on a minister, Henning Jacobson, based on his refusal be inoculated, saying:
"Upon the principle of self-defense, of paramount necessity, a community has the right to protect itself against an epidemic of disease which threatens the safety of its members. It is to be observed that, when the regulation in question was adopted, smallpox, according to the recitals in the regulation adopted by the Board of Health, was prevalent to some extent in the city of Cambridge, and the disease was increasing….Smallpox being prevalent and increasing at Cambridge, the court would usurp the functions of another branch of government if it adjudged, as matter of law, that the mode adopted under the sanction of the State, to protect the people at large was arbitrary and not justified by the necessities of the case."
Decision Not Repudiated
Currey said that Jacobson has been "cited both positively and negatively in both concurrences and dissents in the recent series of United States Supreme Court cases adjudicating challenges to emergency exercises of state authority in the current pandemic" relating to restraints imposed on the holding of religious services. The Div. Four justice remarked:
"The Supreme Court had ample opportunity to overrule Jacobson, but did not."
He pointed to a dissent by Justice Brett Kavanaugh in one of those cases, saying that his panel agrees with the portion he proceeded to quote and perceives that "a majority of the United States Supreme Court would, too." What he quoted includes this:
"[C]ourts should be very deferential to the States' line-drawing in opening businesses and allowing certain activities during the pandemic….Under the Constitution, state and local governments, not the federal courts, have the primary responsibility for addressing COVID-19 matters such as quarantine requirements, testing plans, mask mandates, phased reopenings, school closures, sports rules, adjustment of voting and election procedures, state court and correctional institution practices, and the like."
Adhering to Jacobson, Currey said that Div. Four will not "second-guess public health officials' actions" in an area in which differing medical views exist. He drew the conclusion that the Restaurant Association and Geragos had "failed to satisfy their burden of demonstrating the Order is arbitrary, capricious, or without rational basis," and therefore "cannot ultimately succeed on the merits of their claims," thus requiring that the Superior Court be ordered to scrap the preliminary injunction.
Freedom of Assembly
Geragos's restaurant also put forth a contention (in which the Restaurant Association did not join) that the outdoor dining ban transgressed the First Amendment's right of association. Currey said it was not clear whether that plaintiff was claiming a right of its own to freedom of association or was asserting a cause of action based on rights of its customers, but in any event, he declared, the argument fails.
He pointed to the 1989 pronouncement by the U.S. Supreme Court in Ward v. Rock Against Racism that states may limits First Amendment rights where the restrictions "are justified without reference to the content of the regulated speech, that they are narrowly tailored to serve a significant governmental interest, and that they leave open ample alternative channels for communication of the information."
Currey set forth:
"First, the Order does not regulate assembly based on the expressive content of the assembly. Instead, it prohibits all outdoor dining at restaurants, breweries, wineries, and bars irrespective of the purpose of the gathering or type of speech the patrons may wish to express.
"Second…, it is undisputed limiting the spread of COVID-19 is a legitimate and substantial government interest. Banning outdoor dining, where people from different households gather in close proximity for extended periods without masks, is narrowly tailored to limiting the spread of COVID-19….
"Third, the Order leaves open alternative channels for assembling, i.e., videoconference or in-person socially distant gatherings with face coverings."
The case is County of Los Angeles Department of Public Health v. Superior Court (California Restaurant Association), 2021 S.O.S. 925.
Representing the county were Deputy County Counsel Natasha Mosley; Amnon Z. Siegel, Jason H. Tokoro, and Minh-Van T. Do of Miller Barondess; and Timothy T. Coates and Marc J. Poster of Greines Martin, Stein & Richland, for Petitioners. The California Restaurant Association's lawyers were Dennis S. Ellis, Eric M. George, Katherine F. Murray, Ryan Q. Keech, Lori Sambol Brody, Carl Alan Roth, Noah S. Helpern, and Richard A. Schwartz of Brown George Ross O'Brien Annaguey & Ellis. Joining Geragos in arguing for affirmance was Mathew Hoesly of his firm.
Copyright 2021, Metropolitan News Company