Page 1
C.A. Bars Private Judge Ouderkirk From Presiding in Case
Although Actress Jolie Knew That Law Firm for Ex-Husband Pitt Had Cases Being Handled by Retired Member of Superior Court, Recusal Is Mandated Because He Neglected to Disclose Two New Matters, Opinion Says
By a MetNews Staff Writer
Retired Los Angeles Superior Court Judge John Ouderkirk must be disqualified from presiding under court appointment in post-judgment proceedings in a case because, even though the ex-wife, Angelina Jolie, knew of a history of the attorneys for her former spouse, Brad Pitt, representing clients in cases before the private judge, Ouderkirk failed to divulge two new matters in which that lawyer is involved, the Court of Appeal held Friday.
Declaring that "history is different from current events," Presiding Justice Dennis M. Perluss of Div. Seven said Jolie's knowledge that Pitt's lawyer or others in his firm had cases before Ouderkirk in the past, or at the time of the judge's pro tem appointment in 2017 or two reappointments, did not obviate the jurist's ethical duty to disclose the two new matters, as well as the extension of his appointment in a third matter.
In light of that breach, he declared, "the person on the street might reasonably entertain a doubt as to Judge Ouderkirk's ability, consciously or subconsciously, to remain impartial in the upcoming, hotly contested custody dispute," requiring issuance of a writ of mandate compelling the jurist's recusal.
While Perluss's opinion underscores the obligation of court-appointed temporary judges to disclose new relationships with a lawyer for one of the parties, which is apt to jar private judges into increased diligence in reporting new matters, the concurring opinion by Justice John L. Segal is bound to draw attention on the part of the Judicial Council and legislators. Segal urged an end to the system under which the court appoints temporary judges who are paid by the parties.
Segal Expresses Concern
He wrote:
"I write separately to express my concern that the following three propositions are currently the law in California: (1) Temporary judges are judges; (2) Judges cannot be privately compensated; (3) Temporary judges can be privately compensated. One of these statements must be wrong. I believe it is (3)."
Segal went on to say:
"Parties appearing before a regular, sitting judge cannot pay the judge for adjudicating their case. This is true even if the parties agree to compensate the judge, and even if they agree each side will pay the judge an equal amount….For example, parties to a case in superior court before a regular, sitting judge cannot privately compensate the judge to obtain benefits or advantages for their case—such as calendar preference, priority in obtaining hearing dates for motions, permission to file documents under seal that otherwise would not qualify for sealing…or additional days for trial—regardless of the parties' willingness to contribute equally to the judge's additional compensation. No one would think of doing such a thing. Indeed, it is a misdemeanor for any judge to ask for or receive 'any emolument, gratuity, or reward, or any promise thereof, except such as may be authorized by law, for doing any official act.'…Yet the California Rules of Court currently allow temporary judges to receive compensation from parties who appear before them, even though temporary judges are, well, judges."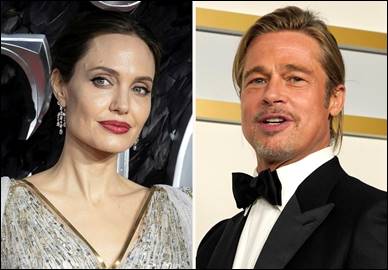 —AP
In this combination photo, Angelina Jolie, left, arrives at the European Premiere of "Maleficent Mistress of Evil" in central London in 2019, and Brad Pitt poses in the press room at the Oscars on April 25 in Los Angeles.
Perluss's Opinion
Perluss wrote that Orange Superior Court Judge Erick L. Larsh erred in ruling that Jolie's statement of dulcification pursuant to Code of Civil Procedure §170.3 was untimely because the actress had known from the time Ouderkirk was appointed, at the parties' request, that her then-husband's lawyer, Lance S. Spiegel, or his law firm, Young Spiegel & Lee, has had and would have matters before that private judge.
Sec. 170.3(c)(1) requires that a statement of disqualification "be presented at the earliest practicable opportunity after discovery of the facts constituting the ground for disqualification."
Jolie did not learn of the two new cases—one being handled by Spiegel and the other by another attorney in the firm—until late July 2020, and only then because of an inquiry from her lawyer, to which a response came after a week's delay, Perluss noted. She filed her statement on Aug. 7.
That, Perluss said, was timely.
He pointed to California Rules of Court, rule 2.831(d), which provides:
"[N]o later than five days after designation as a temporary judge or, if the temporary judge is not aware...of a matter subject to disclosure at that time, as soon as practicable thereafter, a temporary judge must disclose to the parties any matter subject to disclosure under the Code of Judicial Ethics."
The presiding justice remarked:
" 'As soon as practicable' certainly does not mean at any time during the temporary judge's tenure, as Judge Ouderkirk suggested; nor does it mean promptly when (if) asked or even periodically, such as when new counsel makes an appearance in the case."
He said the obligation under that rule, as well as under Canon 6 of the Code of Judicial Ethics, "is to disclose those matters that must be disclosed as quickly as possible and practicable, that is, taking into account the circumstances of a specific situation."
Canon 6 requires an advisement of any information that would have a possible bearing on disqualification.
"[D]isqualification of a temporary judge who appears unable to be impartial is a continuing right of a party, not simply at the time of the initial appointment," Perluss wrote. "Ongoing disclosure on a timely basis is essential for that right to be meaningful."
Verified Answer
Perluss took issue with the verified answer filed by Ouderkirk, who served without controversy as a member of the Los Angeles Superior Court from 1991-2004, and presided in 1993 over the Reginald Denny beating trial.
In particular, he criticized "Judge Ouderkirk's attempt to excuse his ethical lapse" by explaining that the two new cases "were overlooked in the administrative process," saying:
"First, to the extent Judge Ouderkirk seeks to lay blame on ARC, his ADR provider, or its administrative staff, it was he who was appointed a temporary judge and assumed the ethical obligations associated with that role. No more than an attorney can excuse his or her misconduct by blaming an assistant, Judge Ouderkirk must accept responsibility for the ethical violation that occurred here….
"Second, no database search, sophisticated record compilation or other administrative action was required for Judge Ouderkirk to become aware of his participation in two new matters in which Pitt's counsel represented one of the parties. He presided at hearings where these lawyers appeared, either in person or virtually. While he may have overlooked his obligation to disclose this information to Jolie's counsel, he had the information at hand."
He added that "the history of disclosures by Judge Ouderkirk and ARC in this case belies the suggestion" that the new cases and the extension of Ouderkirk's appointment in another case "would have been disclosed but for somehow being inadvertently overlooked." Perluss asserted:
"Judge Ouderkirk's and ARC's practice was to provide disclosures at the initiation of the engagement and when new counsel was associated or substituted into the case…, not whenever a new event occurred requiring disclosure under canon 6. Simply put, that practice, whatever its purported justification, does not comply with a temporary judge's ethical obligations."
It was Ouderkirk who performed the wedding ceremony for Jolie and Pitt in France on Aug. 23, 2014. (They had lived together for 10 years before that and had six children.)
Pro Tem Appointments
The authority for the appointment of pro tems, Perluss noted, is Art. VI, §21 of the California Constitution which provides:
"On stipulation of the parties litigant the court may order the cause to be tried by a temporary judge who is a member of the State Bar, sworn and empowered to act until final determination of the cause." In a footnote, he pointed out that the Constitution "does not refer to a 'privately compensated' temporary judge" and that the term originated in state Rules of Court effective July 1, 1993.
He noted that at the time, Penal Code §94 rendered it a crime for judges to accept compensation for services, but that the statute was amended, effective Jan. 1, 1994, to provide:
"The lawful compensation of a temporary judge shall be prescribed by Judicial Council rule."
In his concurring opinion, Segal drew attention to comments by judges in 1992 warning of consequences of permitting payments by parties to temporary judges. He also recited the recommendation in 1993 by an ad hoc Judicial Council committee that temporary judges whose services are engaged by the parties be "paid by the court" or work "pro bono" and receive private compensation only when "serving as referees."
That proposal, he said, meant not being paid by parties "except when serving without the power and authority of a regular, sitting judge."
Segal's Comments
He commented:
"But just because it is no longer criminal for a temporary judge to receive compensation from private parties doesn't mean it's a good idea. The Legislature directed the Judicial Council to prescribe rules governing compensation of temporary judges. I believe the Judicial Council should adopt the rule its ad hoc committee recommended in 1993: Temporary judges may be paid by the court, but may not be privately compensated except when serving as court-appointed referees. The Judicial Council created the term "privately compensated temporary judge," or at least approved the concept. In my view, it is time for the Judicial Council to reconsider that decision."
He elaborated in a footnote:
"Of course, my view does not apply to decisionmakers like arbitrators, referees, special masters, and court-appointed receivers. They are not, and do not purport to be, judges. Temporary judges are judges. And that makes all the difference."
The case is Jolie v. Superior Court (Pitt), 2021 S.O.S. 4133.
Copyright 2021, Metropolitan News Company