Page 1
No Ruling Made on ADDA's Bid to Block Gascón's Policies
Judge Chalfant Takes Under Submission Application for Preliminary Injunction
By a MetNews Staff Writer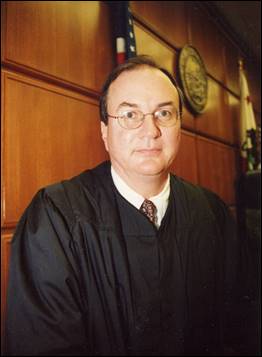 JAMES CHALFANT
Superior Court Judge
Arguments yesterday afternoon stretched late in the day at a hearing on the Association of Deputy District Attorney's application for a preliminary injunction to bar enforcement of certain directives by District Attorney George Gascón, with Los Angeles Superior Court Judge James Chalfant taking the matter under submission.
The jurist said he will try to come up with a ruling by the end of the week, but said he could not promise to do so.
The ADDA's principal contention is the new district attorney, who was sworn in on Dec. 7, may not lawfully order—as he did in one of nine "special directives" issued on his first day in office—that no priors be pled, for purpose of the Three Strikes Law.
Two Penal Code sections—1170.12 and 667—require that "[t]he prosecuting attorney shall plead and prove each prior serious and/or violent felony conviction," reserving to the court the prerogative of vacating the allegations "in the furtherance of justice" or where "there is insufficient evidence to prove" it.
However, the district attorney's lawyer, Robert E. Dugdale of the firm of Kendall Brill & Kelly LLP, insisted that prosecutorial discretion entails authority to determine what is pled.
Yesterday's argument centered largely on the distinction between the exercise of decision on an individual case by case basis and blanket directives, such as Gascón issued. He has proclaimed that in all cases where strikes and other sentence enhancements were alleged while his predecessor, Jackie Lacey, was district attorney, deputies are to ask the court to nullify them.
Dugdale repeatedly mentioned that 2 million persons (2,002,865) had voted for Gascón, thus vesting in him their authorization to take the stances he has. Chalfant reminded him that a greater number had voted to enact Three Strikes.
Arguing for the ADDA was Eric M. George of Browne George Ross O'Brien Annaguey & Ellis LLP.
Copyright 2021, Metropolitan News Company