Page 1
San Diego District Attorney Withdraws Consent for Trial of Charges in L.A.
Counts Alleging Robberies Committed in Her County Should Be Tried There, She Says, Citing Gascón's Sentencing Directives to Deputies
By a MetNews Staff Writer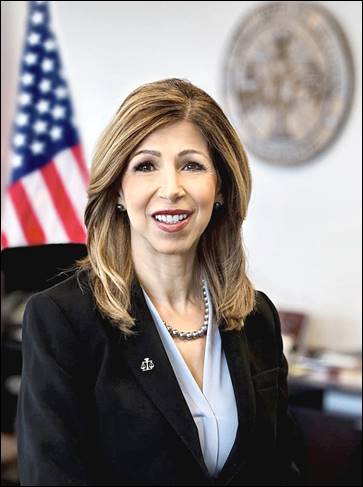 SUMMER STEPHAN
San Diego District Attorney
San Diego District Attorney Summer Stephan has withdrawn consent to have a man charged with the commission of five armed robberies in her county tried in Los Angeles, citing sentencing directives issued by George Gascón, the new district attorney here.
Stephan had initially agreed to the transfer of the prosecution on the robbery counts because the defendant, Rhett Nelson, 30, will be tried in Los Angeles Superior Court for the murders of two men in this county. One victim was a deputy sheriff and the other a Russian snowboarding champion.
RHET NELSON
Criminal Defendant
In a letter dated Monday, a copy of which was obtained yesterday, Stephan told Gascón, who was sworn in on Dec. 7:
"The decision in February 2020 lo forgo a local prosecution in San Diego County in lieu of consolidating the crimes in one jurisdiction was based upon the commitment by the Los Angeles County District Attorney's Office that Mr. Nelson would be prosecuted for two separate homicides with special circumstances and firearm allegations, as well as attempted murder and robbery with firearm allegations. Your office represented that Mr. Nelson would face life without the possibility of parole.
"Instead, based on your recent pronouncements, it is now apparent that you intend to dismiss the special circumstance allegations as to the homicides and additionally dismiss the firearms allegations on all counts. This conclusion is based on your publicly announced special directives issued on December 7th and 18th instructing your prosecutors to take these actions. The dismissal of these lawful allegations that are designed to ensure public safety fundamentally alters the basis for our grant of jurisdiction to the Los Angeles County District Attorney's Office for the prosecution of the San Diego County robberies. We are therefore formally requesting to retake jurisdiction of the crimes that occurred in San Diego County so they may be prosecuted to the extent that law and justice requires for the safety of the public."
Stephan went on to say:
"I do not want our San Diego County cases to be connected to any publicly-announced special directive that dismisses special circumstances and serious gun use allegations where your stated reason is 'in the interest of justice' when clearly the facts of this defendant's multiple violent offenses show it is not. This defendant not only victimized numerous citizens at gunpoint, but also ruthlessly executed two victims leaving behind a wake of destruction."
She added:
"I don't know if you have ever had the misfortune of actually looking into the eyes of a victim terrorized at gunpoint, or who has had their loved one executed to never return to them, or a victim who has been raped or sold for sex, but 1 have. I have looked into those eyes as a line prosecutor and continue to do so as the elected District Attorney. I can assure you that it gives you a humility and compassion that makes you faithfully follow the law and fulfill your oath."
The San Diego prosecutor expressed the hope that her office and Gascón's will not have to litigate the matter.
Court Filing
On Tuesday, San Diego Deputy District Attorney Martin E. Doyle filed in the Los Angeles Superior Court a "Withdrawal of Consent to Try San Diego Crimes in Los Angeles." It states a hearing date of next Monday in Department 50 of the Clara Shortridge Foltz Criminal Justice Center, the department over which Judge Jose I. Sandoval presides.
The document says:
"Having withdrawn our permission to prosecute counts 6-10 of the current amended complaint in Los Angeles Superior Court, the San Diego District Attorney respectfully requests that the Los Angeles District Attorney be barred from prosecuting the offenses that occurred in San Diego County in Los Angeles Superior Court.
It points out that under A.B. 3234, enacted last year, Nelson would be eligible in 20 years for an "elder parole hearing," if the special circumstance allegation is dropped. It also notes that Gascón has vowed not to send a deputy to any parole hearings to oppose the release of an inmate.
If the armed robberies are tried in San Diego, the document acknowledges, it will not alter Nelson's eligibility for parole in 20 years.
"However, if the counts that occurred in San Diego are tried in San Diego, we will not dismiss the provable gun allegations as they brought additional terror to our innocent victims who are mostly store clerks trying to make an honest living and we will review all information and take a position consistent with the facts and the law at future parole hearings, and we will abide by the constitutional mandate under Marsy's law to keep victims informed and to respectfully weight their input," the request sets forth.
Comment to Press
The request for a retransfer mentions in a footnote:
"When questioned by a local media outlet about this case specifically, the LADA's spokesman said: 'The defendant is facing a sentence of 40 years to life in prison, but there is no sentence that can undo the harm caused in this case. If convicted there is a possibility that decades from now, the parole board could determine he's been rehabilitated. Such a determination, many years from now, would ultimately be a reflection of a system and the public alike weighing their continued interest in incarcerating a man who no longer poses a threat to society at an extraordinary taxpayer cost. Eliminating that remote possibility today may not be in the public's interest decades from now.' "
The special circumstance allegations are multiple murders and murder by means of discharging a firearm from a motor vehicle, as well as allegations of using a handgun in the commission of the crimes.
It will be up to Sandoval whether to order the striking of the enhancement allegations, pursuant to Penal Code §1385, which would require that he find such an action to be "in the furtherance of justice." However, it is Gascón's position that it's up to him, as the prosecutor, to decide what is pled, and that the Legislature's vesting of discretion in the judge is unconstitutional.
Gascón's view—which he is requiring deputies to state, orally, in moving to excise enhancement allegations from pleadings—is challenged in an action brought by the Association of Deputy District Attorneys, which is seeking have the Los Angeles Superior Court block various policies the new office head has instituted. Their application for a preliminary injunction will be heard Feb. 2 by Judge James Chalfant.
Copyright 2021, Metropolitan News Company