Page 1
Court of Appeal:
Live Testimony Needed to Decide Signed-Under-Duress Claim
By a MetNews Staff Writer
The Court of Appeal for this district has declared that a Los Angeles Superior Court judge prejudicially erred in declining to hear live testimony from a man who claims that in signing a marital settlement agreement under which his then-wife would receive all but $675,000 of the proceeds from the sale of their Hancock Park home, he acted under duress,
Ex-husband Joseph Gurvitz is now making claim to half of the $6.01 million realized from the sale of the June Street property. Div. Seven on Wednesday ruled, in an unpublished opinion by Orange Superior Court Judge Melissa R. McCormick, sitting on assignment, that Gurvitz will be permitted to press that claim—rejected, in chambers, by Judge Lynn Healey Scaduto in 2019—at a full-fledged evidentiary hearing.
A Sept. 12, 2017 settlement agreement was signed by Gurvitz, his then-wife Jennifer Mandelbaum, and Gurwitz's father. The father signed on behalf of himself and his company, Freshbrook Ltd., which held a deed of trust on the property, reflecting a $2.6 million loan.
Those signing the agreement—the terms of which were later memorialized in a stipulated judgment—affirmed that it was executed "freely and voluntarily" and that the signatories "have had sufficient time to consider all terms and conditions and to confer with their attorneys throughout the negotiation process." Each represented that "she or he is not suffering from any mental or emotional condition which is severe enough to interfere with her or his ability to read, understand, and freely agree to the terms of this Deal Memo."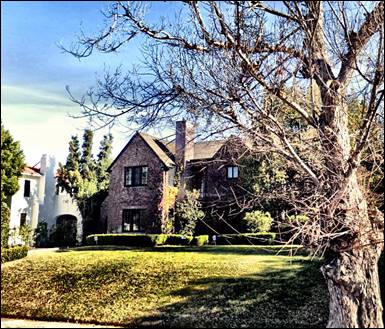 Depicted above is the former Hancock Park abode of a couple who entered into a marital settlement agreement under which the wife would receive nearly all of the proceeds from a sale of the residence. The Court of Appeal for this district has reversed an order denying a motion to vacate the agreement and the stipulated judgment entered pursuant to the agreement because the ex-husband was denied the opportunity to present live testimony at the hearing on the motion.
Stipulated Judgment Signed
Scaduto conducted a hearing on March 12, 2018, on the parties' request that a criminal domestic violence restraining order against Gurvitz be lifted early; she denied it; the judge allowed the parties 10 days within which to put forth any objections to the stipulated judgment being signed notwithstanding that denial; nothing was filed. On March 23, 2018, Scaduto signed the stipulated judgment which recites that each party "acknowledges that he or she respectively…enters into this Judgment voluntarily, free from fraud, undue influence, coercion, or duress of any kind."
However, one day shy of a year after the judgment was signed, Gurvitz moved for an order setting aside "portions, or in the alternative, the entirety" of the settlement agreement and the stipulated judgment. Gurvitz—who in 2015 had pled no contest to misdemeanor spousal battery and misdemeanor contempt for violating a civil protective order his wife had obtained—contended:
"But for Jennifer's undue duress, extreme pressure and fear tactics, I would never have agreed to such an unequal division of assets."
Religious Document
He asserted that Mandelbaum had turned "the Jewish community" against him through the false accusation that he had refused to give her a "Get"—a document which, under Jewish law, the husband must provide to the wife to terminate the marriage. Gurvitz alleged that a stranger assaulted him at a restaurant in 2016 threatening his life if he did not give his wife the document.
Not mentioned in the opinion is that there had been nationwide attention in early 2017 to Mandelbaum's contention that Gurvitz had denied her a get. Rabbi Hershel Schachter of New York issued a plea that Jews not speak to Gurvitz "other than when absolutely necessary," declaring:
"Members of the Jewish community should decline to host him in their homes, or to provide him with food or drink, or invite him to their parties or otherwise socialise [sic]with him." The subsequent 2017 settlement agreement included a proviso that Gurvitz would provide a get.
Gurvitz also maintained in connection with his motion that pressure was exerted by Mandelbaum's lawyer through threats that the father "could face jail time for tax evasion" and suffer other consequences such as "serious tax liabilities to authorities in Israel and other countries."
Motion Denied
Gurvitz's motion to vacate the stipulated judgment was denied by Scaduto on May 30, 2019. She said that "the court declines to conduct an evidentiary hearing, finding that there is good cause not to hear live testimony because the material facts are not in controversy."
The judge found that Gurvitz's "contention that he should not be held to the terms he agreed to in the deal memorandum and the stipulated judgment that followed six months later cannot be reconciled with the terms of the agreed-upon judgment itself, the record before the court and the case law regarding duress."
She dismissed the contention that duress was visited upon Gurvitz through a threat to expose his father's financials, remarking that "the cat was out of the bag" as to those dealings which came up during a June 2016 three-day evidentiary hearing on Mandelbaum's request for support orders.
In her opinion reversing Scaduto's order, McCormick said that the trial court "abused its discretion by finding good cause to refuse to receive live testimony based on its conclusion that the facts material to Joseph's motion were not in controversy." She noted that California Rules of Court, rule 5.113(b), sets forth six factors to be considered in disallowing live testimony in a family law matter, and determined that four were met. McCormick specified that "a substantive matter is at issue"—whether Gurvitz is to get half of the purchase price of the June Street property; "material facts are in controversy"—whether threats were made and Gurvitz and his father; there was a need "to assess the credibility of the parties" and "other witnesses" concerning the alleged threats; and Gurvitz had provided a list of witnesses with a summary of the anticipated testimony.
"These four factors weighed against a finding of good cause to refuse to receive live testimony, and nothing in the record demonstrates that the other factors justified denying Joseph's request for an evidentiary hearing," the pro tem justice wrote.
Error Was Prejudicial
Finding the error to be prejudicial, she said Scaduto "seemingly believed" the contention that Mandelbaum and her mother, attorney Sheryl Mandelbaum, had made the threats that were alleged "but nevertheless concluded the alleged threats did not and could not demonstrate duress sufficient to set aside the settlement agreement and the stipulated judgment." She continued:
"In essence, the court found that nothing Joseph or any other witness might say at an evidentiary hearing could warrant granting Joseph's motion. "A conclusion that live testimony could not under any circumstances affect the outcome of Joseph's motion cannot be reconciled with the strong policy favoring reliance on live testimony in family law proceedings."
McCormick added: "Joseph's intensely factual duress claims, the effect of the alleged threats and duress on Joseph's state of mind, and the parties' and witnesses' contradictory statements could not be resolved based upon competing declarations. Before concluding that Joseph had not demonstrated the alleged duress compelled him to surrender to Jennifer's demands, and that Joseph would have acted differently had he truly been under duress, the family court should have heard and assessed Joseph's live testimony about the effect of the alleged threats on his state of mind, as well as heard and assessed the live testimony of the other witnesses."
The case is Marriage of Gurvitz, B300198.
Each party was represented on appeal by one of only four attorneys certified by the State Bar of California as a specialist in both appellate and family law: Ronald B. Funk of the Corona firm of Holstrom, Block & Parke for Gurvitz and Holmstrom; Claudia Ribet of the Century City firm of Ribet & Silver for Mandelbaum. (The other two dual specialists are Encino attorney Leslie Ellen Shear and Edward Stephen Temko of San Luis Obispo.)
Ribet Comments
Ribet commented yesterday:
"Naturally I am disappointed, particularly because I believe the trial court properly exercised the explicit discretion afforded to it by the statute and court rule to decide that this motion did not necessitate a hearing with witnesses."
She said that the Elkins Family Law Task Force—set up by the Judicial Council in 2008 to "study and propose measures to assist trial courts in achieving efficiency and fairness in marital dissolution proceedings and to ensure access to justice for litigants" and which reported its recommendations in 2010—"understood the need for and sought to provide exceptions to the mandate for a hearing each time someone requests one."
Ribet added:
"And then that recognition was repeated by the Legislature and the Judicial Council."
She said that Gurvitz "in particular, had chutzpah to claim he needed a hearing because of alleged duress when he was under a criminal protective order."
The lawyer noted:
"But I respect the Court of Appeal and its decisions."
Funk had no comment on the opinion.
Earlier Case
Div. Four of this district's Court of Appeal on Jan. 28 dealt with many of the same facts in Gurvitz v. Mandelbaum. In that case, Joseph Gurvitz's father, Meir Gurvitz, appealed from Scaduto's judgment dismissing his action against Jennifer Mandelbaum and Sheryl Mandelbaum
He sued the mother and daughter after Joseph Gurvitz's motion to vacate the judgment was denied. Meir Gurvitz asserted that his signature was secured on the settlement agreement through coercion and fraud.
Justice Audrey B. Collins wrote:
"Notably, Meir has not addressed the contentions raised in defendants' demurrer—that his claims were barred by res judicata, that the trial court lacked jurisdiction, and that this action constituted an impermissible collateral attack on the March 2018 judgment. Meir's failure to address the substance of the defendants' demurrer, which presumably informed the superior court's ruling, constitutes a failure to demonstrate error. We therefore affirm."
Copyright 2021, Metropolitan News Company