Page 1
C.A. Restores Malpractice Suit by Widow of One-Time NBC CEO
By a MetNews Staff Writer
The Court of Appeal for this district yesterday reinstated a legal malpractice action brought by the widow of Grant Tinker, who produced the Mary Tyler Moore Show and other TV hits went on to become chairman and CEO of NBC, holding that if the trier of facts finds that Tinker signed a pre-marital agreement that wasn't reviewed by a lawyer and did not waive representation in writing, the instrument is void not voidable.
If void, Justice Audrey B. Collins of Div. Four wrote, it could not have been ratified by Tinker through amendments to it. Her opinion reverses a summary judgment granted by Los Angeles Superior Court Judge Christopher K. Lui in favor of attorney Larry Ginsberg and his Beverly-Fairfax law firm, Harris-Ginsberg LLP.
Ginsberg represented aviator/realtor Brooke Knapp in connection with her pre-marital agreement ("PMA") with Tinker, whom she wed on April 5, 2004. Tinker was represented in negotiations not by an attorney, but by his business manager, Sidney Tessler.
The marriage continued until his death on Nov. 28, 2016.
Probate Court Petition
Three of Tinker's four children by his first wife, Ruth Byerly, contended in Probate Court petitions that two amendments to the PMA were invalid, having been obtained by Knapp through undue influence and elder abuse.
The fourth child, producer/director Mark Tinker, as special administrator of the estate, denied Knapp's claim for $3,993,468.32, the amount needed to pay off the mortgage on the couple's mansion, located on the 8th hole of the Bel-Air Country Club. To raise the money—the estate had a value of approximately $2.9 million aside from the value of the residence—she sold the home for $10.2 million.
Knapp sued Mark Tinker for breach of contract.
The disputes were settled by the parties, but on less favorable terms for Knapp than if the enforceability of the PMA had not been in doubt, and she had incurred about $500,000 in attorney fees. That doubt was created by the fact that Tinker, in signing the PMA, did not also execute a second document waiving entitlement to independent legal representation, as required by Family Code §1615.
Knapp sued Ginsberg, alleging negligence on his part in having failed to obtain Grant Tinker's signature on a separate document and not advising her as to the defect.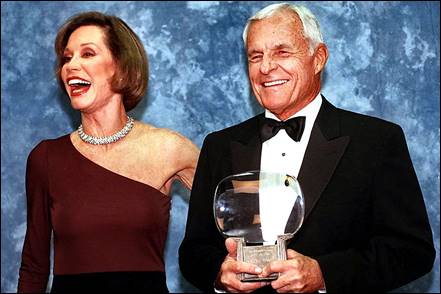 —AP
Grant Tinker is seen with his second wife, Mary Tyler Moore, to whom he had been wed from 1962-81, after his induction into the Academy of Television Arts & Sciences Hall of Fame in 1997. The Court of Appeal for this district yesterday reinstated a legal malpractice action by Tinker's third wife, Brooke Knapp, against the lawyer who represented her in 2004 in connection with the pre-marital agreement she and Tinker signed. She claims she received less from Tinker's estate and amassed attorney fees of about half a million dollars because the lawyer failed to secure Tinker's signature on a separate document waiving his right to independent legal representation.
Trial Court's View
In granting summary judgment on July 8, 2020, Lui said the PMA was enforceable, and that the defendants' conduct therefore caused none of the harm suffered by Knapp. He pointed to Civil Code §1588 which provides:
"A contract which is voidable solely for want of due consent, may be ratified by a subsequent consent."
Lui said in his order that "Family Code § 1615 could render the premarital agreement unenforceable upon a showing that the party against whom enforcement is sought did not execute the agreement voluntarily," noting that "involuntariness is presumed" where there is no writing waiving entitlement to a lawyer's guidance. He continued:
"However, unenforceability under Family Code § 1615 may be waived by Grant's subsequent conduct, such as acknowledging the existence and terms of the Marital Agreement and failing to rescind it….Grant is deemed to have knowledge of Family Code § 1615….
"The right to rescind may be waived….It is waived by recognition of the existence of the contract after the right to rescind was created….Waiver of a right to rescind will be presumed against a party who, having full knowledge of the circumstances which would warrant him in rescinding, nevertheless accepts and retains benefits accruing to him under the contract."In her opinion reversing the summary judgment, Collins said:
"As the trial court recognized, there is a triable issue of material fact as to the threshold issue of whether Tinker satisfied the requirements of section 1615 when he executed the PMA. If the factfinder determines that Tinker did not comply with section 1615, and the PMA was therefore not enforceable, the question becomes whether Tinker's subsequent amendments to his estate plan could ratify the PMA and thereby rectify the statutory violation."
Collins continued:
"The trial court concluded they could and did, because contracts that are voidable for lack of due consent may be ratified by subsequent consent (Civil Code, § 1588), and Tinker's amended estate plans evinced that consent as a matter of law. Knapp contends, and we agree, that this conclusion was in error. A premarital agreement that is not enforceable under section 1615 is void, not voidable, and accordingly cannot be ratified. As none of the other grounds asserted in the summary judgment motion support the trial court's ruling, we reverse and remand for further proceedings on Knapp's malpractice claim."
Ginsberg contended in the trial court and on appeal that Knapp's action is time-barred, pointing to Code of Civil Procedure §340.6(a) which sets forth:
"An action against an attorney for a wrongful act or omission, other than for actual fraud, arising in the performance of professional services shall be commenced within one year after the plaintiff discovers, or through the use of reasonable diligence should have discovered, the facts constituting the wrongful act or omission, or four years from the date of the wrongful act or omission, whichever occurs first."
Knapp sued in 2019, 15 years after his alleged negligence, the lawyer argued. Lui responded by drawing attention to the portion of the statute that says that the four-year period is "tolled during the time that any of the following exist: [¶] (1) The plaintiff has not sustained actual injury."
He declared:
"[T]he statute of limitations was tolled until someone asserted that Defendants failed to satisfy the requirements of Family Code § 1615 at the time Grant signed the Premarital Agreement. Only then could Defendants' negligent act/omission have possibly rendered the Premarital Agreement unenforceable. As Defendants' own evidence shows, after Grant passed away, no one asserted the unenforceability of the Premarital Agreement in court proceedings."
Collins agreed that Ginsberg's contention that the time within which to sue commenced in 2004 "is unpersuasive in light of the tolling provisions contained within the statute."
Tinker, with his then-wife Mary Tyler Moore (who died in 2017), in 1969 formed the production company, MTM Enterprises which produced the Mary Tyler Moore Show, spinoffs Rhoda, Lou Grant, and Phyllis, and several other hit series including The Bob Newhart Show, WKRP in Cincinnati, St. Elsewhere, and Hill Street Blues. He was chairman and CEO of NBC from 1981-86.
The case is Knapp v. Ginsberg, 2021 S.O.S. 4382.
Attorneys on appeal were Barry E. Fink, Adam Pines and Elizabeth Chilton of Glaser Weil Fink Howard Avchen & Shapiro for Knapp and Arezoo Jamshidi, Jennifer K. Saunders of Haight Brown & Bonesteel for Ginsburg.
Copyright 2021, Metropolitan News Company