Page 1
Court of Appeal:
Judicial Misconduct Requires Reversing Murder Conviction
By a MetNews Staff Writer
The Court of Appeal for this district on Friday reversed a conviction for second degree murder based on judicial misconduct on the part of then-Los Angeles Superior Court Judge Edmund Willcox Clarke Jr.
It is a foregone conclusion that defendant Phillip Dorsett, convicted of a second-degree murder, will not be retried in light of Los Angeles County District Attorney George Gascón's stated aversion to lengthy sentences. Dorsett was found guilty in 2007 in the June 17, 2005 killing of Jesse Fujino, a member of a rival gang.
Reversal came in an unpublished opinion by San Luis Obispo County Superior Court Judge Rita Coyne Federman, sitting on assignment. In her opinion for Div. One, she said:
"After reviewing the record, we conclude the trial court engaged in judicial misconduct that, when viewed in the aggregate, rendered the trial fundamentally unfair."
Some of the remarks quoted by her—such as "Let's have straightforward questions, don't put arguments in there, or I will start sustaining my own objections" and "Trust the jury to understand your point, without making them three or four times"—reflected impatience with the defense lawyer's approach.
Federman made clear that it was not any one particular comment, but the cumulative effect of them that necessitated a reversal.
"By repeatedly interrupting the proceedings to admonish counsel, asking questions of witnesses that often harmed the defense, and making comments that impugned the credibility of the defense case, the court telegraphed to the jury its disdain for the defense," she wrote.
Self-Defense Claimed
There was no question as to the fact that Dorsett fatally shot a man. What was in contention was whether the defendant acted, as he claimed, in self-defense.
During cross examination of Dorsett, Clarke posed some questions. With respect to a September 2005 interview with a police detective, he said:
"Some people might be curious why didn't you just tell the detective, 'Someone tried to kill me, and I killed him instead.' "
Federman commented:
"We are particularly troubled by the court's inquiry into Dorsett's failure to tell the police that he shot Fujino in self-defense…, because it strongly inferred the court did not view Dorsett's testimony to be credible, and undermined the defense theory of self defense. The court's use of the introductory phrase, 'Some people might be curious,' underscored a tone of skepticism or disbelief."
The jurist expressed a concern that jurors might adopt what they perceive as the judge's perception of the credibility of a witness as their own.
Mistrial Sought
She noted that a mistrial was sought, and denied, after Clarke admonished the defense lawyer in front of the jury for trying to slip in hearsay testimony and, outside the jury's presence, threatened to hold him in contempt if he tried it again.
The lawyer again moved for a mistrial based on Clarke's persistent questioning of a witness (seeking to pin down on what parts of a person's body he spotted tattoos). Responding to the motion, the judge said he would instruct the jurors "not to consider any opinion of mine as indicative of what I think about the case or what the verdict should be," adding:
"But it's hard for me to sit by and wonder whether someone is suborning perjury and ask no questions."
Federman observed:
"The trial judge zealously challenged defense witnesses with leading, and sometimes argumentative, questions….The court questioned prosecution witnesses in a manner that assisted the prosecution, essentially stepping into the role of the prosecutor to establish a point that supported the prosecution's case or called into question the credibility of the witness…Such uneven treatment can in and of itself constitute misconduct by conveying an impression of partisan advocacy."
She went on to say:
"Given the relative weight of the prosecution and defense evidence, we cannot conclude that the trial court's disparagement of defense counsel and witnesses, and unnecessary intrusion into the adversarial process in a manner that appeared to favor the prosecution, was harmless."
The case is People v. Dorsett, B294926.
Previous Decisions
Friday's opinion was the second Div. One has rendered in the case. On June 11, 2009, it affirmed the conviction, though it invalidated a gang enhancement.
The conviction fell, however, when the Ninth U.S. Circuit Court of Appeals on April 17, 2015, granted a petition for a writ of habeas corpus based on incompetence of counsel.
Clarke retired on Sept. 24.
On Sept. 29, 2016, he of had received a public admonishment from the Commission on Judicial Performance, which said:
"Judge Clarke's mistreatment of four jurors in this matter, together with his prior discipline for misconduct that included making discourteous and undignified remarks to a propria persona defendant, convinces us that a public admonishment is the appropriate discipline."
Dorsett Toasts Gascón
Dorsett was the subject of news reports recently after the California District Attorneys Association ("CDAA") on March 9 released a video smuggled out of New Folsom State Prison showing the inmate, holding a glass of prison moonshine known as "white lightning," clocking the glass of his cellmate, then offering a toast, saying: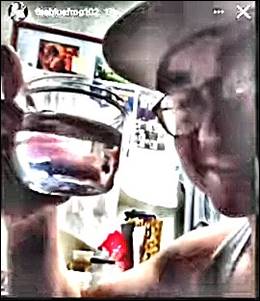 DORSETT
"Some white lightning, a little cup, boom! Celebrating us going home on this Gascón directive. Whoop!"
Dorsett was reacting to a special directive by Gascón presenting the prospect of the resentencing of inmates who have been incarcerated for 15 years or longer.
Under Penal Code §1170(d)(1), a court may, "upon the recommendation of the… district attorney of the county in which the defendant was sentenced, recall the sentence and commitment previously ordered and resentence the defendant."
The CDDA said in a press release:
"On June 17,2005, Dorsett executed Jesse Fujino by shooting him in the head at close range….The court sentenced him to 40 years to life in prison. But now, under Gascon's new policies, Dorsett is immediately eligible to be considered for release from prison. CDAA calls on Gascon to abandon his reckless policies mat put violent criminals like Dorsett back on the streets."
Copyright 2021, Metropolitan News Company