Page 1
State High Court Denies Review of Justice Johnson's Ouster
Commission on Judicial Performance's June 2 Decision to Bump Jurist From Court of Appeal for Sexual Harassment Stands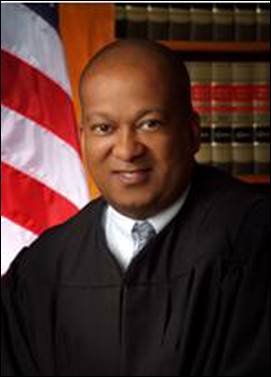 JEFFREY W. JOHNSON
Former Justice
By a MetNews Staff Writer
Jeffrey W. Johnson is now retired as a justice of the Court of Appeal after the Supreme Court yesterday denied review of the June 2 decision by the Commission on Judicial Performance ousting him from office based on persistent misconduct.
He is the first justice of that court to be forcibly removed.
Johnson, a 1985 graduate of Yale Law School, served as an assistant U.S. attorney for the Central District of California, was hired in 1999 by judges of the District Court as a magistrate judge, and was appointed to Div. One of the Court of Appeal for this district by then-Gov. Arnold Schwarzenegger on June 11, 2009. Appointed to that division at the same time was then-Los Angeles Superior Court Judge Victoria Chaney.
The commission found, in an 111-page June 2 decision and order, that Johnson repeatedly victimized women—including Chaney—in the form of inappropriate remarks and unwanted touching of them. It also determined that he had lied during the course of the commission proceedings.
18 Acts
The decision said:
"Judges are expected to be honest, have integrity, uphold high personal standards, and treat everyone with dignity and respect, on or off the bench. Justice Johnson's conduct before, and during, this proceeding demonstrates that he does not meet these fundamental expectations. He committed 18 acts of prejudicial misconduct and was found to have engaged in the unwanted touching of four women, to have engaged in conduct that would reasonably be perceived as sexual harassment of seven women at his court, to have misused the prestige of his position and demeaned his judicial office by attempting to develop personal relationships with three other young women, and to have further demeaned his office by his offensive conduct toward a fourth woman, as well as by multiple incidents of undignified conduct while intoxicated.
"Justice Johnson's refusal to admit to serious misconduct, and his intoxication, coupled with his failure to be truthful during the proceedings, compels us to conclude that he cannot meet the fundamental expectations of his position as a judge. Fulfilling the commission's mandate—particularly with respect to maintaining public confidence in the integrity of the judiciary—can only be achieved by removing him from the bench."
The commission remarked that his treatment of women reflected "a sense of entitlement completely at odds with the canons of judicial ethics and the role of any judge," declaring:
"Sexual misconduct has no place in the judiciary and is an affront to the dignity of the judicial office."
Johnson's Attorney Comments
Attorney Paul S. Meyer of Costa Mesa, who represented Johnson, said yesterday:
"We regret the Supreme Court's denial to further examine the decision to remove Justice Johnson despite undisputed findings that he never committed any act of willful misconduct and never received any prior discipline. This decision deprives the public of a diverse jurist who is universally acknowledged to be a brilliant and exceptionally fair judicial officer.
"The Supreme Court's failure to address the critical issues raised in this matter, negatively impacts the administration of justice for every judicial officer in California. It also threatens to undermine the public confidence in the availability of even-handed justice to every citizen of this State."
The commission has 11 members—six public members, three judges, and two lawyers. Two members—Los Angeles Superior Court Judge Lisa B. Lench and one public member—recused themselves. The decision by the nine remaining members was unanimous.
The only other appellate jurist to be forced from office was Marshall F. McComb, 82, who was found guilty of no misconduct; the California Supreme Court justice, after a 50-year judicial career, showed signs of senility. In 1977, before the commission was vested with the power to remove judges, and could only recommend removal, McComb was expelled by a panel of seven Court of Appeal justices, sitting as pro tem members of the state Supreme Court.
Copyright 2021, Metropolitan News Company