Page 3
Ninth Circuit:
Losing Party Entitled to Disclosures From JAMS's Arbitrators
By a MetNews Staff Writer
The Ninth U.S. Circuit Court of Appeals yesterday bounced a case back to the District Court for the Central District of California, which had confirmed an arbitration award, declaring that the judge had failed to recognize the losing party's entitlement to receive from JAMS certain disclosures which a recent case requires of arbitrators.
A three-judge panel applied that case—Monster Energy Company v. City Beverages—but declined to extend its holding, and suggested a reconsideration of it by the court, sitting en banc.
The arbitration was between EHM Productions, Inc.—which does business as "TMZ," a provider of Hollywood-related news—and Starline Tours of Hollywood, Inc., which operates tour buses in Los Angeles. The companies in 2012 entered into a joint venture under which Starline provided TMZ tours and, after a falling out, went into arbitration before former U.S. District Court Magistrate Judge Margaret Nagle, now of JAMS.
Nagle found in favor of TMZ on Oct. 21, 2017.
That same day, Starline emailed JAMS's case manager querying if a conflicts check had been run on the law firm of Boies Schiller which, under a recent merger with Caldwell Leslie, now represented TMZ. The response was that Nagle "had nothing further to disclose."
$351,000 Award
A three-arbitrator JAMS appellate panel left her award virtually undisturbed. U.S. District Court Judge André Birotte Jr. of the Central District of California on Oct. 21, 2019, confirmed it, and judgment for damages was entered in favor of TMZ for $296,070.31, plus $54,671.61 in interest accrued to date.
The day after the judgment was entered, the Ninth Circuit issued its opinion in Monster Energy, requiring disclosures by arbitrators as to any financial interest by them in the alternative dispute resolution firm under which they operate—on the theory that they would have an incentive to favor the firm's repeat customers—and nontrivial business dealings they have had with any party. The decision applied to awards that could still be appealed.
Starline sought disclosures, pursuant to Monster Energy. JAMS responded that it had "no further jurisdiction," adding:
"As such, no further disclosures will be provided."
 Birotte declined to vacate the judgment.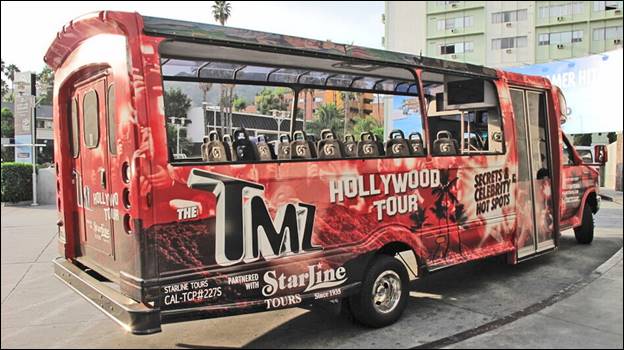 —AP
In this 2018 file photo, a TMZ tour bus is seed in Hollywood.
VanDyke's Opinion
The Ninth Circuit yesterday affirmed in part and reversed in part, in an opinion by Judge Lawrence VanDyke, joined by Judges Ronald Gould and Kenneth K. Lee.
His opinion rejects Starline's call for broadening Monster Energy by requiring disclosures of an arbitration firm's past dealings with lawyers for a party as well as the party; finds no reason Nagle should have been required to fill out a disclosure form just to say that she had no disclosures to make concerning Boies Schiller; and says bias was not evidenced by Nagle granting TMZ' anti-SLAPP motion as claims in Starline's cross complaint. Although she erred in granting that motion—which under California law does not lie in an arbitration—it did not matter because she did have the power to sustain demurrers without leave to amend.
 The remand was based on the conclusion that "the district court clearly erred in its interpretation of JAMS's response to Starline's request for Monster Energy disclosures after the conclusion of the arbitration."
VanDyke observed that JAMS said it would not provide disclosures based on its belief that it no longer had jurisdiction in the case.
'Clear Error'
"But the district court construed this response as the Monster Energy disclosure itself—one 'indicating the Arbitrators have no ownership interest [in JAMS],' " he noted. "This was clear error."
He commented that "construing JAMS's non-response as a Monster Energy disclosure would effectively prevent any challenge to arbitration awards entered prior to Monster Energy's publication, against the obvious intent and understanding of the panel majority."
The jurist added:
"If none of the Arbitrators had an ownership interest in JAMS or JAMS only had trivial business dealings with TMZ, JAMS could have responded by stating that the Arbitrators 'had nothing further to disclose' like it did in response to Starline's request regarding whether the Arbitrator had any conflicts with Boies Schiller4 But saying you have nothing further to disclose is markedly different than simply refusing to provide any further disclosures based on the shifty reasoning that the Arbitrators no longer have jurisdiction over the case, which is deliberately evasive on the key question of whether they have something to disclose or not."
Concurring Opinion
In a one-paragraph concurring opinion, VanDyke, again joined by Gould and Lee, commented:
"In Judge [Michelle T.] Friedland's Monster Energy Company v. City Beverages, LLC dissent, she predicted the majority's decision was 'likely to generate endless litigation over arbitrations that were intended to finally resolve disputes outside the court system.'…This case is certainly some evidence that her warning was warranted. The result here was required by Monster Energy, which the opinion faithfully applies. But because I share many of the same reservations about the Monster Energy decision that Judge Friedland so aptly articulates in her dissent. I encourage my colleagues to reconsider Monster Energy en banc."
The case is EHM v. Starline Tours of Hollywood, 2:18-cv-00369.
Copyright 2021, Metropolitan News Company