Page 1
Fraud Action Reinstated Against Allegedly Tricky Model
By a MetNews Staff Writer
The Court of Appeal for this district yesterday ordered reinstatement of a cross-action for fraud brought by a designer/manufacturer of women's fashion accessories that was sued by a model in an action under the Labor Code because she wasn't paid her $3,000 modeling fee at the end of a 10-hour photo shoot.
Cross-complainant Brighton Collectibles, LLC, claimed fraud because, it alleges, model Natalie Hockey told it to make payment to her agent, LA Models, Inc., upon receipt of its invoice, not disclosing an intent to sue it, as she did, under Labor Code §201(a) which requires making payment to an employee upon discharge. She was an employee of Brighton, she averred in her complaint, was discharged when the shooting session ended, and is entitled to $90,000 in waiting-time penalties.
The shoot took place on Oct. 4, 2018; LA Models invoiced Brighton on Oct. 29; Brighton paid by a check dated Dec. 7.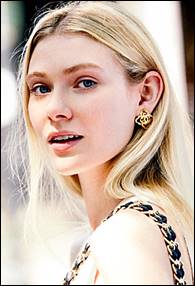 Natalie Hockey
Model
Santa Barbara Superior Court Judge Donna D. Geck granted Hockey's anti-SLAPP motion, finding that the cross-complaint stemmed from her protected conduct in suing for a Labor Code violation (satisfying the first prong of the anti-SLAPP statute, Code of Civil Procedure §425.16) and that Brighton had not met its burden (under the second prong) of showing a probability of prevailing on the merits.
Justice Martin J. Tangeman of the district's Div. Six bypassed a discussion of whether Hockey's conduct was protected, declaring that Brighton had, in fact, met its burden. He wrote:
"Brighton submitted evidence that Hockey made a misrepresentation when she told the company to pay LA Models for her services during the photoshoot upon receipt of an invoice rather than immediately upon her 'termination' as an employee when the shoot concluded. It can be inferred that Hockey knew that misrepresentation was false based on her actions. It can also be inferred that Hockey intended for Brighton to rely on her misrepresentation—and that Brighton justifiably did so—given that (a) she instructed Brighton to do so, and (b) her instructions comported with standard industry practices. Reliance on Hockey's misrepresentation damaged Brighton by exposing it to $90,000 in waiting-time penalties plus attorney fees and costs—in addition to the costs Brighton incurred in defending itself against Hockey's lawsuit. No more was required at this stage of the proceedings."
Hockey contended that Brighton was put on notice that it was expected to pay at the end of the photo shoot because the invoice recited that payment was due "upon job completion." But that term, Tangeman noted, "was included in an invoice sent to Brighton more than three weeks after the photoshoot occurred," remarking:
"By that time the alleged fraud had already occurred. Hockey's post-hoc justification thus cannot defeat Brighton's fraud claim at this juncture."
The justice noted that Hockey has made similar claims under the Labor Code against four other businesses.
The case is Brighton Collectibles, LLC. v. Hockey, B307235.
 Brighton was represented by Peter W. Ross and Charles Avrith of the Century City firm of Browne George Ross O'Brien Annaguey & Ellis. Roger Y. Muse and Donna Boris of the Beverly Hills firm of Excelsior Law acted for Hockey.
Copyright 2021, Metropolitan News Company