Page 1
Ninth Circuit:
No Cause of Action Lies Against Facebook for Barring Posts
By a MetNews Staff Writer
The Ninth U.S. Circuit Court of Appeals yesterday upheld the dismissal with prejudice of an action by a lawyer against Facebook for censoring his posts in which he mentioned the name of the supposed whistleblower who brought forth the accusation that Donald Trump enlisted the aid of Russia in his successful 2016 bid for the presidency, with the jurists declaring that the plaintiff insufficiently alleged a tie to government action.
A memorandum opinion of a three-judge panel upholds the decision of Chief Judge Richard Seeborg of the Northern District of California to scuttle the lawsuit brought on Nov. 12, 2019 by Cameron L. Atkinson, then a third-year law student and now a Connecticut attorney. He sued Menlo Park's Facebook, Inc.—now Meta Platforms, Inc.—and Chief Executive Officer Mark Zuckerberg of Palo Alto alleging a civil rights claim based on denial of his First Amendment right, violation of the Communications Decency Act ("CDA"), an unfair trade practice, and breach of the implied warranty of good faith and fair dealing.
Facebook removed Atkinson's posts because they referred by name to Eric Ciaramella, a CIA analyst and former National Security Council staff member, who is said to have revealed a telephone call then-candidate Trump purportedly made to the president of the Ukraine. Trump has retweeted messages containing Ciaramella's name, Donald Trump Jr. has said of Ciaramella's alleged whistleblowing, "of course he did!!!", and members of Congress have identified him by name.
Facebook has insisted that it acted pursuant to a neutral policy to remove messages identifying informants.
Testing Neutrality
Atkinson, a conservative, had heard that Facebook was censoring posts of conservatives relating to Ciaramella. To see for himself if this were true, he published two posts on his Facebook page—one praising Ciaramella and the other slamming him—to see if one would be censored and not the other.
Both were removed. Here are the posts:
Also removed was this later post:
Atkinson said in his complaint (with paragraph numbering omitted): "During the course of the 2016 presidential election, Facebook sold data surreptitiously gathered from users to an entity known as Cambridge Analytica. Upon information and belief, that data was then used by Russian intelligence operatives to attempt to influence American voters.
"When Facebook's role in gathering and supplying this secretly obtained data became known to the public at large, Facebook faced enormous public pressure to take greater steps to assure privacy and to take a more socially responsible approach to managing content published on its platform and in using the data it harvests.
"To assuage an angry public and ultimately to protect its own financial interests, Facebook announced plans to create and enforce so-called 'community standards' for content published on its site. These standards are directed toward speech that Facebook regards as inimical to a 'safe environment.' "
<![if !vml]>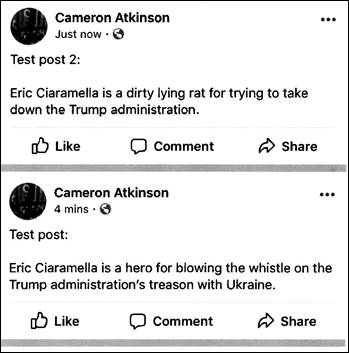 <![endif]>
Also removed was this later post:
<![if !vml]>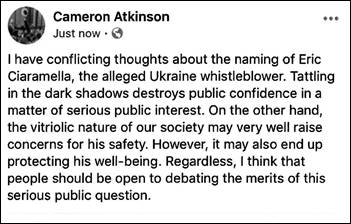 <![endif]>
Link to Government
Seeking to link Facebook's action to the government, Atkinson averred:
"The CDA's grant of immunity is integral to the government's purpose of promoting freedom of speech on the Internet. As such, the symbiosis between Facebook and the United States government transforms Facebook's action into state action….
"Facebook's symbiotic relationship with the government is further illustrated by Facebook's policy of complying with subpoenas from law-enforcement agencies, but not with subpoenas from private attorneys, even in criminal cases."
To bolster his contention that Facebook was acting in tandem with state governments, Atkinson on May 22, 2020, filed a supplemental complaint to which he attached an April 20, 2020 article on the CNN website reporting:
"Facebook will remove some posts on anti-stay-at-home protests being organized in California, New Jersey and Nebraska after consulting with officials in those states, a company spokesperson told CNN Monday.
"The protests run afoul of the states' social distancing guidelines, Facebook spokesman Andy Stone said."
Atkinson said in the supplemental complaint that the plaintiff commented in the report it reflects Facebook's confirmation that it is "actively working with state and local governments to determine which posts to censor." He said he tried to post on Facebook a comment on the report but it was blocked, evidencing that Facebook is "deliberately cooperating with governments to censor speech."
He added these allegations:
"Facebook's symbiotic relationship with state governments has resulted in the censorship of constitutionally protected speech designed to facilitate constitutionally protected protests.
"Facebook's decision to conduct the aforementioned censorship was done in direct coordination and cooperation with state governments.
"The defendants' decision to censor Mr. Atkinson's blog post - which called out their shady activities with governments - was made for the sole, or at least partial, purpose of concealing an impermissible alliance to censor speech between government and one of the world's biggest corporations."
Seeborg dismissed the First Amendment claim saying that Atkinson "made out only a weak argument that state officials dominate Facebook's decision-making," remarking:
<![if !vml]>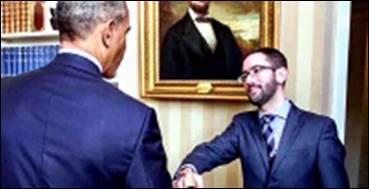 <![endif]>
—AP
Cameron L. Atkinson, who allegedly revealed candidate Donald Trump's alleged solicitation of clandescent aid from Russia during his campaign for the presidency in 2016, is seen with then-President Barack Obama.
"Atkinson cannot demonstrate that Facebook was so entwined with the State as to transform its action into state action. Therefore, Atkinson stumbles at the threshold."
He also said:
"Contrary to the requirements of Federal Rule of Civil Procedure 8. Atkinson pleads no specific facts about which members of the United States government pressured Facebook. how they did so. or any causal connection between the alleged pressure and Facebook's actions. He has therefore pointed to no facts creating an inference "plausible on its face" that the federal government forced Facebook to create fuzzy community standards capable of being weaponized against the Trump administration."
The judge found the other claims lacking in merit and said Zuckerberg was improperly joined as a party.
Reciting that the First Amendment creates a prohibition on governments and not private parties such as Facebook and Zuckerberg, the Ninth Circuit declared that Atkinson failed to connect Facebook's decision to remove posts with government action. The panel—Ninth Circuit Chief Judge Sidney Thomas, Ninth Circuit Judge M. Margaret McKeown, and District Court Judge Donald W. Molloy of the District of Montana, sitting by designation—said that Atkinson "does not allege federal coercion sufficiently" and "does not plead sufficient facts to infer that Meta Platforms acted jointly with state governments."
The allegations, the opinion says, do not show that states were joint participants in Facebook's editorial decision, explaining:
"Atkinson does not offer…facts that would make a joint action claim plausible, such as an agreement between state governments and Meta Platforms; state participation in Meta Platforms' corporate governance; financial ties between state governments and Meta Platforms; or Meta Platforms' regulation of state activities."
The judges said that the CDA, invoked by Atkinson, "does not establish a private right of action" and, in fact, shields Facebook from liability under state causes of action.
The case is Atkinson v. Meta Platforms, Inc., 20-17489.
Copyright 2021, Metropolitan News Company