Page 1
Ninth Circuit:
Sexual-Misconduct Allegations Made to CNN Mirroring Those in Lawsuit Are Protected
By a MetNews Staff Writer
Allegations of sexual misconduct, even if baseless, were not actionable under California law, in light of the "fair-and-true-report" privilege, because they were related to claims set forth in a New York lawsuit, the Ninth U.S. Circuit Court of Appeals held on Friday.
In a memorandum opinion, a three-judge panel declared that the District Court for the Central District of California erred in denying an anti-SLAPP motion in connection with an Aug. 16, 2018 CNN article. That article followed up on an Aug. 14 on-air interview with Sean Rad, a co-founder and former CEO of Tinder, Inc., which provides a matchmaking mobile app.
Rad and Rosette Pambakian, also a former Tinder executive, were sued for defamation by Gregory Blatt, a former CEO of Match Group, Inc. which owns Tinder. Match is a former subsidiary of IAC.
The CNN interview took place the same day Rad filed an action in New York on behalf of himself, Pambakian, and eight others contending that IAC and Match, largely through efforts of Blatt, undervalued Tinder's stock options, cheating them out of $2 billion. The complaint in that actions set forth:
 "At Tinder's December 2016 holiday party in Los Angeles, Blatt, who had just taken over as Tinder's 'interim' CEO, groped and sexually harassed Rosette Pambakian." Tinder's Vice President of Marketing and Communications."
The pleading continues:
"In mid-2017, Rad learned about these events. Rad asked Pambakian about them, and she confirmed that Blatt had groped and sexually harassed her with colleagues present."
It goes on to allege:
"On information and belief, Defendants covered up Blatt's misconduct in part because he was essential to the execution of Defendants' scheme to deprive the Tinder Plaintiffs of their rights as optionholders—and to save Defendants billions of dollars in the process."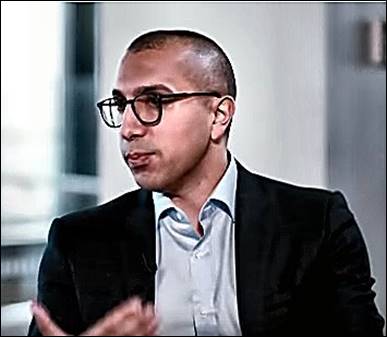 —AP
Above is a screenshot of Sean Rad being interviewed on CNN on Aug. 16, 2018. The Ninth U.S. Circuit Court of Appeals on Friday declared that he and another former Tinder, Inc. executive are immune from liability not only for statements made in that interview but also those contained in a follow-up CNN article two days later. A three-judge panel found that California's "fair-and-true-report" privilege applied.
CNN Interview
In the CNN interview, Rad said of the alleged sexual misconduct:
"I actually reported that misconduct to the company and the board—and the board had a choice. They could either do the right thing and properly investigate and take the right action, or they can keep that executive in a place where he can finish the job of corrupting the valuation."
He said he confronted Blatt with Pambakian's allegation and, her recounted:
"I was threatened. I believe it was, 'If you take me down, I'm going to take you down with me.' "
Aug. 16 Article
The CNN article which accompanied an online video of the interview two says earlier says:
"CNN has learned more details surrounding the alleged incident, which occurred during Tinder's 2016 holiday party at the SLS Hotel in Los Angeles.
"According to Pambakian, the party coincided with Blatt being named CEO. She said Blatt started behaving inappropriately, including saying at one point, 'I get hard every time I look at you.' According to Pambakian, Blatt then said, 'let's get out of here.' "
The article relates that she said she "bolted," suggested that to two persons she knew that they go to their room; Blatt showed up, and behaved inappropriately. Pambakian is quoted as alleging:
"It wasn't consensual—there was no opportunity, no 'hi,' 'hello,' before I even knew it, Greg Blatt was on top of me in a hotel room."
District Court Pleading
In his action in the U.S. District Court for the Central District of California, Blatt alleged:
"This is an action for defamation and defamation per se. As part of their scheme to extract billions of dollars from IAC/InterActiveCorp…and Match Group. Inc…., Pambakian and Rad have conspired to make false allegations of sexual harassment and sexual assault against Blatt with the specific intent to damage Blatt's good name, reputation, and credibility. The scheme to damage Blatt's reputation and credibility arises out of Rad's hatred of Blatt. who he blamed for losing his job at Tinder, and Rad's desire to maximize the value of his Tinder options."
It charges:
"On August 14, 2018, at Rad's urging, Pambakian joined a lawsuit against Match over the valuation of Tinder's options. The lawsuit included allegations that Blatt sexually harassed and groped Pambakian, even though such claims were false and had no relevance to the claim that Tinder had been undervalued. Instead, it was an attempt to gain publicity for what would otherwise be a run-of-the-mill valuation dispute, to apply pressure to settle the lawsuit in an era where most companies would be afraid to challenge assertions of sexual misconduct, and to tar the character of the person who would likely be the central witness on behalf of the defendants in the lawsuit: Blatt."
District Court Ruling
District Court Judge Michael W. Fitzgerald of the Central District of California granted an anti-SLAPP motion, pursuant to California's Code of Civil Procedure §425.16, as to the claim that Rad committed defamation in the CNN interview. He found that Rad engaged in protected conduct and that Blatt could not show a probability of prevailing on the merits in light of California's "fair-and-true-report privilege" (in Civil Code §47) immunizing statements derived from judicial proceedings.
Fitzgerald said:
"The gist and scope of this interview conveys that Match and IAC covered up the sexual harassment allegation to execute the valuation process and that Blatt subsequently said that he would take Rad down with him. These allegations are substantially similar to those contained within the Valuation Lawsuit."
He denied the anti-SLAPP motion, however, to the extent it related to the Dec. 18 article, explaining:
"While this article began with a fair and true reporting of the lawsuit, it then continued to describe the alleged sexual assault and harassment in much more graphic detail that does not appear in the Valuation Complaint. Even the article itself states that it 'learned more details surrounding the alleged incident,' which implies that the details did not come from the New York Valuation Complaint. Moreover, although the Valuation Complaint did mention that Blatt 'groped and sexually harassed' Pambakian with colleagues present, the Court concludes that the details contained in the CNN Article is expected to produce a different effect on the reader based on the graphic details that are not contained in the complaint."
Ninth Circuit Decision
The Ninth Circuit affirmed Fitzgerald's order to the extent that it granted the special motion to strike and reversed to the extent that it did not. The panel—comprised of Ninth Circuit Judges Morgan Christen and Danielle J. Forrest, joined by Sixth Circuit Judge Eugene E. Siler, sitting by designation—said the average person would understand Pambakian's allegation to relate to what was averred in the New York action, elaborating:
"The average reader would understand 'groped and sexually harassed' to mean, at a minimum, that Blatt touched Pambakian against her will for his sexual pleasure and engaged in some sort of additional, uninvited sexual behavior—verbal, physical, or both….
"Pambakian's statements in the August 16 article, describing how Blatt allegedly groped and sexually harassed her during and after the 2016 Tinder holiday party, convey the same gist or sting as the allegations in the Valuation Complaint. Even if using the term 'groped' makes it easier for a reader to avoid thinking about the lurid details inherent in such an act. the average reader would still understand that such an allegation included those omitted details.… The deviations from the allegations in the Valuation Complaint fall within the "literary license" of the fair-and-true-report privilege."
The case is Blatt v. Pambakian, 20-55084.
Meanwhile, Pambakian's action against Tinder, Inc. based on Blatt's alleged conduct is on hiatus. The District Court for the Central District of California held that an arbitration agreement she signed is binding, which she contests.
Oral argument was held by the Ninth Circuit argument in the case on Aug. 12.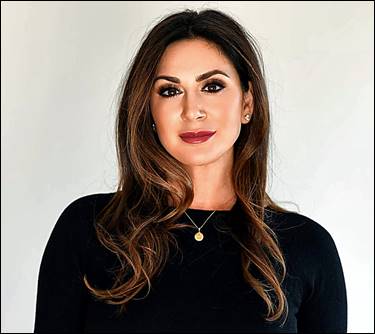 ROSETTE PAMBAKIAN
Former Tinder executive
Copyright 2021, Metropolitan News Company