Page 1
Court of Appeal:
Lawyer Who Brought Meritless Suits Wasn't Extortionist
Convictions Reversed on Counts Stemming From Seeking Settlements From Businesses Sued Under 'Gender Act' for Charging Women More for Haircuts, Garment-Cleaning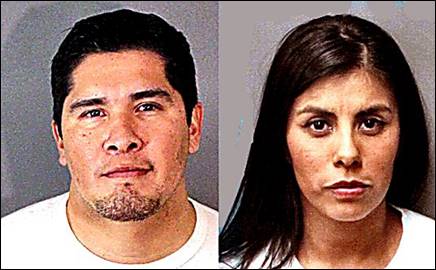 Above are Riverside Police Department photos of attorney Rogelio Vergara Morales and his wife, Mireya Arias. The Court of Appeal on Friday reversed all 40 counts on which Arias was convicted in connection with Morales's efforts to garner settlements from businesses he sued for charging her more than it charged him for haircuts and dry cleaning. The court reversed his conviction on counts relating to that effort, but conviction on other counts were undisturbed.
By a MetNews Staff Writer
The filing of a meritless lawsuit followed by an effort to exact a settlement does not constitute extortion or attempted extortion, Div. Two of the Fourth District Court of Appeal held Friday, reversing the conviction of a Riverside immigration attorney on most of the 62 counts on which he was convicted and overturning the conviction of his wife on all 40 counts.
"There is no case law or precedent that provides filing of a civil lawsuit can constitute an unlawful injury to person or property under the extortion law," Justice Douglas P. Miller said in an unpublished opinion. "The People chose to file the charges of extortion and attempted extortion aware there was no prior legal support for such a novel theory that the filing of the civil lawsuits were unlawful as defined in the extortion statutes."
Attorney Rogelio Vergara Morales went into hair salons and dry cleaning establishments with his then-girlfriend (now wife), Mireya Arias. If the businesses charged Arias more than they charged him, he sued for gender discrimination under Civil Code §51.6(b), the "Gender Act"—which provides that "[n]o business establishment of any kind whatsoever may discriminate, with respect to the price charged for services of similar or like kind, against a person because of the person's gender"—then sought to obtain a quick settlement.
The prosecution's theory was that that the lawsuits lacked merit in light of §51.6(c) which says: "Nothing in subdivision (b) prohibits price differences based specifically upon the amount of time, difficulty, or cost of providing the services."
Cutting a woman's longer hair takes more time and is more complex, it was maintained.
One of those sued was Rosie Quintana, owner of Your Hair Center in Jurupa Valley. On June 26, 2016, the defendants received haircuts; Arias was charged $20 and Morales was charged $15; Morales brought suit on behalf of Arias on July 7, 2016, for $80,000 in damages; Morales phoned the next day expressing a willingness to settle for $10,000.
He also told her that he had photos of her and that she could be criminally charged. Quintana phoned the police, alleging an attempt at extortion.
Francisca Dumlao, owner of Alfa Cleaners & Tailoring, also in Jurupa Valley, was sued for $109,000 based on charging Morales $3.75 for cleaning a woman's cotton blouse and $3.50 for the cleaning of a man's shirt.
Quintana explained that cutting Morales's hair only required use of clippers while scissors were needed for Arias's hair, while Dumlao justified a higher price for cleaning a blouse because the seams on it necessitated hand-pressing.
Riverside Deputy District Attorney Heather Ferris told jurors:
"So Mr. Morales in this case, and what this is based on is all those phone calls he made after the lawsuits were filed. So Mr. Morales got on the telephone with all of these businesses and told them, 'It's going to get worse. We're going to go to trial. Give me $10,000 and it will go away.' That's extortion in this case."
Reversals Explained
It was not extortion, Miller declared. He wrote:
"Evidence that a lawsuit will fail on the merits does not make it unlawful. The jury was given no proper evidence from which it could determine, without reliance on the exceptions in Civil Code section 51.6, subdivision (c), that the lawsuits themselves when filed were unlawful.
"As such, insufficient evidence was presented by the People that the lawsuits filed by defendants were unlawful. The only evidence that was properly considered by the jury regarding whether the lawsuits were unlawful was that Arias was charged a different price for a haircut and dry cleaning than Morales. Further, it should be noted that the lawsuits were still pending at the time of the trial. While defendants could have surmised the difference in price was due to the difference in the length of hair or the time involved, it would not serve the purpose of the Gender Act to place the burden on them to prove that the difference of price was due to time and skill prior to filing a claim of gender discrimination under the Gender Act. While certainly these lawsuits may eventually be found to lack merit, based on Civil Code section 51.6, subdivision (c), that does not make the lawsuits 'unlawful' when filed."
Of the 62 counts on which Morales was convicted, there was a reversal as to 49 of them. Forty of those counts were based on extortion or attempted extortion or crimes related to the efforts (such as burglary, based on entering establishments for the purpose of committing extortion.)
Conduct Toward Attorney
The opinion affirms Morales's conviction for filing a false document (a complaint against a hair salon recited a date when Arias did not, in fact, go there), for stalking attorney Rosa Sahagun who represented some of those Morales sued, and 12 counts of disobeying a restraining order she obtained against him.
Morales was sentenced to 22 years in prison which included enhancements based on the jury's finding that and he had committed hate crimes because the business owners who were targeted were members of minorities. Arias drew a term of seven years and eight months.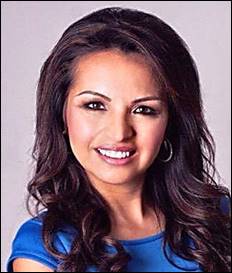 SAHAGUN
The case was remanded for resentencing of Morales. Also, the opinion authorizes a retrial of Morales on three counts "at the discretion of the People" where the reversal was based on instructional error.
The case is People v. Morales, E072462.
The lawyer on April 2, 2019, received an interim suspension from practice before immigration courts, based on his conviction, and on May 14 2019, his State Bar license was placed on hold pending the outcome of the proceedings.
Copyright 2021, Metropolitan News Company