Page 1
Ninth Circuit:
Evidence Properly Barred in Response to §425.16 Motion
Where Defendants Challenge Sufficiency of Complaint Through Anti-SLAPP Motion Under California Law, Judge Smith's Opinion Says, District Court May Not Go Beyond Confines of the Pleading
By a MetNews Staff Writer
The Ninth U.S. Circuit Court of Appeals declared yesterday that plaintiffs opposing motions brought under California's anti-SLAPP statute may not introduce evidence showing a probability of success on the merit where the motion challenges the legal sufficiency of the complaint.
Circuit Judge Milan D. Smith Jr. wrote for a three-judge panel in taking the court beyond its 2018 holding in Planned Parenthood Federation of America, Inc. v. Center for Medical Progress that where inadequacy of a pleading is asserted, "there's no requirement for a plaintiff to submit evidence to oppose contrary evidence that was never presented by defendants." Smith declared that that where insufficiency of the complaint is alleged in an anti-SLAPP motion, evidence offered in response not be considered.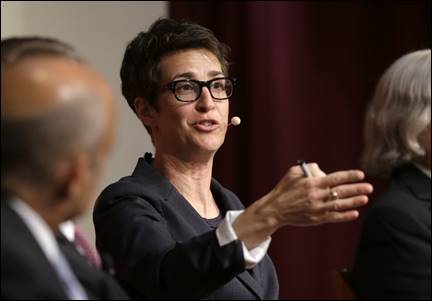 RACHEL MADDOW
MSNBC Television Anchor
The ruling came in an appeal from the granting of an anti-SLAPP motion made by MSNBC Cable, LLC and others in response to a libel action by Herring Network, Inc., which operates One America News Network ("OAN"), a conservative news channel. The lawsuit, seeking $10 million in damages, was brought based on an allegation over MSNBC by liberal commentator Rachel Maddow.
Commenting on a report on the website "The Daily Beast" that OAN reporter Kristian Rouz writes articles, as a free-lancer, for the Russian government-owned Sputnik, a news-wire, Maddow charged that that OAN "really literally is paid Russian propaganda."
The barb, Smith said, was non-actionable opinion.
It was undisputed in the case that remarks by Maddow satisfied the first prong of California's anti-SLAPP statute, Code of Civil Procedure §425.16: protected speech. The issue was whether Herring could meet its burden, under the second prong, of showing a probability of prevailing on the merits.
In an effort to meet that burden, Herring sought to introduce evidence, but District Court Judge Cynthia A. Bashant of the Southern District of California denied a motion to admit it. She sustained the anti-SLAPP motion without leave to amend.
Smith said in yesterday's opinion:
"Herring…cannot convert Maddow's motion to strike into a motion for summary judgment….The defendant determines which motions she files, not the plaintiff. Given that the parties do not dispute that Maddow's motion challenged the legal sufficiency of Herring's complaint, we conclude that Herring's reliance on evidence outside of its complaint in defending against the motion was improper and inconsistent with the Federal Rules."
He remarked in a footnote:
"Moreover, Herrings argument is contrary to the California legislature's reasons for enacting the anti-SLAPP statute. If we permitted plaintiffs to present evidence in defense of all anti-SLAPP motions, then every anti-SLAPP motion would necessarily become a motion for summary judgment. This would effectively negate the purpose of anti-SLAPP motions, which is to remedy the problem of SLAPP suits through "the prompt exposure, dismissal, and discouragement of [further] suits."
California's View
Smith's opinion, decided in light of federal rules, differs from California courts' application of the anti-SLAPP statute, differentiating between demurrers, which test legal sufficiency of a pleading, and anti-SLAPP motions which, where the second prong is reached (while requiring, under a 2000 California Supreme Court opinion, "a minimum level of legal sufficiency") entail a determination of the strength of the plaintiff's evidence.
The Third District Court of Appeal explained in its Sept. 14, 2001 opinion in Simmons v. Allstate Insurance Co:
"Unlike demurrers or motions to strike, which are designed to eliminate sham or facially meritless allegations, at the pleading stage a SLAPP motion, like a summary judgment motion, pierces the pleadings and requires an evidentiary showing. As we observed in Kyle v. Carmon (1999)…, the test applied to a SLAPP motion is similar to that of a motion for summary judgment, nonsuit, or directed verdict." The California Supreme Court said in its 2005 decision in Varian Medical Systems, Inc. v. Delfino and has since repeated) that §425.16 "establishes a procedure where the trial court evaluates the merits of the lawsuit using a summary-judgment-like procedure at an early stage of the litigation."
Under Smith's opinion, a motion under California's anti-SLAPP motion is blended with Federal Rules of Civil Procedure, rule 12(b)(6), an equivalent of a demurrer under state law. Where a motion is made pursuant to California's §425.16 and challenges the sufficiency of the pleading, it is, under Planned Parenthood, subject to "Rule 12(b)(6) analysis," Smith said.
No Liability
Concluding that Bashant properly granted MSNBC's anti-SLAPP motion, Smith said that Maddow's one-liner fits in the category statements "based on assumed or expressly stated facts." He continued:
Maddow's dialogue before and after the contested statement is solely a reiteration of the material in The Daily Beast article. At no point before the contested statement does Maddow 'imply the existence of additional, undisclosed facts.'…Instead, Maddow reports the undisputed facts and then transitions into providing 'colorfully expressed' commentary."
Smith wrote:
"We conclude that the challenged statement was an obvious exaggeration, cushioned within an undisputed news story. The statement could not reasonably be understood to imply an assertion of objective fact, and therefore, does not amount to defamation."
The case is Herring Networks, Inc. v. Maddow, 20-55579.
Copyright 2021, Metropolitan News Company