Page 1
Retired Superior Court Judge DiLoreto Dies
By a MetNews Staff Writer
Joseph DiLoreto, who served for more than 18 years as a judge of the Los Angeles Superior Court before retiring in 2014, has died.
Over the past two weeks, he underwent surgery for an aortic valve replacement, and succumbed Wednesday night from idiopathic pulmonary fibrosis.
DiLoreto had been in private practice in Downey from 1969 until his appointment to the bench in 1995 by Gov. Pete Wilson. He served on the Downey City Council from 1972-76, including a year's stint as mayor.
From 1967-69, he was a deputy district attorney in Orange County. His law degree was from Loyola.
In a letter of Oct. 30, 2013, DiLoreto declared:
"I am not running for re-election and therefore my judicial seat is open. I do hereby endorse Mr. [Christopher] Frisco and [throw] my entire support behind his campaign for judge for my judicial seat."
Frisco, then a deputy district attorney—and the son of the late Los Angeles Superior Court Judge Charles Frisco—was elected without opposition.
"I would not be a judge today without that endorsement," Frisco said yesterday.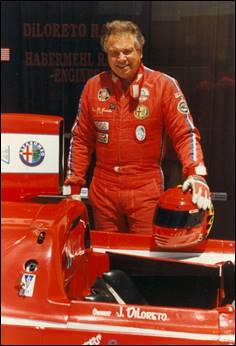 JOSEPH DiLORETO
Car Collection
He recounted:
"In 2014, Joe retired to continue his passion for motor sports, especially auto racing. Corvettes, Mustangs, Cobras, Jaguars, and Ferraris were all collected and raced by the judicial speedster. His car collection was wide and diverse. Recently, he sold one of the most iconic cars of all time: a 1965 Daytona Cobra designed and previously owned by Carroll Shelby. There were only six manufactured.
"That Cobra was created to take down Ferrari when Ford declared war against the Italian auto titan, Enzo Ferrari. So as to show no disrespect to Enzo, Joe hung separate autographed photos of himself with both Enzo and Carroll above the car at his shop in Paramount. In 2017, Joe raced in the Long Beach, Can-Am competition and continued racing until 2019.
"Joe met many a celebrity on the track. He knew Al and Luis Unser, Carroll Shelby, Mario Andretti, Paul Newman and Steve McQueen. Mario Andretti once came to the courthouse in Long Beach to visit his fellow Italian American friend. Joe's bailiff had a crush on the Indianapolis 500 winner so Joe allowed her to handcuff Mario. Mario laughed hysterically and Joe's bailiff just squealed with delight as she dragged Mario away."
Frisco Comments
The judge commented:
"Joe was my neighbor and, in many ways, an older brother.  Joe was a father, a husband, a judge, a colleague, a race car driver and a shrewd businessman but to me, he was my dear friend. I always looked up to him in the way a young man admires the subtle confidence of James Bond or the stark coolness of Steve McQueen. Joe was both men to me and I will miss him dearly."
DiLoreto was the son of business executive Edward DiLoreto, who died in 2004. He, along with Harry T. Shafer (later a Los Angeles Superior Court judge) and Vincent Dalsimer (who became a Court of Appeal justice), purchased a Santa Ana law school which, in 1967, they donated to Pepperdine, which had no law school until then.
Copyright 2021, Metropolitan News Company