Page 1
Court of Appeal:
Suit Over Allegation That Video Game Champ Cheated May Proceed
Acting Justice Ohta Says Plaintiff Has Shown Probability of Winning; Action Is Not a SLAPP
By a MetNews Staff Writer
The Court of Appeal for this district yesterday affirmed an order denying an anti-SLAPP motion filed by an outfit that tracks scores on arcade game machines, saying that a man whom it accused of cheating in attaining record-breaking scores on "Donkey Kong" has shown a probability of succeeding on the merits in his causes of action for defamation and false light.
Los Angeles Superior Court Judge Sam Ohta, serving on assignment to Div. Eight, authored the opinion. It upholds an order by Los Angeles Superior Court Judge Gregory Alarcon.
Bringing the action was William "Billy" Mitchell, who in 1999, attained the first perfect score in the Pac-Man video game and was hailed as succeeding the "Video Game Player of the Century" by Pac-Man's manufacturer.
The defendant is Twin Galaxies, LLC, a Beverly Hills company described in Mitchell's amended complaint as "an organization and social media platform that facilitates interaction, achievement, recognition, and competition among those involved in the culture and activity of video games."
<![if !vml]>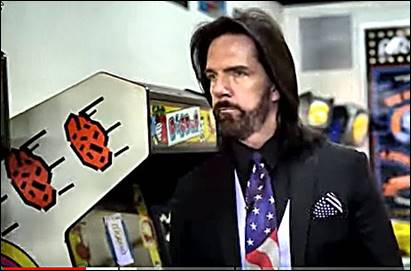 <![endif]>
William "Billy" Mitchell is seen in an arcade. The Court of Appeal for this district yesterday affirmed an order denying an anti-SLAPP motion brought by a company Mitchell is suing for accusing him of cheating in attaining record-breaking scores in playing the video game "Donkey Kong."
Allegations of Complaint
At issue in the lawsuit is the proclamation by Twin Galaxies, LLC that Mitchell cheated in purportedly achieving phenomenal success in playing Donkey Kong by using modified hardware. The complaint alleges:
"But in fact the April 12, 2018 statement was made with knowledge of its falsity or with reckless disregard for its truth. The most cursory, unbiased investigation would have revealed beyond doubt that the record-breaking Donkey Kong scores were not played on emulation software in private places, but were actually played on certified arcade boards in front of hundreds of people. To date, more than 25 of these witnesses have signed sworn affidavits testifying to their observation of Mitchell achieving his scores on arcade software."
Twin Galaxies removed all of Mitchell's scores from its online leaderboard (showing rankings of players) and imposed a lifetime ban on his submission of its scores to it.
The parties agreed that the first prong of Twin Galaxies' anti-SLAPP statute, Code of Civil Procedure §425.16—protected speech—was satisfied, and the dispute was whether Mitchell has shown a probability of prevailing on the merits.
Defendant's Contention
The defendant contended that declarations by persons who observed Mitchell's breaking of records—scoring 1,047,200 points on Dec. 28, 2004 and 1,050,200 points on July 14, 2007—were irrelevant because what it conveyed in its statement was that videotapes of the performances indicated that the hardware was not original and unmodified. Ohta responded:
"We interpret Twin Galaxies' statement as the media and Mitchell did: it accused Mitchell of cheating to achieve his world record scores. Accordingly, Mitchell was not limited to the video tape evidence for those two scores.
"In any case, the video tapes and the live performances purportedly reflect the same gameplay and the same games. Twin Galaxies' argument rests on an assumption the video tape recordings of the Disputed Scores override any eyewitness declarations or other evidence. It essentially seeks to have us judge the probative value of competing evidence. We decline to do so because we do not weigh the credibility or comparative probative strength of competing evidence at this stage of the proceedings….Given the standard of review, we conclude Mitchell has met his burden to set forth prima facie evidence of falsity."
Ohta also pointed out that the accuracy of the videotapes was in doubt. One supposed tell-tale indication that the hardware was altered was a protruding line, dubbed a "girder finger"—but, he noted, the emulator that makes such a line did not exist in 2004 when Mitchell scored 1,047,200 points.
The jurist drew attention to "Mitchell's chain of custody evidence that raises the possibility that the video tapes do not accurately portray his gameplay for the two scores, including that the video tapes are not originals, that they do not show his face or voice, that one of the individuals who provided the videos to Hall expressed bias against Mitchell and had a motive to alter the tapes…."
Showing of Malice
Twin Galaxies maintained that Mitchell, as a public figure, would need to show malice in order to prevail, and cannot do so. Ohta disagreed.
Malice, he pointed out, can be shown by a failure to investigate, citing the Court of Appeal's Sept. 27, 1991 decision in Antonovich v. Superior Court. There, this district's Div. Three denied a petition for a writ of mandate filed by then-Los Angeles County Supervisor Michael D. Antonovich who sought summary judgment in a defamation action against him brought by his predecessor on office, former news anchor Baxter Ward (Schwellenbach) (now deceased).
Antonovich successfully challenged Ward in 1980. Eight years later, Ward sought a rematch (again losing).
During the 1988 campaign Antonovich made the assertion that when he took office in 1980, the file cabinets were empty, accusing Ward of shredding the files. That, it turned out, was inaccurate.
The Court of Appeal said that "the trier of fact is entitled to find that as in 1988, eight years after the events, the good faith belief that Antonovich may have held in 1980 that Ward had emptied the cabinets and removed the files, no longer existed" because of the opportunity to have investigated.
(A jury in 1992 found in favor of Antonovich.)
Ohta said "there is ample evidence that Twin Galaxies was alerted to potential contradictory facts."
The case is Mitchell v. Twin Galaxies, LLC, B308889.
David A. Tashroudian of the Studio City firm of Tashroudian Law Group acted for Twin Galaxies. James E. Gibbons, Steven J. Renick and Anthony J. Ellrod of the downtown Los Angeles firm of Manning & Kass, Ellrod, Ramirez, Trester represented Mitchell.
Copyright 2021, Metropolitan News Company