Page 1
Court of Appeal:
Billionaire Was Collaterally Estopped From Denying Article Dealt With Public Issue
Jude Who Ruled That Anti-SLAPP Required Dismissal of Defamation Suit As to One Defendant Could Not Deny Dismissal As to Co-Defendant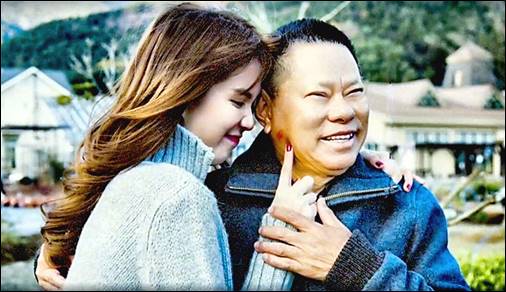 Above are actress/model Ngoc Trinh and billionaire Kieu Hoang whose affair was, the Court of Appeal has held, a matter of public interest, bringing into play the anti-SLAPP statute when Hoang sued over an allegedly defamatory posting on Facebook.
By a MetNews Staff Writer
The Court of Appeal for this district has held that once a judge ruled in a defamation action, in response to an anti-SLAPP motion filed by one defendant, the proprietor of a Facebook page, that a communication was protected speech, the co-defendant, who authored the article in issue, was entitled to a like ruling.
That decision comes in an opinion by Justice Kenneth Yegan of Div. Six that was filed Jan. 11 and was certified for publication yesterday.
Vietnamese billionaire Kieu Hoang, who at age 72 gained notoriety in connection with his fling with an actress/model in her twenties, sued the British Broadcasting Company over an article posted on its BBC Vietnamese Facebook Page, which he said had "millions of readers," and also sued journalist Phong Minh Tran who wrote a derogatory article about him that was posted on the Facebook page.
Ventura Superior Court Judge Kevin G. DeNoce granted BBC's special motion to strike, holding that the article constituted a communication in "public forum in connection with an issue of public interest," satisfying the first prong of the anti-SLAPP stature, Code of Civil Procedure §425.16, and that Hoang failed to show a probability of prevailing on the merits, satisfying the second prong.
Tran later brought his own anti-SLAPP motion, but this time, DeNoce ruled that the first prong was not met and, even if it had been, the plaintiff had demonstrated a probability of emerging the victor.
In his opinion reversing DeNoce's order, Yegan declared that Hoang "is collaterally estopped from claiming that the article did not concern an issue of public interest because this issue was decided against him in the prior BBC proceeding."
He explained:
"All of the elements of collateral estoppel, as to the first prong, have been satisfied. The issue was identical in BBC's and appellant's anti-SLAPP motions. The issue was necessarily decided in the BBC proceeding and was essential to the judgment in BBC's favor. The trial court could not have granted BBC's anti-SLAPP motion unless it found that appellant's statements in the article had been made 'in connection with an issue of public interest.'…The BBC proceeding resulted in a final judgment on the merits. Both appellant's and BBC's anti-SLAPP motions were directed against the same party."
Yegan expressed agreement with DeNoce's initial view that the article concerned issues of public interest. He noted that the posting attracted "thousands" of comments, and said:
"The comments to the article corroborate appellant's declaration that respondent had gained notoriety in the Vietnamese community through media coverage of his relationship with Ngoc Trinh."
The jurist quoted some of the comments, such as:
"[H]is girlfriend was as young as his granddaughter. He shouldn't have announced the breakup and used it to advertise his products."…"Prior to the news about [respondent] and Ngoc Trinh, I hadn't known who [respondent] was. I've seen Ngoc Trinh's info because tabloids usually lifted her skirts up."…"Previously, no one knew who [respondent] was; after getting involved with Ngoc Trinh, the queen of underwear, his fame is rocketing up."…"I don't pay attention to who [respondent] is when he's getting famous with hot girls, models, being a playboy, and showing off wealth."
The jurist commented:
"It appears that, through his enormous wealth and affair with a much younger, glamorous, and famous actress/model, respondent achieved the status of a celebrity in the Vietnamese community."
He added:
"The numerous comments to the article show that appellant participated in and furthered the discourse that made respondent, his accumulation of wealth, and his relationship with Ngoc Trinh a subject of public interest within the Vietnamese community."
Addressing the second prong, Yegan said the only statement in Tran's article that was "not protectible rhetorical hyperbole" and which might be shown to be a false statement of fact was that Hoang "enticed by acquaintances and government officials to invest several millions dollars (perhaps 6 million USD)" and that "[h]is investment was eventually wiped out, he had to run back to the U.S., and vowed to never make investment in Viet Nam, only to go there for fun."
However, he pointed out, as a public figure, Hoang, to prevail, would have to show constitutional malice—knowledge of falsity or reckless disregard of the truth—and that the plaintiff had not demonstrated a probability that he could overcome Tran's declaration under penalty of perjury that he got his information from a close friend of his (now deceased), who was Hoang's brother.
Yegan also said that Hoang's "celebrity status in the Vietnamese community bars the cause of action" for misappropriation of his name and likeness and that the cause of action for conspiracy fails because he could not show that Tran "and another person agreed to commit a tortious act." 
The case is Hoang v. Tran, B302608.
Santa Ana attorney Mark S. Rosen represented Tran and Richard Steven Busch of the Century City firm of King & Ballow acted for Hoang.
Copyright 2021, Metropolitan News Company