Page 1
Court of Appeal:
City Has Lesser Duty to Keep Alleys Safe for Walking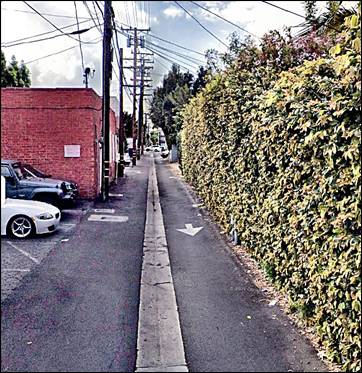 Above is the alley in Beverly Hills on which Nieves Martinez, an employee of a law firm, tripped and fell. The Court of Appeal on Wednesday affirmed summary judgment in favor of the city in her personal injury action.
By a MetNews Staff Writer
A city does not have the same duty to pedestrians to keep alleys in repair as it does to maintain sidewalks in safe condition, the Court of Appeal for this district declared on Wednesday.
Justice Brian M. Hoffstadt of Div. Two wrote the opinion. It affirms a summary judgment granted by Los Angeles Superior Court Judge Daniel M. Crowley in favor of the City of Beverly Hills.
Plaintiff Nieves Martinez works at the law firm of Carpenter, Zuckerman & Rowley which formerly had its main office at 361 South Robertson Boulevard. Employees used an alley behind the building at that address to access two other offices the firm occupied.
According to the complaint in the premises liability action, signed by Paul S. Zuckerman of the firm that employs her:
"Plaintiff tripped and fell on a dip/hole/uneven portion of the pavement in the alley which was owned, maintained, repaired, managed and/or controlled by defendants, which caused Plaintiff to fall and sustained injuries. Defendants are responsible for their failure to provide a safe, suitable and adequate premises. Plaintiff is informed and believes and thereon alleges that said hazardous, dangerous condition was caused by Defendants and/or existed for a sufficient time prior to the incident for Defendants to have corrected, removed, and/or warned Plaintiff of the existence of said condition, which Defendants negligently and carelessly failed to do, causing serious injuries to Plaintiff."
The mishap occurred on July 8, 2016.
Crowley's Decision
Crowley found there to be no liability to her, explaining in his Feb. 19, 2020 order:
"There were no claims made to Defendant related to the divot specifically or the alley generally between January 1, 2001 and the date of the incident….There were no complaints or work orders made in relation to the divot or the portion of the alley where Plaintiff fell from January 1, 2001 to the date of the incident….No lawsuit has been filed against Defendant at any time, other than this lawsuit, alleging the divot constituted a dangerous condition….
"The Court finds Defendant has met its burden. Defendant's evidence shows that it did not have actual or constructive notice of the dangerous condition. Namely, no facts have been presented to Defendant from at least January 1, 2001 that the divot had a dangerous character. The burden shifts to Plaintiff."
She did not meet her burden because she failed to know knowledge on the part of the city, the judge said.
Hoffstadt's Opinion
In his opinion affirming the judgment, Hoffstadt wrote:
"The plaintiff in this case was walking across a back alley and tripped when one of her soft-bottomed flip-flops hit the edge of a concrete drainage ribbon running down the alley's center, and this happened in part because some of the asphalt abutting the ribbon had worn away to create a 1.75-inch-deep divot. Such an imperfection may likely have created a triable issue of fact as to whether it was obvious enough to be discovered had it been located on a sidewalk. But does the same analysis apply to an alley? We conclude that the answer is 'no.' "
He explained:
"Because alleys, unlike sidewalks, are designed and primarily used for purposes other than walking, and because the cost to municipalities of inspecting alleys with the same vigilance (as inspecting sidewalks would be astronomical relative to the benefit of doing so, we hold that what is an obvious defect in the condition of an alley is not the same as for a sidewalk. Because reasonable minds can reach only one conclusion—namely, that the less-than-two-inch deep divot in the asphalt abutting a drainage vein in the alley is not an obvious defect—we affirm the trial court's grant of summary judgment in this case."
Different From Sidewalks
Hoffstadt elaborated that "[a]s their very name implies, sidewalks are made for perambulation" while "alleys are intended for heavy vehicles—from trash trucks to delivery trucks and everything in between—to access and provide services to the abutting businesses and residences," adding:
"Because the surface of alleys degrades far more quickly than the surface of sidewalks—because alleys, unlike sidewalks, are almost exclusively used by heavy vehicles—the cost of keeping alleys safer for pedestrian traffic is higher. And because alleys are used for walking far less frequently than sidewalks, the likelihood of injury to pedestrians is much lower. Because the cost of keeping alleys as defect-free as sidewalks for foot traffic has greater cost and less benefit, public entities may reasonably elect to apply less rigorous scrutiny when inspecting alleys for defects (as compared with sidewalks). In other words, the universe of 'obvious defects' for alleys is smaller than the universe of 'obvious defects' for sidewalks."
There is no liability as a matter of law, he declared, commenting:
"To hold otherwise is to mandate that municipalities comb their alleyways for defects with the same precision as they do their sidewalks; as noted above, neither public policy nor precedent supports such a holding."
The case is Martinez v. City of Beverly Hills, B305826.
Gary S. Lewis and Gregory A. Coolidge of Carpenter, Zuckerman & Rowley acted for Martinez. Michael R. Nebenzahl and Charles H. Abbott of Burke, Williams & Sorensen represented the city.
Copyright 2021, Metropolitan News Company