Page 1
Supervisor Barger Lectures Gascón on Constitutional Responsibilities
Decries Policy Under Which No Deputy District Attorney Will Appear at Hearing to Oppose Parole for Man Who Repeatedly Sexually Assaulted Young Children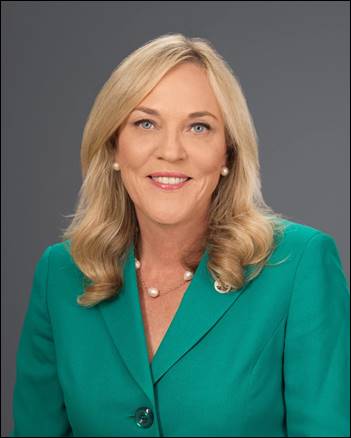 KATHRYN BARGER
Los Angeles County Supervisor
By a MetNews Staff Writer
Los Angeles County Supervisor Kathryn Barger has taken issue with one of District Attorney George Gascón's "special directives," under which no prosecutor will be present at the parole hearing on March 11 for Ruben Beltran, who was convicted in 2009 of aggravated sexual assault of a young boy and sentenced to 15 years to life in prison.
The man had been convicted in 2004, pursuant to a guilty plea, of sexually assaulting the boy's sister and two of her friends.
In one of nine special directives issued on Dec. 7, his first day in office, Gascón declared:
"This Office's default policy is that we will not attend parole hearings and will support in writing the grant of parole for a person who has already served their mandatory minimum period of incarceration….However, if the [California Department of Corrections and Rehabilitation] has determined in their Comprehensive Risk Assessment that a person represents a 'high' risk for recidivism, the DDA may, in their letter, take a neutral position on the grant of parole."
Supervisor's Letter
In a letter dispatched on Thursday, Barger told the county's chief prosecutor of her concern that no deputy district attorney would be present when the Board of Parole Hearings considers the possible release of Beltran. She wrote:
"Pursuant to the California Constitution, a victim is entitled, under Article I, Section 28, to be heard at a post-conviction release decision, and to participate in the parole process to provide information to the parole authority to be considered before the parole of the offender.
"As a means for enforcing this representation, the California Constitution goes on to state that the prosecuting attorney, upon request by the victim, may enforce the rights enumerated in any trial or appellate court with jurisdiction over the case as a matter of right.
"I am concerned that this lack of representation for survivors, in this case and in others, will lead to more victimization among our residents I would appreciate your thorough review of this matter and I look forward to your follow up on this case."
Urges Parole Denial
In a letter to the Board of Parole Hearings, also sent Thursday, the Fifth District supervisor said:
"In the early 2000s, Mr. Beltran raped and assaulted children he was living with and molested their friends, some as young as six-years-old.
Mr. Beltran committed these inappropriate acts for a span of three years, wherein he manipulated these children who had once viewed him as a father figure. He was a friend of the family and took advantage of their trust.
"Please deny Ruben Beltran parole and protect the public from this potential repeat rapist."
Entreaty From Mother
Gascón has not responded to an email sent to him on Dec. 30 by the mother of the boy Beltran was convicted of sodomizing. She said, in that letter:
"I take great exception to your position of no longer allowing D.A. office/prosecutor participation in parole hearings. I am asking that you immediately reverse your position to allow the D.A. office to participate in hearings to object to parole.
"My children are both victims of continuous violent sexual attacks including sodomy. The perpetrator repeatedly terrorized them, and they live with trauma and scars that will last a lifetime. The perpetrator received a 15 year to life sentence for crimes against my son, following an earlier conviction of two counts of sexual child abuse against my daughter and her friend (there were three girls, he plea bargained to two of the three counts against him). This is a very violent, manipulative and dangerous man who has no limits with respect to crime, age, gender, or race of his victims, and he is scheduled for his first parole hearing in March, 2021.
"When we received notice of this hearing, I immediately contacted the Los Angeles County deputy D.A. who successfully prosecuted the case. She has, until now, always assured me that she (your office) would be able to fully support my children in parole hearings. I was devastated to learn that, because of your change in policy, they will not receive this support which should rightly be given to them, not the criminal. The people who need protection in the future are the children, not the child rapists. I am stunned that you would encourage your office to be silent or to encourage parole at hearings for sexually violent child predators. Marsy's law provides that victims may have legal representation at parole hearings. Our best legal representation would come from your office, because it prosecuted this case and is most familiar with these crimes and our circumstances in particular."
Former District Attorney Steve Cooley is one of a cadre of former prosecutors who will represent victims at parole hearings for persons serving life sentences. He said Friday:
"This group of former and retired prosecutors are filling the huge void created by George Gascón abandoning his sworn obligations and also forsaking victims. That void must be filled since the L.A. District Attorney's Office is now totally averse to victims because of Gascón's policies.
"We will see them in court and we will be with the victims at parole hearings."
Copyright 2021, Metropolitan News Company