Page 1
Katy Perry's Litigation Foe Loses Bid to Retain Mansion
Forced Into Bankruptcy As a Result of the Outcome of a Los Angeles Superior Court Lawsuit, Entrepreneur Hollister Sought Court Consent to Receiving Loan; Ninth Circuit Affirms Denial of Request Based on Prejudice to Creditor  
By a MetNews Staff Writer
The Ninth U.S. Circuit Court of Appeals has affirmed the denial by the Bankruptcy Court for the Central District of California of a financing proposal put forth by restaurateur/entrepreneur Dana Hollister, who was forced to seek Chapter 11 protection after losing a publicized court battle with singer Katy Perry over which of them would purchase a chateau owned by the Roman Catholic Archdiocese of Los Angeles.
While combat with Perry and the archdiocese in the Los Angeles Superior Court is over—ending in judgments against her totaling $5 million in compensatory damages and $10 million in punitive damages (reduced to $6.5 million under a settlement)—Hollister is now engaged in a fray with Bobs LLC. It holds a second lien on her 22,000-square-foot storied 1923 Silverlake mansion, "Paramour," which she wants to keep and Bobs wants sold.
To enable her to retain possession of the 4.3-acre estate, her major asset (in the face of the court appointment of an agent to effect a sale), Hollister sought consent of the Bankruptcy Court to obtain a $7 million "priming loan"—a loan to a debtor-in-possession to enable continued business operations. Prior to the pandemic, she rented out the 15-bedroom manor, on a five-acre lot, for events such as weddings, as well as filming, and she has a tentative plan to turn it into a hotel.
Bobs—which was owed $11.8 million as of July 9—objected. The lender would then be in first position, bumping U.S. Bank (owed $4.6 million) to second position, and Bobs would then hold a third lien.
Its equity cushion (which exists where the value of the collateral exceeds by a reasonable margin what is owed the creditor) would be inadequate, it maintains, and asserts that its new position would not meet the legal requirement of being "indubitably equivalent" to its prior position.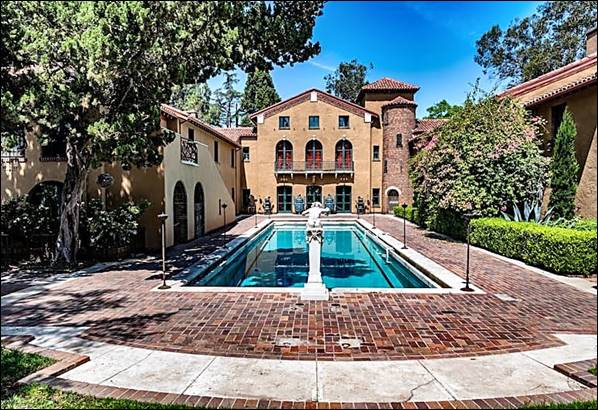 Depicted above is a mansion in Silverlake which restaurant-owner/real estate investor Dana Hollister, who has declared bankruptcy under Chapter 11, wants to retain through a loan, thus placing the lender in top position among creditors. The Ninth U.S. Circuit Court of Appeals on Tuesday affirmed an order denying the request, agreeing with the Bankruptcy Court that this would be to the detriment of the holder of the second lien.
Bankruptcy Judge's Order
Bankruptcy Judge Neil W. Bason agreed with Bobs, saying in a March 8 order:
"As Debtor correctly notes, the existence of an equity cushion is determined by starting with the value of the property, deducting senior liens or encumbrances, and assessing whether there is sufficient remaining equity to protect the lien in question….Debtor has failed to do that calculation: she has not compared (a) the protection of Bobs' interests without the proposed $7 million Priming Loan ('Scenario One') with (b) the protection of Bobs' interests if that Priming Loan were to be approved ('Scenario Two')….
"Debtor's failure to do the math is fatal to the Financing Motion. On its face, a third lien is not equivalent to a second lien absent extraordinary circumstances, and in any event the burden is on Debtor to establish that they are 'indubitably equivalent.' So Debtor had to make some initial showing that, if proved at trial, would be sufficient to grant her motion. Debtor has not made any such showing."
The Ninth Circuit—which authorized a direct appeal to it, rather than to the Bankruptcy Appeals Panel—on Tuesday affirmed Bason's order in a memorandum opinion, signed by Ninth Circuit Judge Mark J. Bennett, Ninth Circuit Senior Judge Jay Bybee, and by Federal Circuit Judge Richard Linn, sitting by designation.
The opinion recites, and agrees with, Bason's ruling. It rejects Hollister's contention that the bankruptcy judge erred in declining to hold a hearing on her loan request, explaining:
"The court did not abuse its discretion in not conducting a hearing, as it reasonably determined that it had sufficient evidence to decide the priming motion."
Hollister's request that there be a remand to a judge other than Bason was denied as "frivolous."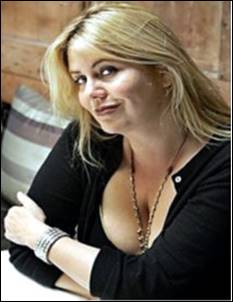 DANA HOLLISTER
investor
Sided With Bobs
Bason had, in fact, sided with Hollister in denying Bobs's motion for a lifting of the bankruptcy stay to permit it to foreclose on the property, suggesting that Bobs wanted to force a sale and "buy the property on the cheap."
Bobs responded on Oct. 7 that this was not so, commenting:
"What pushed Bobs over the cliff was the listing price of $39 million which Bobs sincerely believes is 'off the charts,' far beyond what it will ever sell for and a signal to potential buyers that the seller is not sincere. The belief has been confirmed by the lack of meaningful activity over the past seven months."
Hollister's litigation with Perry, through her company, Bird's Nest, and with the archdiocese stemmed from the archdiocese's 2014 sale of an eight-acre property in Los Feliz to Perry for $14.5 million. The property was occupied by a convent, by then comprised of only five nuns.
Two of the nuns, in the name of The Sisters of the Immaculate Heart of Mary, then purported to sell the property to Hollister for $15.5 million. Hollister took possession upon payment of $44,000 and executing a $9.9 million promissory note.
The purported sale by the nuns was judicially invalidated and a jury found Hollister liable for interfering with the sale by the archdiocese, the actual owner.
Bird's Nest and the archdiocese, as unsecured judgment creditors, are junior lienholders on Paramour, itself a former convent.
Tuesday's Ninth Circuit decision came in Hollister v. Bobs, LLC, 21-5538.
Copyright 2021, Metropolitan News Company