Page 1
Ninth Circuit:
Threat to Bring Sham Lawsuit Was Attempted Extortion
Panel Says Effort to Exact $1 Million From Entertainer Andy Grammer Came Under Hobbs Act
By a MetNews Staff Writer
The Ninth U.S. Circuit Court of Appeals yesterday affirmed the conviction of a man for attempting to extort $1 million from entertainer Andy Grammer by threatening to accuse him in a civil action of sexual misconduct that had not occurred, rejecting the contention that threats of sham litigation do not come under the federal Hobbs Act.
While upholding the conviction of Benjamin Koziol on one count of attempted extortion affecting interstate commerce by nonviolent threat, in violation of the Hobbs Act, a three-judge panel vacated the 70-month prison term imposed by District Court Judge Christina A. Snyder of the Central District of California. She failed to apply sentencing guidelines that apply to attempted crimes which are not otherwise covered by a specific guideline, the opinion by Circuit Judge Bridget Shelton Bade sets forth.
The government alleged—and the jury found to be true—that Koziol vowed that unless he were paid $1 million, he would proclaim that Grammer knocked him out him and sexually assaulted Jordan Sweet Koziol, his wife, during a nude massage she was conducting. The incident supposedly took place in Playa Vista on Jan. 10, 2016.
Grammer Not There
In fact, evidence showed, Grammer's manager, Benjamin Singer, was present on that occasion as a massage customer, but Grammer wasn't, and no battery or assault took place.
Koziol's demand letter said:
"I am seeking $1,000,000 in damages on or before Nov 1st 2017. I am also open to a structured settlement. If I don't receive payment by this date, I am prepared to promptly file my complaint and supporting documents with the court. THIS LETTER IS FOR SETTLEMENT PURPOSES ONLY!"
He also produced a faked photo purportedly showing his injuries.
A jury convicted him on June 1, 2018.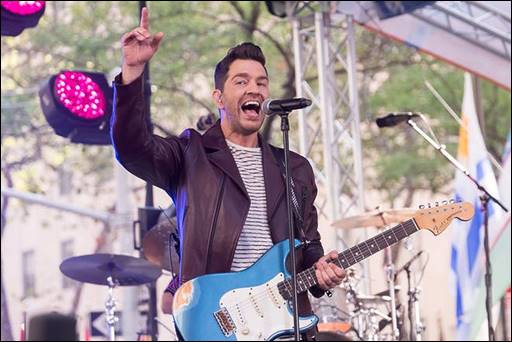 —AP
Above is a 2017 photo of entertainer Andy Grammer, victim of attempted extortion. The conviction of the man attempting to exact $1 million from him was upheld yesterday by the Ninth U.S. Circuit Court of Appeals.
Contention Rejected
The Hobbs Act, Koziol insisted on appeal, does not extend to threats of litigation. The Ninth Circuit disagreed.
"Extortion" is defined by the statute as "the obtaining of property from another, with his consent, induced by wrongful use of actual or threatened force, violence, or fear, or under color of official right," Bade pointed out.
Koziol's conduct, she said, was "wrongful." Bade wrote:
"We conclude that the circumstances alleged in this case establish that Koziol's conduct went far beyond threatening to file a lawsuit based on weak claims and that it fell well outside the bounds of legitimate pre-litigation settlement demands.…[W]e hold that threats of sham litigation, which are made to obtain property to winch the defendant knows he has no lawful claim, are 'wrongful' under the Hobbs Act."
First Amendment
Koziol invoked the Noer-Pennington doctrine under which conduct implicating the First Amendment is immunized. Bade acknowledged:
"The constitutional right to petition includes the right of access to the courts and therefore most litigation activities (including pre-suit demands) are immunized from statutory liability,"
However, where baseless litigation is threatened, the motives of the person making the threat are examined.
"…Koziol fabricated evidence, lied about the existence of evidence, and knew that his claims were baseless, all of which further demonstrates that his threats to file a lawsuit were made with an improper motive," Bade wrote. "From this evidence, we conclude that Koziol knew that his threatened lawsuit could never prove fruitful if brought before a jury, which is why he attempted to intimidate the entertainer into a settlement based on admittedly falsified evidence and an implied threat that scandalous allegations in a publicly filed lawsuit would irrevocably damage the entertainer's reputation and livelihood.
"Therefore, we reject Koziol's argument that his litigation threats did not rise to the level of a sham as a matter of law and conclude that the Noer-Pennington doctrine did not immunize Koziol" s threats of sham litigation.
Bade did not use Grammer's name nor Singer's in her opinion, although they were used in the District Court.  She said in a footnote:
"This case arises from Koziol's threats of litigation against a music manager and one of his clients, a well-known singer-songwriter and entertainer. The identities of the manager and the entertainer were subject to a protective order in the district court. Although the parties do not necessarily agree that the protective order remains in effect on appeal, they refer to these individuals by the pseudonyms 'Manager' and 'Entertainer' and, therefore, we similarly refer to these individuals as the manager and the entertainer."
The case is United States v. Koziol, 19-50018.
Div. Two of the Court of Appeal for this district on Dec. 11, 2018, affirmed the convictions in Los Angeles Superior Court of Koziol for both pimping and pandering by procuring, and the conviction of his wife for the latter offense. The jury found true the allegation that they forced a woman into prostitution.
Koziol was sentenced by Judge Norman Shapiro to four years in prison on each count, with the terms to run concurrently.
Snyder's now-vacated sentence provided that Koziol's "term is to run consecutive to any undischarged prison term imposed in Los Angeles County Superior Court."
Copyright 2021, Metropolitan News Company