Page 1
Veteran Jurists Ramona G. See, Gary Ferrari to Depart Their Posts on L.A. Superior Court
By a MetNews Staff Writer
Today is the last day on the bench for Los Angeles Superior Court Judge Ramona G. See and a colleague of hers on that court, Judge Gary J. Ferrari, will be hanging up his robe on Friday.
See has been a judicial officer for more than 23 years and Ferrari has been on the bench in excess of 31 years.
Effectively relating that she will be added to the roster of private judges whose services are offered by an alternate dispute resolution firm, See said she is "currently not able to divulge what I may be doing for ethical reasons."
Ferrari related:
"After retirement my wife and I plan to continue to travel in the U.S. and abroad, COVID-19 permitting. We also look forward to maintaining friendships with friends overseas that we have met during our travels. "We love to entertain and, hopefully, will be able to continue do so."
He remarked that his "time on the bench has been the experience of a lifetime, reflecting:
"I have been fortunate to look forward to going to work every day and it has been a privilege to serve. I have presided over some amazing trials and witnessed a lot of intelligent and exceptional lawyering."
The judge said he will not "necessarily miss the work," but continued: "I will certainly miss my incredible staff, my colleagues and the lawyers who have appeared in my courtroom. These are the people that make the system work."
See expressed similar sentiments.
She said her "fondest memories" as a judge "would be the amazing arguments of counsel and skillful trial lawyers I have had the great pleasure to watch and engage."
Noting that she has presided in an individual calendar court for 20 years, she said "it has been a busy and intellectually stimulating job."
Her colleagues on the Superior Court—many of whom are "dear friends"—are "truly amazing hardworking individuals," See commented.
Looking back at her volunteer work, she said she "very much enjoyed teaching programs" for the Los Angeles Superior Court Judicial Education Seminars, the Center for Judicial Education and Research, the California Judges Association, and the American Bar Association ("ABA"), saying:
"My work with minority law students as chair of the ABA Judicial Clerkship Program for six years is something I am particularly proud of."
See added that she is "also very proud of the international work I have had the good fortune to participate including the World Justice Project" an international society, and the ABA's Rule of Law Initiative ("ROLI").
On Sept. 11, 2019, See was in Tbilisi, the capital of Georgia, formerly part of the Union of Soviet Socialist Republics. She recounted in an article in the December 2019 issue of the ABA Journal:
"I had planned to be in Georgia to attend a wedding of a friend through a longtime international connection who was marrying a woman from Georgia. As a ROLI board member, I had volunteered to meet with a few local judges to talk about their legal system and issues. Through ROLI, to my surprise, the proposed casual meeting became a full-day conference."
That conference occurred on the occasion of the Georgian Bar Association's 100th anniversary, and See found herself the focus of attention.
"Because I was coming from Los Angeles, the media capital of the world, conference organizers thought the audience would be most interested in issues involving management of media in the courtroom in high-profile cases, as well as judicial ethics and bench-bar relations," she wrote, reporting that she proceeded to articulate her thoughts.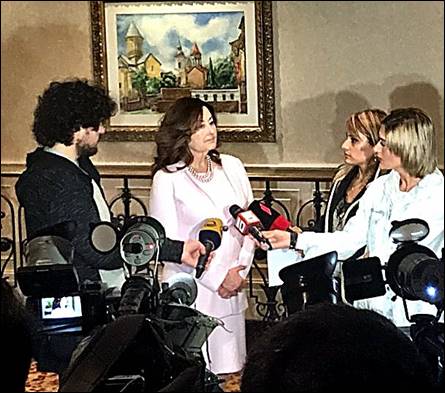 Los Angeles Superior Court Judge Ramona G. See is seen being interviewed in 2019 by reporters in Tbilisi, capital city in the Republic of Georgia, formerly part of the Soviet Union. See was scheduled to meet with lawyers and judges there. She said in an article in the ABA Journal that she was "surprised at the doorstep of the conference room by three different television station reporters to which I concluded that it must be a slow news day in Tbilisi to be interviewing me."
See and Ferrari were both appointees of then-Gov. Pete Wilson, who named See to the Superior Court in March 1997, and placed Ferrari on that court in April 1998. At the time of those appointments, See was with the law firm of Allen, Matlins, Leck, Gamble & Mallory, and Ferrari was a judge of the Long Beach Municipal Court, having been selected for that post in 1989 by then-Gov. George Deukmejian.
See earned her law degree at Boston College Law School in 1985. Ferrari's 1970 law degree is from Loyola.
He served as a deputy in the Long Beach City Prosecutor's Office for 10 years and then, from 1981-89, as a deputy city attorney for Long Beach.
During his time on the bench, Ferrari has served as supervising judge for the court's South District (Long Beach) and See has supervised the Southwest District (Inglewood/Torrance).
Copyright 2021, Metropolitan News Company