Thursday, January 2, 2020
Page 1
Judge Elizabeth Allen White to Retire From Superior Court March 14
Jurist Has Handled Major Cases, Including Those Involving 'Guess ?' Founder
By a MetNews Staff Writer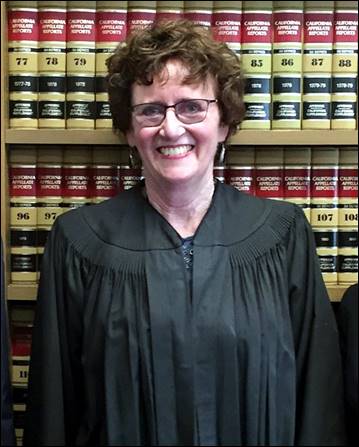 ELIZABETH ALLEN WHITE
Superior Court Judge
Elizabeth Allen White, who through the years has been entrusted with major cases, will retire as a judge of the Los Angeles Superior Court on March 14, after 22 years of judicial service.
The assistant presiding judge of the court, Eric Taylor, said yesterday:
"Elizabeth will be sorely missed on our court. She's one the most talented, kind, fair and intelligent judges that I've known.
"I only wish we had 10 more of her. We wish her the best of retirements."
Her judicial service began with her appointment by then-Gov. Pete Wilson to the Los Angeles Municipal Court in 1997. She gained membership on the Superior Court in 2000 through court unification.
White, who is based at the Stanley Mosk Courthouse, told the METNEWS her last actual day on the bench will be Jan. 15. Judges typically exhaust unused vacation time before retiring.
She reflected:
"It has been an amazing career starting with my oath of office to support and defend the Constitution and ending with my last days in office. Through it all, I have strived to achieve justice for those who have appeared before me.
"I will continue to remain involved in the law, but will have more flexibility to pursue my diverse interests. Perhaps the greatest aspect of my career has been the inspiration of my wise colleagues, who have shared their wisdom and friendship."
Was Paralegal
Prior to obtaining her law degree from Loyola University in 1981, White earned a paralegal certificate at UCLA (where she had received her undergraduate degree) and worked as a paralegal for the law firm of Loeb and Loeb.
While a judge, White has served as an adjunct professor for Loyola, as well as for the University of Southern California's Gould School of Law.
She is vice president of districts for the National Association of Women Judges, and was chair of its conference this year in Los Angeles.
Guess ? Founder
It was White who determined in May 2009 that Guess ? Inc. founder Georges Marciano—who was then an independent candidate for governor of California—was liable on a cross-complaint to five former employees for defamation and intentional infliction of emotional distress. Five months earlier, she had dismissed Marciano's action against the former employees for fraud and a purported conspiracy to pilfer about $400 million in paintings, wine, and other assets.
White set the matter for trial by a jury as to damages on the cross-complaints. The jury on July 28, 2009, found liability to each cross complainant in the amount of about $69 million in compensatory damages, adding $5 million in punitive damages to each of them, with the total amounting to about $370 million.
On Aug. 26, 2009, White made a $55 million award against Marciano for libeling his former accountant, Gary Iskowitz, who had been hired by the executive in 2006 to investigate the five former employees. Iskowitz infuriated Marciano by uncovering no wrongdoing.
White found the accountant "has established that Marciano's conduct in repeatedly libeling him was not only intentional and in reckless disregard of the probability that Iskowitz would suffer emotional distress, but was also despicable, malicious and oppressive."
Award to Avenatti
In another high-profile case, White last March 15 awarded attorney Michael Avenatti $12,500 in attorneys' fees in an action brought against him by a former Playboy model who accused him of spoiling her deal with a married man for hush-money-payments in connection with a long-term affair they had. In making the award, pursuant to Avenatti's successful anti-SLAPP motion on two of the three causes of action against him, White disallowed fees based on his own legal services, citing the 1995 California Supreme Court opinion in Trope v. Katz.
Avenatti, who is now facing criminal proceedings in federal court here and in New York on various charges, gained international fame in representing the porn star known as Stormy Daniels in actions against President Donald Trump.
In the case before White, plaintiff Shera Bechard alleges that her former paramour, political financier Elliott Broidy, caused her pregnancy; it was provided in a secret settlement agreement of which she was not allowed to have a copy that she would receive $1.6 million in installments, with her attorney, Keith Davidson, taking 35 percent of each payment; two $200,000 payments were made; and that Broidy stopped making payments after the arrangement was made public by Avenatti.
The complaint alleges that "[o]n April 12, 2018, Mr. Avenatti began to expose the facts of the affair on Twitter," revealing that a "prominent GOP donor" had "impregnated" a Los Angeles woman "and then made sure she had an abortion" and that "[t]he deal provided for multiple payments across many months."
The next day, the pleading sets forth, the Wall Street Journal revealed the names of the persons involved, and Avenatti subsequently publicly expressed disappointment that he was not credited as the source of the newspaper's disclosures.
One cause of action against Avenatti remains: for intentional interference with contractual relations.
Found Suit Timely
On Jan. 8, 2018, the Court of Appeal for this district affirmed White's grant of a $10 million wrongful death judgment in favor of the parents of a woman who had been slain on Feb. 24, 1986.
At the time of the killing, the parents suspected that the perpetrator was the ex-girlfriend of their daughter's husband, a Los Angeles police officer who had stalked their daughter. Police did not follow up on that hunch, but in 2009, DNA evidence pointed to LAPD detective Stephanie Lazarus, who was charged with the murder on Dec. 18, 2009.
The parents, Nels and Loretta Rasmussen, sued Lazarus on July 26, 2010. She was convicted on March 8, 2012.
Four years after the conviction, Lazarus moved for a dismissal of the civil action on the basis of Code of Civil Procedure §340.3, which provides, in part:
"Unless a longer period is prescribed for a specific action, in any action for damages against a defendant based upon the defendant's commission of a felony offense for which the defendant has been convicted, the time for commencement of the action shall be within one year after judgment is pronounced."
Lazarus argued that §340.3 could not be invoked because suit was brought before the conviction, and without the benefit of that section, the action was time-barred under a two-year statute of limitation. White denied the motion, declaring that the Rasmussens should not be penalized for their diligence in bringing suit.
Writing for Div. Eight, then-Justice Laurence D. Rubin (now presiding justice of Div. Five) declared the ruling to have been correct.
Award Against USC
White last year ordered that USC pay $111,965 in attorney fees and costs in favor of a student it had marked for expulsion based on allegations of sexual misconduct.
The judge determined on March 19, 2018, that the investigation was slanted in favor of the female student who made the accusations. Her June 28 order for fees and costs, made pursuant to the private attorney general statute, explains:
"Here, Petitioner is the successful party in that he obtained a judgment vacating USC's investigative findings to justify' Petitioner's expulsion from USC. The Court ordered USC to conduct a new fair and impartial investigation….
"The Court also finds that a significant non-pecuniary benefit has been conferred upon a large class of persons—namely, individuals at USC who are accused of violating USC's sexual misconduct policy where a Title IX investigation is conducted."
White said that her finding that "institutional bias exists" will "confer a benefit upon the class of persons at USC accused of violating USC's sexual misconduct policy where a Title IX investigation is conducted," adding:
"The Court also finds that Petitioner had no individual financial interest in this litigation. The goal of this petition was to reverse the expulsion and obtain a fair hearing. It is speculative and attenuated to link Petitioner's future financial prospects as a result of vacating his expulsion."
Sealing Order
White on Jan. 22, 2013, ordered the entire complaint in a case sealed. An attorney, Ramin R. Younsessi, was seeking to recover the reasonable value of his services in an earlier personal injury case that had been settled by his client, Veronica Munoz, after she fired him and obtained successor counsel.
Rather than suing Munoz, Younsessi sued the successor counsel, Michael A. Killackey.
Killackey moved for a sealing because the complaint mentioned the amount of the confidential settlement in Munoz's action: $1.6 million.
White ruled in the case that Younsessi could sue under a quantum meruit theory, but that her cause of action was against Munoz, not Killackey. Younsessi appealed.
Upon an initial case review in 2015, Div. Five of this district's Court of Appeal indicated an initial intent to unseal the complaint and, when no opposition was received, did so, declaring that no "justification exists" for the 2013 order.
In subsequently reaching the merit, the appeals court on June 29, 2016, affirmed, saying:
"Plaintiffs provided the legal services to Munoz, not to defendants. Plaintiffs therefore must litigate with Munoz the existence, amount, and enforceability of the attorney fees."
Counterintuitive Reversal
Div. Four of the Court of Appeal for this district on April 17, 2018, raised eyebrows by holding that a plaintiff. who senses imminent loss of a case is entitled to dismiss with prejudice at the last minute and cut off the defendant's entitlement to attorney fees under a contractual provision calling for such fees to be awarded the prevailing party.
The opinion by Justice Audrey Collins reversed a $137,000 award by White to the defendant.
White's view was:
"So, when we talk about trying to voluntarily dismiss something in between the time that the evidence is submitted to the court, and the time that closing briefs arrive, I can't imagine—I can't imagine under any circumstance that you could just voluntarily dismiss—well, it looks like a losing battle here, so I am going to avoid the attorney's fees—that's just sabotage. It is sandbag. It is improper."
The judge also declared:
"We had had a full trial, and you want to come in at the last minute recognizing that, perhaps, your client is in peril and avoid the attorney's fees? No."
Copyright 2020, Metropolitan News Company