Wednesday, March 25, 2020
Page 4
Panel Ponders Whether Reversal Is Required Based on Ouster of Juror
Argument Takes Place Via Teleconferencing in Light of COVID-19 Epidemic
By a MetNews Staff Writer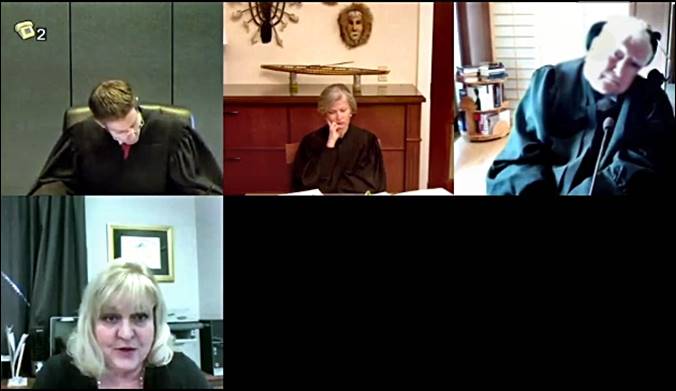 Above is a screenshot of oral argument via teleconferencing before the Ninth U.S. Circuit Court of Appeals. At top are, from left, Circuit Judges Daniel Aaron Bress, Morgan B. Christen, and Ronald M. Gould. Below is attorney Lisa Rasmussen.
Pending before the Ninth U.S. Circuit Court of Appeals is a case in which two appellants claim they were denied fair trials because the judge dismissed a juror during deliberations because two other panel members complained that she wasn't participating in the deliberations, one of them, the foreman, saying they could not reach a verdict unless the woman, a paralegal, were booted off.
Arguments in the case took place on Monday, via teleconferencing. The session had been scheduled to be conducted in the Ninth Circuit's San Francisco courtroom but the plan was changed in light of the coronavirus epidemic.
"I want to welcome everyone to our virtual courtroom here," Judge Ronald M. Gould said at the outset of the proceeding, adding a few moments later:
"I want to thank counsel and my colleagues on the bench for their cooperation with what is necessarily somewhat of an experiment caused by the current crisis."
'Trying Circumstances'
Assistant U.S. Attorney William Ramsey Reed, when it was his turn to argue, queried: "Is my screen and video working all right?" Gould answered:
"We can see your smiling face, under all these trying circumstances."
The Ninth Circuit had announced on Friday:
"Arguments currently scheduled in March, April, and May 2020 are being evaluated one at a time and orders will issue in those cases giving direction to the parties. Panels may exercise their discretion under the rules to submit cases without argument: to postpone argument to a later date: or to hold argument via telephone or video. When argument is held, it will be live streamed to facilitate public access."
No Major Glitch
During the one hour and 13 minute proceeding, the three judges and the three appellate counsel saw, on his or her PC, all of the jurists, each viewed from a different location—with Gould being a blurry figure—and the one lawyer who was presently arguing. There was no major glitch although, at one point, Gould complained of an annoyance of the image of a keyboard appearing on his screen and was advised by a staff member to move his mouse to eliminate it.
At another juncture, Gould started to interrupt, then quickly announced, "My screen went blank for a moment," but said that by moving the mouse, reception of images was restored.
The panel had instructed counsel in advance to concentrate their arguments on the issue of the removal of the juror.
Two cases had been consolidated for purpose of the argument. Appellants were Henri Wetselaar and David A. Litwin. Wetselaar, a medical doctor, had been the chief defendant.
Precisely Three Years
Argument took place precisely three years since each defendant was convicted of offenses in connection with the medical practice of Wetselaar, then 93. He was found guilty of the unlawful distribution of controlled substances, conspiracy to distribute controlled substances, money laundering, and structuring of money transactions, and was sentenced to 10 years in prison and fined $2.5 million.
Litwin, 58, Wetselaar's assistant, was found guilty of conspiracy to distribute controlled substances and distribution of controlled substances. He was sentenced to 20 years in prison.
Reed told the judges on Monday that Wetselaar ran a "pill mill," asserting:
"This wasn't a legitimate medical practice."
'Insufficient Inquiry'
Gould initially called on Wetselaar's appellate counsel, Daniel J. Hill, to argue, but Hill noted the court's direction that a priority be placed on the juror disqualification issue and deferred to Litwin's lawyer, Lisa Rasmussen, who had briefed that matter. She told the panel that there was an "insufficient inquiry" as to fellow jurors' complaints about the woman who was ousted, asserting that the District Court judge, in Nevada, posed "leading questions" to her aimed at arriving "at a conclusion that the juror needed to be replaced because she was refusing to deliberate."
Rasmussen said the judge refused to allow the juror "to clarify and to add context to her responses to the court."
The judge questioned the foreman of the jury and one other juror, each of whom reported that "Juror No. Five" was not participating.
"The foreman seemed to think that they could reach a verdict if they didn't have this one juror—but that's not the way we do it," Rasmussen argued. "That's not the standard and the case law does not support that kind of activism, I would say."
She added:
"To decide within three hours of the deliberation process to remove a juror because the foreman of the jury thought she wasn't playing ball well seems wholly inappropriate in this case."
Government's Attorney Argues
Reed maintained that "the District Court handled" the matter "perfectly." Judge Morgan B. Christen did not appear to agree.
She remarked that there was "a much briefer inquiry than we usually see" on the part of judges in determining whether to expel a juror.
While Reed stressed the juror's acknowledgement that she had stated in the jury room that she was not prone to change her mind, Christen remarked:
"That is consistent with her saying, 'I have a different view of the evidence'—as opposed to her saying: 'I am not going to listen to the evidence or my fellow jurors.' "
Reed persisted in contending that the juror had announced she would not consider the evidence, and Christen countered: "She never said, 'I won't consider the evidence.' "
The lawyer maintained that her declaration in the jury room that she would not change her mind was "tantamount to a refusal to deliberate."
Christen noted that the juror had assured the judge that, if she remained as juror, she would conscientiously participate in the discussions.
Rebuttal Argument
During argument in rebuttal, Rasmussen took the position, in response to an inquiry from Gould, that if error is found, it cannot be viewed as harmless because there is no way of determining what the outcome would have been if the juror had not been sent home.
She noted that after the panel was reconstituted, it convicted her client on seven counts and acquitted on four counts.
Hill's argument was focused on the contention that officers unlawfully seized virtually all of Wetselaar's patient records, exceeding the bounds of the search warrant, but the judges questioned whether the doctor had consented and whether an prejudice to his defense resulted.
Free on Bail
Litwin is presently confined in a federal prison. The District Court denied bail to Wetselaar pending appeal but the Ninth Circuit, on Nov. 7, 2017, in an order by Judges A. Wallace Tashima and William A. Fletcher, granted it, saying:
"Appellant has shown, by clear and convincing evidence, that appellant is not likely to flee or to pose a danger to the safety of any other person or the community if released. Appellant has also shown that the appeal raises a 'substantial question' of law or fact that is 'fairly debatable,' and that 'if that substantial question is determined favorably to defendant on appeal, that decision is likely to result in reversal or an order for a new trial of all counts on which imprisonment has been imposed.'…We also find that there are exceptional reasons why detention of appellant pending appeal is not appropriate, due to his illness and the deterioration of his health since the district court's order denying bail pending appeal."
The case is United States v. Wetselaar, 17-10322.
Copyright 2020, Metropolitan News Company