Monday, February 3, 2020
Page 1
Civil Rights Action Against Allegedly Lecherous Guard Reinstated
Ninth Circuit Reverses Summary Judgment in Case Where Juvenile Female Detainee Alleged Correctional Officer Watched Her Shower, Made Improper Remarks, Touched Her
By a MetNews Staff Writer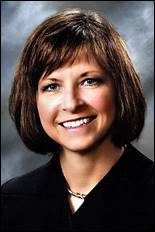 JENNIFER L. THURSTON
Magistrate Judge
The Ninth U.S. Circuit Court of Appeals yesterday countermanded a magistrate judge who held that the alleged conduct of a male guard at a female juvenile detention facility—in watching her shower multiple times, nonconsensually touching her face and shoulders, and telling her of his sexual dream about her—was insufficient to amount to a constitutional violation.
Circuit Judge Richard Paez wrote the opinion which reverses a summary judgment by Magistrate Judge Jennifer L. Thurston, of the Eastern District of California, in favor of the corrections officer, George Anderson, and his supervisor, Heathe Appleton. In light of those rulings, plaintiff Samantha Vazquez confessed an inability to proceed against the remaining defendant, the County of Kern, and Thurston ordered the entire action dismissed with prejudice.
The opinion remands for further proceedings the civil rights action, under 42 USC §1983, brought by Vasquez, who was incarcerated at the Kern County Juvenile Hall. There, she alleged in her complaint, she was subjected to "grooming" for sex, "exploitation, voyeurism and sexual abuse by Defendant Anderson."
Magistrate Judge's View
Thurston—who, as a lawyer, handled civil rights cases, among other matters, prior to her appointment as a magistrate judge in 2009—found that even if Vasquez's allegations as to sexual abuse are true, she did not suffer "harm of constitutional proportions."
She said in her Dec. 14, 2017 order:
"[T]he Court is unable to find the facts asserted by the plaintiff support a claim for sexual abuse under the Constitution. Anderson calling Plaintiff 'babe,' commenting on her body, and telling her about his dream while asking her to step quite close to him does not constitute more than sexual harassment. Further, Anderson's touching Plaintiff's face and shoulder does not render this claim the manner of which is prohibited under the constitution."
The magistrate judge also held that instances of Anderson peering at Vazquez while showering were not of sufficient frequency as to constitute a cognizable invasion of privacy, declaring:
"The evidence before the Court does not demonstrate that Anderson 'regularly or frequently' observed Plaintiff in her room or in the shower….[H]is viewing Plaintiff in the shower or her room while the privacy sign was up occurred only a handful of times…."
Paez's Opinion
The Ninth Circuit saw it differently.
Paez wrote:
"We hold that, viewing the facts in the light most favorable to Vazquez and drawing all reasonable inferences in her favor, she has presented sufficient facts to establish a violation of her right to bodily privacy, right to bodily integrity, and right to be free from punishment as guaranteed by the Fourteenth Amendment."
'Bodily Privacy'
Paez recited that the Ninth Circuit has, since 1963, recognized a Fourteenth Amendment right to bodily privacy.
"[W]e disagree with the district court that Anderson's alleged viewings were not sufficiently frequent to violate Vazquez's right to privacy under the Fourteenth Amendment," he said.
The circuit judge brushed aside Anderson's argument that there was "a compelling state interest" in his closely watching Vazquez, noting that the conduct described in Vasquez's pleading, if it occurred, contravened the institution's policy.
He observed that there are disputed issue of facts. One such fact, he said, is Vasquez's insistence that Anderson directed her to use a particular shower stall that would afford him the best view.
'Bodily Integrity'
Paez cited the Ninth Circuit's 2001 decision in Fontana v. Haskin for the proposition that in a bodily integrity case, the question is whether there was conduct that "shocks the conscience."
In that case, a woman was arrested and while being transported to the police station, in handcuffs, was subjected to comments of a sexual nature by a male officer who massaged her shoulders.
"Here, Vazquez's assertions are sufficiently similar to those in Fontana for us to conclude that a reasonable jury could find that Anderson's alleged conduct violated Vazquez's Fourteenth Amendment right to bodily integrity," Paez wrote. "Moreover, the context of Vazquez's allegations demonstrate that she was at least as vulnerable as the Fontana plaintiff."
He explained:
"At the time of the alleged events, Vazquez was a female ward at juvenile hall, whereas Anderson was 45 years old, was larger than Vazquez, wore a uniform, and had the power to discipline her if she refused to follow his instructions. Thus, a jury could find that Anderson's alleged conduct "was egregious and outrageous and shocks the conscience as a matter of law."
Punitive Comment
Vazquez has a right under the Fourteenth Amendment to be "free from punishment" beyond that legally prescribed for her offense, Paez said.
"First, Vazquez alleged that Anderson's conduct caused her harm outside of the inherent discomforts of confinement," he recited. "Second, Anderson's alleged conduct did not serve a legitimate governmental objective."
In light of the various acts alleged, a reasonable jury could find that Vasquez was subjected to punishment in violation of her constitutional right.
Qualified Immunity
Thurston said in her order that in light of her conclusion that no constitutional violation occurred a discussion of qualified immunity was unnecessary, but nonetheless addressed it, saying:
"[I]t is not clear that a reasonable officer would be aware the conduct identified by Plaintiff—which included infrequent viewing in a state of undress and sexual harassment—was unconstitutional."
In light of that, she said, qualified immunity should be applied.
Paez countered that the rights Vasquez alleged were violated are "clearly established" and, accordingly such immunity is unavailable.
He also said that Appleton had knowledge of other complaints about Anderson's conduct and could be found at fault for not preventing the wrongful actions against Vasquez, should they be found to have occurred. In a footnote, it said the judgment in favor of Kern County is also reversed.
The case is Vazquez v. County of Kern, 18-15060.
Copyright 2020, Metropolitan News Company