Monday, April 13, 2020
Page 1
Ninth Circuit:
Lawyer Who Assailed Former Assistant in Postings Not Liable
Panel Says Plaintiff Failed to Establish Malice on Part of Defendant in Accusing Her of Hijacking Her Website, Sapping Funds Intended for Her Political Group; Defendant Was Prominent 'Birther'
By a MetNews Staff Writer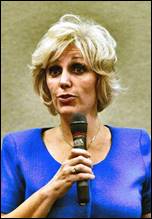 ORLY TAITZ
Orange County Attorney
Orly Taitz, an Orange County attorney who gained national attention as a result of her numerous legal actions to establish that then-President Barack Obama was not born in the United States and was thus constitutionally ineligible for his post, on Friday prevailed in years-long litigation against her for defamation, with the Ninth U.S. Circuit Court of Appeals affirming her District Court victory.
A memorandum opinion upheld summary judgment in favor of Taitz, and against plaintiff Lisa Ostella, who was once a volunteer webmaster for the political conspiracy theorist. Ostella has asserted that their relationship soured after she refused to confirm to law enforcement authorities that Taitz's websites and PayPal account had been hacked by "Obama and his thugs."
Taitz in 2009 began posting allegations that Ostella hijacked her website and was diverting to herself donations intended to Taitz's political organization. Ostella, who resides in New Jersey, brought suit in federal court, based on diversity of citizenship, on May 4, 2009.
           Guilford's Decision
In granting summary judgment to Taitz on Oct. 5, 2018, District Court Judge Andrew Guilford of the Central District of California said:
"In total, the parties filed six briefs and thousands of pages of documents. Even after all this the Court is still not sure what exactly happened between Ostella and Taitz. The truth seems to be buried in their confusing arguments and mountains of exhibits, or (more likely) not effectively presented in this case….Despite the parties' difficulty pursing this matter effectively, the Court issues this order to, as much as now possible under the law and circumstances, do justice.
"Plaintiff Lisa Ostella contends that she's entitled to summary judgment on all her claims, asking the Court to award her over $15,000,000, among other things….Defendant Orly Taitz also contends that she's entitled to summary judgment on Ostella's claims….Like so many poorly presented cases, the outcome of this case is dictated by the burden of proof. Because Ostella has failed to present sufficient evidence to carry her burden on any of her claims, the Court DENIES Ostella's motion for summary judgment….For the same reason, the Court GRANTS Taitz's motion for summary judgment."
Malice Not Established
A three-judge panel—comprised of Circuit Judges Jay S. Bybee and Daniel P. Collins, along with District Court Judge Barry Ted Moskowitz of the Southern District of California, sitting by designation—said in Friday's opinion that, under case law, Ostella was obliged to show malice in order to prevail on defamation and invasion of privacy claims. This is "because the speech at issue was of public importance," the judges explained.
Their opinion says:
"We agree with the district court that Ostella failed to present sufficient evidence to establish that Taitz acted with malice. The undisputed evidence confirms that there were difficulties with PayPal donations on the website during the time that Ostella managed it and that Ostella thereafter operated a similarly named website with a PayPal script linked to Ostella. Whether or not Taitz was ultimately correct in suspecting nefarious conduct, Ostella failed to show that Taitz knew that her suspicions were unfounded or that she acted with reckless disregard of whether they were false."
The opinion adds that if Taitz did submit a report to the Orange County Sheriff's Department falsely alleging that Ostella had a criminal record, as alleged, the report would be privileged under California's Civil Code §47(b).
Other Appellant
Also suing Taitz was paralegal Lisa Liberi who incurred Taitz displeasure by declining to assist her in her litigation against Obama. Liberi settled her action against Taitz, a condition of which was that comments denigrating her be removed from the lawyer's website.
When all of the postings were not deleted, she sought leave to file a new complaint. Permission was necessary because, as Guilford explained in his Oct. 5, 2018 ruling:
"From the beginning, this dispute has rarely been about substance, and instead involves two parties airing their personal grievances with one another through online postings, complaints to law enforcement, and extended civil proceedings in multiple courts. Things got so out of hand the Court was forced to impose a prefiling restriction on the parties."
Guilford noted in that ruling that Liberi "asks that she be allowed to file a new, 34-page complaint seeking over $30,000,000 in relief," and responded:
"No. Liberi settled her claims against Taitz and others and dismissed those claims with prejudice. The proposed complaint improperly resurrects many of those claims for no good reason, and even raises wholly new issues that aren't appropriately part of this years old litigation."
The Ninth Circuit affirmed, saying:
"The district court acted within its discretion in concluding that, in light of the existing adverse judgment against her in this action. Liberi's proposed complaint was procedurally improper. The court expressly did not foreclose consideration of a proper motion to enforce the settlement, and the court did not err in concluding that it did not have that issue properly before it. Nor do we construe the court's ruling to have foreclosed a properly supported motion to set aside the judgment and to rescind the settlement agreement We decline to issue a writ of mandamus ordering the district court to permit the improper filing Liberi presented.
"Liberi's appeal is denied but her access to the courts is not. She remains free to properly file a motion to enforce the settlement agreement with the district court."
The case is Ostella v. Taitz, 18-56652.
None of the members of the panel was appointed by Obama; Bybee was chosen by President George W. Bush, Collins by President Donald Trump, and Moskowitz by President Bill Clinton.
Taitz has been an unsuccessful candidate for California secretary of state (2010), U.S. senator from California (2012) and California attorney general (2014). The native of the former Soviet Union, in addition to being an attorney, is a dentist, identified on her website as "Dr. Taitz, Esq."
Copyright 2020, Metropolitan News Company