Wednesday, July 1, 2020
Page 1
Ninth Circuit:
District Court Properly Approved No-Money Class Settlement
Memorandum Opinion Says Class Members Will Benefit From Injunctive Relief Barring Representation On Packaging Claimed to Be Deceptive Because They Are Apt top Buy Product in the Future
By a MetNews Staff Writer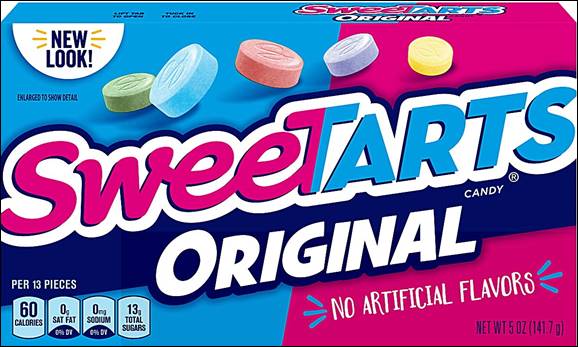 Above is depicted a package of SweeTARTS. The Ninth U.S. Circuit Court of Appeals has affirmed an order approving a class settlement under which the manufacturer will stop representing that the candy, of which there are various varieties, contains "no artificial flavors," but which provides no monetary benefit to class members.
The Ninth U.S. Circuit Court of Appeals yesterday affirmed an order approving a class settlement under which members of the class received no monetary benefit but their lawyers received $272,000, reasoning that an agreed-upon injunction against the alleged mislabeling of a popular line of candies was something of value to class members because they were apt to continue to buy the products.
In a memorandum opinion, a three-judge panel upheld the decision by District Court Judge Anthony J. Battaglia of the Southern District of California.
Class plaintiff Jessica Littlejohn contended that Ferrara Candy Company falsely claimed on its packaging that SweeTARTS in its various forms—including SweeTARTS Original, Mini Chewy, Sour Chewy and Whipped & Tangy—contain "no artificial flavors." In fact, she pointed out, the products contain dl-malic acid which, Littlejohn asserted, is an artificial flavor.
Allegations of Complaint
The first amended complaint alleges that SweeTARTS packages "are labeled as if they contain only natural ingredients and are flavored only with natural ingredients when the Products in fact contain undisclosed artificial flavors in violation of state and federal law," adding:
"Defendant's packaging, labeling, and advertising scheme is intended to give California consumers the impression that they are buying a premium, 'all natural' product with natural flavoring ingredients instead of a product that is artificially flavored."
The company insisted that dl-malic acid is a "flavor enhancer," not a flavor. Nonetheless, it agreed to stop claiming that the SweeTARTS contain "no artificial flavors" and to list dl-malic as an ingredient.
No Monetary Benefit
Spurning objections to the settlement, which provides for no recompense to purchasers of SweeTARTS (other than a $3,000 incentive award to Littlejohn, Battaglia said:
"…Objectors have raised no valid concerns regarding the adequacy of the relief the Settlement provides, taking into account the weaknesses in Plaintiffs case along with the strengths of Defendant's defenses and the obstacles to class-wide recovery. Further. Defendant's agreement to modify the Products' label and packaging, which adequately addresses the very claims raised in Plaintiffs Complaint, provides value to the Class."
Affirmance came in an opinion by a panel comprised of Circuit Judges Consuelo M. Callahan and Jacqueline H. Nguyen, joined by District Court Judge Raner C. Collins of the District of Arizona, sitting by designation.
Ninth Circuit Opinion
Rejecting the contention by objector James Copland that the "purported injunctive relief had no settlement value" and that only "valueless injunctive relief" was provided, they said:
"[T]he district court found—and Copland does not dispute—that SweeTARTS purchasers tend to be repeat buyers who would derive value from the Settlement's injunctive relief upon each future purchase of SweeTARTS. Furthermore, Copland presented no evidence that Ferrara had already changed, or was planning to change, its labeling practices prior to agreeing to the Settlement."
Copeland also questioned the amount of the fee award, agreed upon by the parties, which goes to the Law Offices of Ronald A. Marron, based in San Diego. Battaglia found it reasonable, noting it was based on the lodestar amount "plus a modest 1.489 multiplier," and citing "the excellent results obtained, the experience and skill of Counsel, the complexity of issues, the risk of non-payment and preclusion of other work, and the reaction of the Class."
Yesterday's opinion says that Battaglia made all the findings necessary in approving the fees.
The case is Littlejohn v. Ferrara Candy Company, 19-55805.
Copyright 2020, Metropolitan News Company