Thursday, February 20, 2020
Page 1
Action by Fan Hit by Foul Ball in Stadium Is Reinstated
C.A. Declines to Follow Long-Standing Precedent Barring Liability Based on Assumption of the Risk;
Perluss Points to Recent Resolve to Add Netting as Indicating It Should Have Been Present in 2012
By a MetNews Staff Writer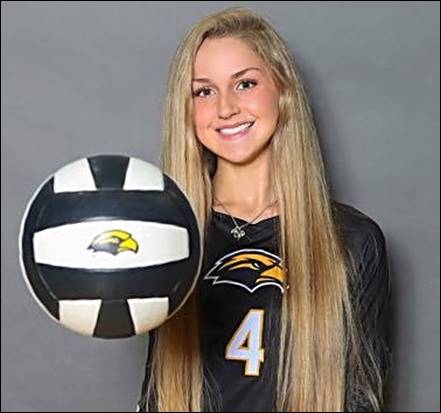 Above is Summer Johnson, 19, a freshman at the University of Southern Mississippi, where she plays volleyball. Johnson was injured by a foul ball at a Long Beach baseball stadium when she was 12. The Court of Appeal for this district has reinstated her action against the sponsor of the game, rejecting the traditional view that assumption of the risk precludes liability.
The Court of Appeal for this district has reinstated an action by a girl who incurred a serious eye injury when struck by a ball that was hit into the stands during a baseball game at Blair Field in Long Beach, with the court parting from precedent by eschewing an application of the doctrine of assumption of the risk.
Protective netting could have prevented the injury, Presiding Justice Dennis Perluss of Div. Seven wrote, declaring that installation of such netting would not interfere with the fans' enjoyment of the game, as reflected by current plans to expand netting at stadiums.
His opinion, filed Tuesday, reverses a judgment of dismissal that followed Los Angeles Superior Court Judge Ross M. Klein's sustaining of a demurrer without leave to amend on Feb. 21, 2017. It revives an action by Summer Johnson, who was 12 years old when a ball struck her while she was seated in the stands on the third base line during a game on Aug. 18, 2013.
Johnson, who lives in Georgia, was there watching her brother try out for a team. (The first to reach her after she was struck was Tommy Lasorda, former manager of the Los Angeles Dodgers, who later visited her in Georgia.)
Klein Cites Precedent
In finding that Johnson had failed to state a cause of action against the United States Baseball Federation, which sponsored the game she attended, Klein quoted the Fourth District's Div. One as saying in its 1997 decision in Lowe v. California League of Professional Baseball:
"[F]oul balls hit into the spectators' area clearly create a risk of injury. If such foul balls were to be eliminated, it would be impossible to play the game. Thus, foul balls represent an inherent risk to spectators attending baseball games."
Klein noted that Johnson sought leave to amend for a second time, with one of the allegations she wanted to add that there was a lack of netting to protect spectators. He responded:
"The lack of netting is not an increase of inherent risks. Placing such netting might decrease the inherent risks of being hit by a foul ball, but that is not the inquiry."
Perluss's Opinion
That was the inquiry, as Perluss saw it.
"To be sure, foul balls are part of baseball," he said, but added that US Baseball, "as the entity responsible for operating Blair Field" on the day Johnson was injured, "had a duty not only to use due care not to increase the risks to spectators inherent in the game but also to take reasonable measures that would increase safety and minimize those risks without altering the nature of the game."
He continued:
"Installing protective netting down the first- and third-base lines at least to the dugouts would certainly increase safety and minimize risk to fans sitting in those areas. Would it alter the nature of the game?"
Plans for Netting
Perluss noted that the court in Lowe, cited by Klein thought that it would and acknowledged that other courts, through the years have agreed. But, he said, the "30 major league baseball teams and many minor league teams disagree," noting that there are plans, announced last year by Baseball Commissioner Rob Manfred to install additional netting in stadiums in time for the upcoming 2020 season.
The jurist set forth:
"To what extent should this modern, practical view of the importance of protective netting shape the legal system's understanding of the risks inherent in attending a baseball game and the responsibility of stadium owners to minimize spectator injuries from foul balls? Phrased more specifically in terms of California tort law and the doctrine of primary assumption of risk, would the provision of adequate protective netting in a perceived zone of danger behind home plate (or for field-level seating along the first- and third-base lines between home plate and the dugouts) increase safety and minimize the risk of injury to spectators without altering the nature of baseball as it is played today in professional and college ballparks? We conclude it would and, accordingly, reverse the judgment…."
Long-Standing Precedent
Perluss acknowledged that his court was deviating from precedent. His opinion begins with a citation to 1929 New York opinion authored by jurist later to serve on the U.S. Supreme Court, saying:
"Writing for the New York Court of Appeals to reverse a judgment in favor of a young man injured while riding an attraction at the Coney Island amusement park, then-Chief Judge Benjamin Cardozo applied the common law doctrine volenti non fit injuria ('to a willing person, injury is not done') and explained, 'One who takes part in such a sport accepts the dangers that inhere in it so far as they are obvious and necessary, just as a fencer accepts the risk of a thrust by his antagonist or a spectator at a ball game the chance of contact with the ball.'…Chief Judge Cardozo's embrace of a baseball fan's fundamental responsibility to protect himself or herself from injury from a foul ball—often referred to as the 'Baseball Rule'—was consistent with the state of the law throughout the country."
Perluss also noted the California Supreme Court's 1935 declaration in Quinn v. Recreation Park Assn. that "it has been generally held that one of the natural risks assumed by spectators attending professional games is that of being struck by batted or thrown balls; that the management is not required, nor does it undertake to insure patrons against injury from such source."
Although there was news coverage of the 2013 injury which used the full name of Summer Johnson, who sued (through her father, Lee Johnson, as guardian ad litem) using her full name, and despite her having reached her majority, the plaintiff is referred to in the opinion as "Summer J."
The case is Summer J. v. United States Baseball Federation, 2020 S.O.S. 685.
Steven B. Stevens, Thomas M. Dempsey, and Daniel E. Selarz, who each has his own law firm, represented Johnson. Sevan Gobel and Ladell Hulet Muhlestein of Manning & Kass, Ellrod, Ramirez, Trester acted for the United States Baseball Federation.
Copyright 2020, Metropolitan News Company