Friday, June 19, 2020
Page 1
Starbucks's Counter Displays Do Not Breach ADA Rights of Persons in Wheelchairs
By a MetNews Staff Writer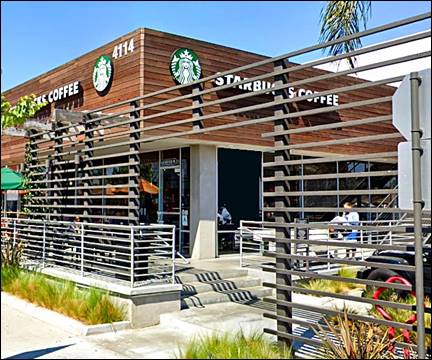 Above is the Starbucks coffeehouse on Sepuleda Boulevard in Culver City where, according a plaintiff in an action under Americans with Disabilities Act regulations, there is insufficient counter space accessible by persons ion wheelchairs because the counter has displays on it. The Ninth U.S. Circuit Court of Appeals has affirmed summary judgment for Starbucks.
The Ninth U.S. Circuit Court of Appeals, in three separate cases each relating to a different coffeehouse location in California including one in Culver City, has rejected the contention that Starbucks does not supply sufficient counter space that's accessible to persons in wheelchairs because portions of the surfaces are taken up by advertising displays.
Department of Justice regulations adopted pursuant to the Americans with Disabilities Act of 1990 ("ADA") were not breached, each of the opinions declares, because the specific requirement the plaintiffs seek to impose does not exist.
Summary judgment for the Seattle-based multinational coffeehouse operator was affirmed in memorandum opinions Wednesday in Lindsay v. Starbucks Corporation, 19-55738, Kong v. Starbucks Corporation, 19-55577, and Johnson v. Starbucks Corporation, 19-15759. Each of the plaintiffs was represented by the Center for Disability Access, a division of a San Diego law firm specializing in such actions.
Culver City Location
Suing in the District Court for the Central District of California was Shirley Lindsay, who sometimes uses a wheelchair and sometimes a cane. She maintained that sufficient counter space was not available to her during her visits to the coffeehouse at 4114 Sepulveda Blvd. in Culver City—just south of Washington Boulevard—because the surface was "crowded…with merchandise and displays, which narrowed the clear width of the counter to less than 36 inches."
She asserted that there is "no policy in place to make sure that the transaction counters are kept clear for persons with disabilities."
Section 904.4.1 of the ADA Standards for Accessible Design requires that there be a "portion of the counter surface that is 36 inches (915 mm) long minimum and 36 inches (915 mm) high maximum above the finish floor." However, the regulation adds:
"EXCEPTION: Where the provided counter surface is less than 36 inches (915 mm) long, the entire counter surface shall be 36 inches (915 mm) high maximum above the finish floor."
Wu Affirmed
The Ninth Circuit said, in upholding the summary judgment for Starbucks granted by District Court Judge George H. Wu (mirroring the appeals court's discussion in the other two opinions):
"Here, the parties agree that Starbucks' transaction counter is configured for a parallel approach and, as built, is at least 36 inches long and no more than 36 inches high. Lindsay argues that Starbucks has nevertheless not complied with Section 904.4.1's length requirement because Starbucks has covered a portion of the transaction counter with merchandise displays, rendering the counter less than 36 inches long. The exception to Section 904.4.1, however, clearly contemplates counters that are less than 36 inches long when, as here, the counter is at an entirely accessible height of 36 inches or lower."
The opinion continues:
"Because there are circumstances under which a counter built to be less than 36 inches long complies with Section 904.4.1, we hold that Starbucks does not violate Section 904.4.1 by failing to provide 36 inches of usable counter space for disabled customers."
Maintenance Requirement
Also in issue in the cases was a Department of Justice regulation—28 C.F.R. § 36.211(a)—which provides:
"A public accommodation shall maintain in operable working condition those features of facilities and equipment that are required to be readily accessible to and usable by persons with disabilities by the Act or this part."
Wednesday's opinion says:
"…Section 904.4.1 of the 2010 Standards expressly contemplates counters that are built to be less than 36 inches long. As a result, we do not read §36.211(a) to require Starbucks to 'maintain' 36 inches of usable counter space. This is not a case in which defendants have failed to maintain an accessible feature clearly required by the ADA….In sum, the maintenance requirements cannot be more stringent than the building requirements."
District Court Decision
Wu, in his May 20, 2019 order granting summary judgment, said:
"[I]t is apparent that Plaintiff is really challenging the sufficiency of the counter in terms of how clear the counter was….
"This observation is crucial, because the standards Plaintiff points to say nothing at all about any obligation to keep counters clear."
Ruling in an action brought in the Central District of California by Nehemiah Kong based on what he encountered at the Starbucks facility at 11931 Beach Boulevard in Stanton, a city in Orange County, District Court Judge David O. Carter adopted the recommendation of Magistrate Judge Douglas F. McCormich who said on May 1, 2019:
"Nothing in the plain language of § 904.4.1 or its exception suggests that any particular amount of 'clear' space on the surface of a sales or service is required," adding:
"In contrast, § 904.4.1 requires a 'clear floor or ground space,' suggesting that the absence of a 'clear' counter space requirement is intentional."
Unusual Procedure
The third case acted upon by the Ninth Circuit panel affirmed a summary judgment granted to Starbucks by District Court Judge William Alsup of the Northern District of California. In an unusual scenario, summary judgment was granted to defendant Starbucks although it had been sought not by Starbucks, but by plaintiff Scott Johnson.
Alsup found on March 19, 2019, that Johnson's contentions failed because §904.4.1 "does not mention, let alone require, that an entity provide any particular amount of 'clear' counter space" and ordered that cause be shown why summary judgment should not be entered in favor of Starbucks.
Johnson replied on April 2:
"Johnson agrees that it would be a waste of the court's and the parties; resources to force another round of briefing given that the facts are uncontested and the issues well developed. Given the court's interpretation of the law, there is no reason why the court should not grant summary judgment to Starbucks and let Johnson seek appellate review."
On April 14, 2019, Alsup ordered entry of judgment in favor of Starbucks.
Starbucks had questioned, during litigation, whether Johnson had, in fact, visited its premises in Danville, a city in Contra Costa County, which was 90 miles from his home. In a Sept. 11, 2018 discovery order, Alsup recited:
"Sufficient evidence was adduced to support the proposition that plaintiff Scott Johnson is engaged in the business of enforcing federal and state disability laws, that he is confined to wheelchair, and that his investigatory practices have included, among other things, sending assistants into businesses to obtain receipts for cash purchases, then in litigation portraying those purchase as having been made by him. Plaintiffs investigatory practices have also included authorizing his assistants to look for violations of disability laws while traveling on personal vacations, even though plaintiff was not himself present, so that plaintiff could send demand letters to those establishments."
Plaintiffs' Law Firm
The Center for Disability Access, a division of Potter Handy, LLP, has also attracted controversy. Sacramento attorney Rick Morin who defends businesses against ADA lawsuits, says on his website:
"My office analyzed all federal ADA lawsuits filed in 2016 in California. In fact, we were able to find over 2,500 ADA access cases filed in 2016 alone.
"The Center for Disability Access is responsible for over 700 ADA lawsuits in 2016. This is over 25% of the total ADA cases filed that year!
"Make no mistake, the Center for Disability Access knows what they are doing. Good or bad, they have a system in place to target non-compliant businesses.
"ADA lawsuits are big business for plaintiff's firms like the Center for Disability Access. Until the California Legislature takes meaningful action to reform our laws, these lawsuits will continue unabated."
The Center for Disability Access says on its website that it is "a law firm whose staff, attorneys, investigators, and consultants are committed to the principles contained within the ADA," adding:
"The resources enjoyed by CDA are devoted solely to upholding the rights of persons with disabilities."
Copyright 2020, Metropolitan News Company