Friday, January 17, 2020
Page Special Section
PERSONALITY PROFILE:
SELMA MOIDEL SMITH
Attorney and Composer, She Is Known As a 'Renaissance Woman'
By a MetNews Staff Writer
HEN A CHILD WAS BORN IN WARREN, OHIO on April 3, 1919, to Mary and Louis Moidel, little would it have been imagined—other than by her parents—that she would become an attorney at law, and beyond that, a member of the legal profession of considerable note.
Such lofty attainment was simply not expected of a girl in that day, when the destiny of one of her gender was presumed to be, if not that of a housewife, that of a nurse, a school teacher, a clerk at a millenary store, or some similar undertaking.
Mary Moidel had wanted to become a lawyer, herself, but lacked the opportunity to fulfill that desire. She was determined that her new-born daughter—as well as her four other children—would go to law school.
That daughter, now 100 years old and known as Selma Moidel Smith, received her law degree from USC in 1941, became a member of the State Bar of California on Jan. 5, 1943, at age 23, and served in 1947 and 1948 as president of the Southern California Women Lawyers Association (now known as the Women Lawyers Association of Los Angeles). She practiced law for more than 40 years.
Not only did she excel in the legal field, Smith is the composer of more than 100 piano and instrumental pieces—some of which the local legal community has heard performed in recent years by the Los Angeles Lawyers Philharmonic, under the baton of attorney Gary S. Greene. Smith, who was able to read music by the age of 5, is listed in the International Encyclopedia of Women Composers.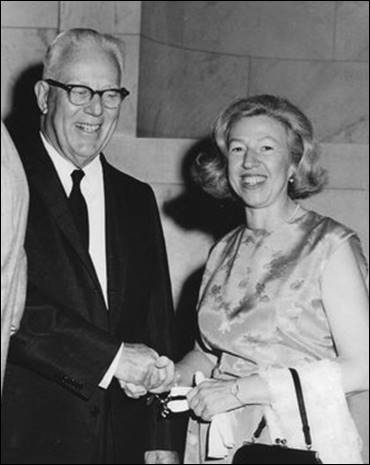 Smith is at the Washington World Conference on World Peace Through Law with Chief Justice Earl Warren, honorary conference chair, at the U.S. Supreme Court Building in 1958.
Heading to Hollywood
As a tyke, Smith moved with her family to Hollywood in 1929. Reflecting on her childhood, Smith says the household was one in which the concept of what is now called a "glass ceiling" was simply not recognized.
She recounts that her mother "felt very much that I was going where she could not."
Once Smith became a member of the legal profession, and, as it became increasingly recognized that women do have a place there, she included her mother at bar events "whenever possible," she says, "so that she could see what had been achieved."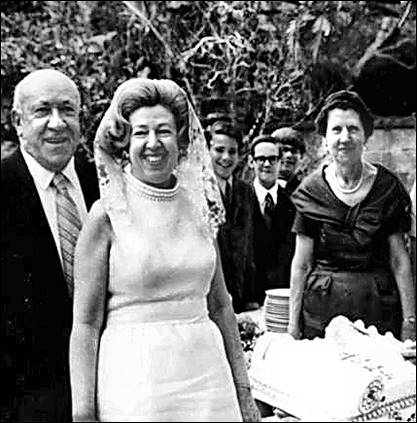 Pictured at the Nov. 14, 1970 Bar Mitzvah celebration for Selma Model Smith's son, Mark Lee Smith, then 13, are, from left, brother Mitchel Moidel, Smith, and sister Gussie Moidel.
Joins Brothers' Firms
There was no question, after Smith gained bar membership, as to which law firm she would join. It was foreseen by Los Angeles Times writer in a May 31, 1936 feature that says:
" 'Moidel, Moidel, Moidel, Moidel & Moidel, Miss Higgenbotham speaking!'
"Four years from now it is almost certain you will get such a response should you call this Los Angeles law firm.
" 'I wish to speak to Attorney Moidel,' you may ask after the Moidel echoes have subsided.
" 'All the Moidels are attorneys,' the operator more than likely will reply.
"The answer is that Isadore and Jacob Moidel, who have practiced law here a good many years, were joined recently by their brother, Mitchel Moidel, a practicing lawyer from Ohio, and by their sister, Gussie Moidel, who has just been graduated from law school and will take her bar examination soon.
"The fifth member of the firm will be Selma Moidel, law student and defense counsel in the girls' court of Manual Arts High School. At the completion of her high school course next month she will enter law school and upon graduation will join her brothers and sisters, forming, as far as can be learned, the only quintuplet family law firm in the country."
Prediction Nearly Accurate
It turned out almost as the Times writer prophesized. Gussie Moidel determined that she did not want to practice law.
Selma Moidel joined the family firm while two of her brothers were off to war. One of them did not return. Jacob Moidel, a captain in the Air Force, was killed in a plane crash in the South Pacific on May 10, 1945, while he was en route home, on leave. (He had been the attorney for evangelist Aimee Semple McPherson, but their relationship soured and they would end up in heated litigation.)
By 1945, Selma Moidel had become Selma Goldsmith. She and Navy Lt. Leonard Goldsmith had been classmates at USC, both in the undergraduate school and in law school.
They changed their names to "Smith," and the law firm of "Moidel, Moidel, Moidel, & Smith" came into being, with Leonard Smith becoming a member of it after he was admitted to the State Bar in 1947.
Firm Represented 'Groucho'
One notable case argued by the firm in the Court of Appeal for this district was handled by Selma Smith's brother, Isadore Moidel (an unsuccessful 1937 candidate for Los Angeles city attorney), who represented comic Julius "Groucho" Marx. Marx's "You Bet Your Life" quiz program—later to become a hit on television in the 1950s—was a show on the ABC radio network in 1949 when the acerbic ad-libber remarked:
"I once managed a prize-fighter, Canvasback Cohen. I brought him out here, he got knocked out, and I made him walk back to Cleveland."
Cohen sued for invasion of privacy. The appeals court was persuaded by Moidel that the Los Angeles Superior Court properly sustained a demurrer without leave to amend. In an opinion by Justice Marshall McComb (later a member of the state Supreme Court), it declared that Cohen waived his privacy rights by entering the public arena.
(The legal process moved more quickly then than now. The broadcast took place on Jan. 12, 1949; the process ended with the filing of McComb's decision on Nov. 18 of that same year.)
Above is the photo accompanying the 1936 article in the Los Angeles Times. The caption reads: "How brief would be the brief that five lawyers, all bearing the family name, might prepare? That question, may come up four years hence when, the Moidel sons and daughters have their five names painted on a law firm office door. From left to right they are Selma, Mitchel, Jacob, Isadore and Gussie Moidel all of whom will rally under the same firm banner as soon as Selma, the youngest Portia, completes her law course."
Immediate Leadership Role
On the very day Smith was admitted to practice—Jan. 5, 1943—she joined the Southern California Women Lawyers. She lost no time in assuming a leadership role in that organization; she was its treasurer that year. While there was a dearth of female lawyers then—about 200 in Los Angeles—the ranks were not so slim that her immediate assumption of an officer post lacked significance.
She became the recording secretary in 1944, was corresponding secretary the following year, first vice president the next, and ascended to the presidency in 1947, at the age of 27. Smith was then elected to a second one-year term.
For years, she lined up speakers for the group.
"I organized events that today we would call 'continuing legal education'—45 years before it became mandatory in California—to provide a series of high-level educational speakers to whom women lawyers in particular might not have had access at that time," Smith recounts.
She also proved to be ahead of her time when, in 1948, she presented a paper, by invitation, at the Conference of the International Bar Association at The Hague. Smith advocated clinical training in law schools—then a novel suggestion, now a common component of law schools' curriculums.
Women's' Rights
As a director of the California Business Women's Council (from 1949-52), she lobbied for the "Wives' Paycheck Bill," which afforded a married woman the right to collect her own paychecks—previously a husband's prerogative. On June 16, 1951, Governor Earl Warren signed the bill into law.
Smith was president of the Los Angeles Business Women's Council in 1952. That was the year U.S. Sen. Richard M. Nixon, R-Calif., was elected vice president of the United States (later to assume higher office). Smith lobbied Warren for the appointment by him of a qualified woman to fill the 1953 vacancy. That was an effort she lost (with Thomas H. Kuchel being selected, instead).
Led Unification Effort
In 1964, Smith was a leader of the movement to merge the Southern California Women Lawyers with the Women Lawyers Club, forming the Women Lawyers Association of Los Angeles. At WLALA's September 1996 installation and awards dinner, Smith became the only person, before or since, to receive an honorary lifetime membership in the organization.
The National Association of Women Lawyers—which Smith also joined in 1943—in 1999 conferred its Lifetime of Service Award on her, and in 2005 created the Selma Moidel Smith Law Student Writing Competition award, which it presents annually.
Kathryn Werdegar, while a justice of the California Supreme Court, once observed that "every organization Selma joins ultimately places her at its helm or in a position of leadership."
An unusual leadership role for an attorney was in connection with the Women's Medical College of Pennsylvania, established in 1850 to train women, exclusively, to become doctors. In 1953, Smith was named to its national board and helped charter that board. Another member of the board was actress Grace Kelly, later known as Princess Grace. (The college decided in 1970 to admit men and became the Medical College of Pennsylvania.) Smith served as the board's president in 1980-82.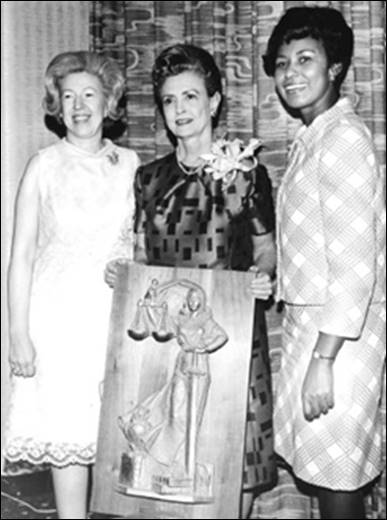 Selma Moidel Smith is seen at the Women Lawyers Association of Los Angeles Law Day Luncheon on April 27, 1968, with, to the right, Los Angeles Superior Court Judge Kathleen Parker then-Assembly member Yvonne Brathwaite, later Yvonne Brathwaite Burke, who was to become a member of Congress and a member of the Los Angeles County Board of Supervisors. Parker, since deceased, and Burke are both past "persons of the year."
L.A. Times Columns
Smith was twice mentioned in the Los Angeles Times's popular "Ham on Ryon" column by Art Ryon. His July 3, 1953 piece says:
"In Philadelphia this week attending a meeting of the national board of trustees of the Women's Medical College of Pennsylvania, Mrs. Selma Moidel Smith, the Los Angeles lady lawyer, met Mrs. Harold Burton, wife of the associate Justice of the U.S. Supreme Court. Mrs. Burton wanted to take her home to Washington with her to meet the associate justice and shock him. Mrs. Burton's maiden name was—Selma Smith."
The column of July 26, 1954, mentions:
"…Mrs. Selma Smith, the lady lawyer, called her brother, Mitchel Moidel, the other night from the French Riviera to report that she and her husband Leonard were 'going to Rome.'
" 'That's what I thought you were doing,' Mitch said, 'roaming all over Europe.'
"Look, now. He said it. We didn't."
News Stories
An April 13, 1958 news item in the Times says:
"Atty. Selma Moidel Smith and her husband, Atty. Leonard Smith, were admitted to practice before the U.S. Supreme Court in Washington last week. Mrs. Smith is a past president of Los Angeles Business Women's Council and the Southern California Women Lawyers Association. The Smiths reside in Encino with their son, Mark Lee Smith."
A Sept. 15, 1965 article in the San Fernando Valley Times bore the headline, "Mrs. Smith Goes to Washington." It reports:
"Mrs. Selma Moidel Smith of Encino is attending the first Washington World Conference on World Peace Through Law in Washington, D.C. this week.
"She is serving as World Law Day Chairman for the Women Lawyers' Association, a member of the Spanish Committee of the World Peace Through Law Center in Washington which is sponsoring the conference, and International Spanish Liaison and National Spanish Chairman for the United States of the World Law Day Committee of the International Federation of Women Lawyers.
"She is also the representative for the California members of the National Association of Women Lawyers, representative for Iota Tau Tau International Scholastic Legal Sorority, a member of the National Board of the Woman's Medical College of Pennsylvania and a member of the International Platform Association."
Smith recalls:
"My role was two-fold, first to represent women in the profession, and second, because I am fluent in Spanish, as a member of the Foreign Language Committee where I served as a host and interpreter for Latin-American judges and lawyers. So, in both respects, my role was to build bridges for understanding—between men and women and between nations."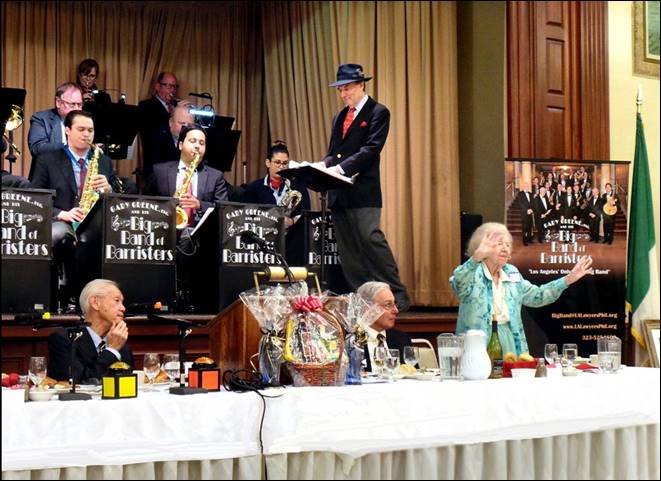 In this 2017 photo, Selma Moidel Smith, at right, waves her arms to the beat of "Selma's Samba," being played by Gary S. Greene, Esq. and His Big Band of Barristers at a joint meeting of the Italian American Lawyers Association and the Senior Lawyers Section of the Los Angeles County Bar Association.
Continued Activities
Assessing the progress women have made in the legal profession, she says:
"Today, there is almost nothing women have not achieved in the law, except that they are still behind in leadership positions and pay. But the major change I've seen is that a woman lawyer is no longer considered a singular peculiarity who has to justify her presence and by whom all other women lawyers will be judged."
At age 100, Smith remains editor-in-chief of California Legal History, published annually by the California Supreme Court Historical Society, of which she has been a director since 2001, and continues as the National Association of Women Lawyers's liaison to the American Bar Association's Senior Lawyers Division, as she has been since 1996.
Selma Moidel Smith. She's been an attorney, a composer, a poet. Speaker, legislative advocate, organizer. Writer, editor. Pianist, violinist, Spanish guitarist.
The awards she has received are countless. She will receive another on Jan. 31 as a 2019 "Person of the Year.
___________________________________________
Comments
The irrepressible Selma Smith has nurtured and set the example for many generations of attorneys, judges, and justices, including me. As her extraordinary CV reflects, Selma, a storied lawyer, works tirelessly to better the profession and has achieved the highest honors the legal profession can bestow. She is an inspiration to us all. Congratulations dear Selma on this much deserved award!
—Tani Cantil-Sakauye
Chief Justice, California
I met Selma Moidel Smith 11 years ago when I founded the LA Lawyers Philharmonic. And since that time, we have become very good friends. We have a lot in common since we are both attorneys and musicians.
Selma has had a remarkable career in the law and has taken on leadership positions since her admission to the California Bar in 1943. At the same time, she pursued her interests in music. Selma is a very talented musician and composer of more that 100 piano and instrumental pieces.
It was my orchestras privilege to perform some of her works at Walt Disney Concert Hall to standing ovations. Her leadership skills in law combined with her passion for music are an inspiration to me in helping bring harmony to our profession.
—Gary S. Greene
Attorney, Conductor, Lawyers Philharmonic
Copyright 2020, Metropolitan News Company