Tuesday, May 26, 2020
Page 3
Court of Appeal:
Anti-SLAPP Motion Properly Denied in Lawsuit Brought by Richard Simmons
By a MetNews Staff Writer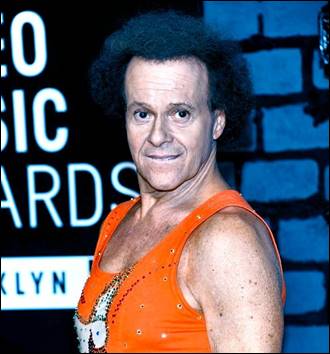 —AP
RICHARD SIMMONS
Health and fitness guru
The Court of Appeal for this district has declared that a judge properly denied an anti-SLAPP motion brought by a magazine publishing company in response to a suit by fitness guru Richard Simmons for invasion of privacy and trespass, holding that the alleged conduct—placing a tracking device on the car of the plaintiff's caretaker—does not arise from protected activity.
Defendant Bauer Media Group USA, LLC, insists that while it did hire a private investigator, Scott Brian Mathews, to photograph Simmons, 71, leaving Cedars-Sinai Medical Center after a two-day stay in 2017, it did not authorize the detective or his agency, LA Intelligence, to place the tracking device. Interest in Simmons's state of health had been sparked by the extroverted celebrity having dropped from public view.
Photographs—which were not obtained—were to be published in In Touch Weekly, an entertainment magazine then owned by Bauer.
In pursuing its special motion to strike, Bauer asserted that the lawsuit against it stemmed from its investigative reporting, thus satisfying the first prong of the anti-SLAPP statute, Code of Civil Procedure §425.16: protected activity. In particular, it maintained that engaging Mathews's services constituted "conduct in furtherance of…the constitutional right of free speech in connection with a public issue or an issue of public interest.," expressly covered by the statute.
Currey's Opinion
Justice Brian S. Currey of Div. Four said in Thursday's unpublished opinion, which affirms an order by Judge Rupert A. Byrdsong:
"Here, Bauer concedes Mathews's placement and use of the tracking device was illegal and not protected speech. But it insists it merely hired Mathews to take photographs, not illegally place a tracking device. That assertion, however, contradicts allegations in the first amended complaint that Bauer hired Mathews and LA Intelligence both to stake out the hospital during Simmons's visit and to track and report on Simmons's whereabouts, making Bauer vicariously liable for their torts. This factual dispute goes to the merits of plaintiffs' claims and is not relevant to the first prong of the anti-SLAPP inquiry."
Currey added:
"Because Bauer's alleged conduct in the first amended complaint falls outside the protections of the First Amendment and the bounds of section 426.15, the trial court properly denied the anti-SLAPP motion."
2003 Opinion
Bauer insisted that the Court of Appeal's 2003 opinion in Lieberman v. KCOP Television, Inc. is "squarely on point." There, television news reports, aired on Los Angeles's Channel 13, were based on conversations that were surreptitiously recorded, in contravention of Penal Code §632.
Div. Four held that notwithstanding that illegality, the complaint "fell within the scope of section 425.16"—that is, that the first prong was satisfied. (The panel, differently constituted from the present one, went on to affirm the denial of the anti-SLAPP motion, finding that the plaintiff satisfied his burden under the second prong: showing a probability of prevailing on the merits.)
Currey said in Thursday's opinion that "Bauer's argument that it is entitled to the same first amendment protection as the defendant in Lieberman…is a red herring," explaining:
"Unlike Bauer, the defendants in Lieberman and similar cases did not deny participation in the purported wrongdoing; instead, they asserted it was protected conduct in furtherance of free speech as defined by section 416.15, assertions with which the appellate courts agreed."
The case is Simmons v. Bauer Media Group USA, LLC, B296220.
Parties' Appellate Lawyers
Davis Wright Tremaine, the firm that unsuccessfully represented KCOP in Lieberman, represented Bauer in the present appeal. Its lawyers assigned to he case were Eric M. Stahl, Cydney Swofford Freeman and Elizabeth A. McNamara.
Neville L. Johnson and Ronald P. Funnell of Johnson & Johnson acted for Simmons, as well as for his co-plaintiff, Teresa Reveles, his caretaker.
Mathews and LA Intelligence, who are defendants in the action, were not parties to the anti-SLAPP proceedings.
In 2018, Mathews was charged with two counts violating Penal Code section 637.7(a) which provides: "No person or entity in this state shall use an electronic tracking device to determine the location or movement of a person." The offense is misdemeanor.
Under a plea bargain, he pled "no contest" to counts of tampering with a vehicle in violation of Vehicle Code §10852 and was placed on three years' probation.
Superior Court Lawsuit
In 2017, Simmons sued in Los Angeles Superior Court over an allegation in the National Enquirer that he was transitioning to become a female. He lost, with Judge Gregory Keosian granting an anti-SLAPP motion based on Simmons's failure to meet his burden under §416.15's second prong: a showing of a probability of prevailing on the merits.
Keosian said:
"This court finds that because courts have long held that a misidentification of certain immutable characteristics do not naturally tend to injure one's reputation, even if there is a sizeable portion of the population who hold prejudices against those characteristics, misidentification of a person as transgender is not actionable defamation absent special damages."
Simmons filed an appeal, but a secret settlement was reached with American Media, Inc., which publishes the supermarket tabloid.
Copyright 2020, Metropolitan News Company