Thursday, February 6, 2020
Page 1
Governor Issues Posthumous Pardon Of Civil Rights Leader Rustin
Says 1953 'Vagrancy' Conviction Was Based on Homosexuality, Declares Effort Will Get Underway to Identify Other Convictions Based on Sexual Orientation
By a MetNews Staff Writer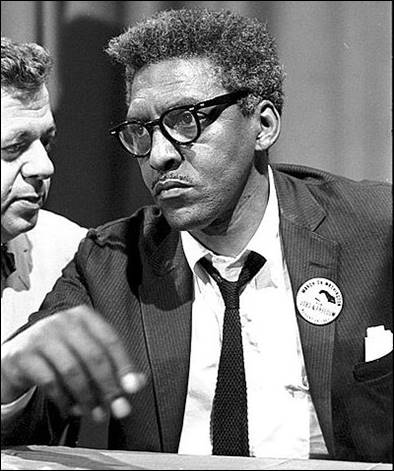 —Library of Congress
Bayard Rustin is seen at an Aug. 27, 1063 press conference discussing the Civil Rights March on Washington, to occur the following day.
Gov. Gavin Newsom yesterday took the rare action of granting a posthumous pardon, with the action taking place 67 years after the conviction in Pasadena Municipal Court of civil rights leader Bayard Rustin for "lewd vagrancy."
The governor pledged an effort to ferret out other convictions predicated on consensual homosexual conduct.
Rustin had been arrested in Pasadena on Jan. 21, 1953, along with two other men engaged in sexual conduct in a parked car. He was sentenced the following day by Pasadena Municipal Court Judge H. Burton Noble (later a judge of the Los Angeles Superior Court) to 60 days in jail, and was actually incarcerated for 50 days.
Governor Comments
"In California and across the country, many laws have been used as legal tools of oppression, and to stigmatize and punish LGBTQ people and communities and warn others what harm could await them for living authentically," Newsom said. "I thank those who advocated for Bayard Rustin's pardon, and I want to encourage others in similar situations to seek a pardon to right this egregious wrong."
The pardon was granted at the request of the California Legislature's Black Caucus and LGBTQ Caucus, with Los Angeles District Attorney Jackie Lacey on Tuesday adding her support to the effort.
Rustin, who died in 1987, was a confidante of Martin Luther King Jr. He was a key organizer of the 1963 March on Washington, attended by an estimated 250,000 persons.
Previous Posthumous Pardon
Posthumous pardons by governors have been granted across the nation, but with extreme rarity. Then-Gov. Pete Wilson granted one in 1996 to Jack Ryan, who had died in 1978.
It was apparently the only previous posthumous pardon in California's history.
Ryan was arrested in 1928 for statutory rape. After an overnight interrogation, he confessed to two murders, then pled guilty, and was given a life sentence.
In 1947, the man who interrogated Ryan admitted he had set him up. Ryan was paroled in 1953.
Then-Gov. Ronald Reagan in 1969 commuted Ryan's life sentence to time served, relieving him of his status as a parolee.
Wilson said in 1996 in issuing the pardon that "California acknowledges an injustice inflicted upon a 25-year-old Native American 68 years ago," declaring that Ryan "was unjustly railroaded into pleading guilty for crimes he did not commit."
There is no statutory authority for a posthumous pardon, but no proscription on it.
_______________________________________________________
Text of Governor's Posthumous Pardon
HE CALIFORNIA LEGISLATIVE Black and LGBTQ Caucuses requested posthumous pardon of Bayard Rustin, a humanitarian and civil rights icon.
On January 22. 1953, the Los Angeles County Superior Court convicted 41-year-old Mr. Rustin of a misdemeanor violation of Penal Code section 647.5 (vagrancy). The court sentenced Mr. Rustin to 60 days in jail and ordered him to register as a sex offender.
California, like much of the nation, has a disgraceful legacy of systematically discriminating against the LGBTQ community. This discrimination has token many forms including social isolation and shaming, surveillance, intimidation, physical violence, and unjust arrest and prosecution. Mr. Rustin was sentenced pursuant to a charge commonly used to punish gay men for engaging in consensual adult sexual conduct. His conviction is part of a long and reprehensible history of criminal prohibitions on the very existence of LGBTQ people and their intimate associations and relationships.
Mr. Rustin, a visionary champion for peace, equality, and economic justice was a key strategist and organizer behind the 1963 March on Washington. He worked closely with Dr. Martin Luther King, Jr. to organize the March and the Montgomery Bus Boycott. He was fundamental in integrating nonviolent direct action into the civil rights movement.
Mr. Rustin, a native of New York, traveled around the country and world to promote civil and human rights, and trained hundreds of people on nonviolence. While in California in 1942, he visited Japanese Americans imprisoned in the Manzanar internment camp and reported on the camp's humanitarian conditions. On August 8, 2013, President Barack Obama posthumously awarded Mr. Rustin the Presidential Medal of Freedom, the highest award in the United States, describing him as "an unyielding activist for civil rights, dignity, and equality for all."
Mr. Rustin was criminalized because of stigma, bias, and ignorance. With this act of executive clemency, I acknowledge the inherent injustice of this conviction, an injustice that was compounded by his political opponents' use of the record of this case to try to undermine him, his associates, and the civil rights movement.
By the laws of this state it is proper that I, as Governor of the State of California, give testimony that Mr. Rustin merits this posthumous pardon
_______________________________________________________
Text of L.A. District Attorney Jackie Lacey's Entreaty That Rustin Be Granted Pardon
 JOIN THE CALIFORNIA LEGISLATIVE LGBTQ Caucus and the California Legislative Black Caucus in requesting that you posthumously pardon Mr. Bayard Rustin.
Your pardon of this distinguished man would redress an ugly chapter in our state's history and ensure this dedicated and brave civil rights leader is given his rightful place in the annals of our great nation.
Mr. Rustin was one of the most significant civil rights leaders of our time, whose great accomplishments, unfortunately, were overshadowed by a 1953 conviction in Los Angeles County for vagrancy—a crime used unjustly against gay men for participating in consensual sexual activities.
Before his conviction, Mr. Rustin helped organize the Journey of Reconciliation in 1947, which set the groundwork for the Freedom Rides of 1961, and served to test the Supreme Court ban on racial discrimination in interstate travel.
ESPITE HIS CONVICTION, he remained a confidant of Dr. Martin Luther King, Jr., serving as a key organizer of the 1963 March on Washington for Jobs and Freedom and helping to establish the Southern Christian Leadership Conference.
Mr. Rustin and his historic contributions to the civil rights movement, however, were relegated to the background after his conviction in Pasadena while on a lecture tour. Mr. Rustin was required, as part of his sentence, to register as a sex offender for the remainder of his life.
The conviction and lifetime registration requirement were humiliating for Mr. Rustin, but more devastatingly, they gave foes ammunition to attack civil rights leaders for their mere association with a gay man. In fact, U.S. Senator Strom Thurmond read Mr. Rustin's entire criminal file into the Congressional Record in an effort to undermine the entire civil rights movement.
HE CALIFORNIA WE LIVE IN TODAY is much different than in 1953. The crimes that targeted Mr. Rustin and other members of the LGBTQ community were wiped from the law books long ago. Today California stands as a leader for civil rights, LGBTQ rights and criminal justice reform.
This is a nonpartisan issue. Both Democrats and Republicans have recognized the momentous contributions Mr. Rustin made toward securing civil and humanitarian rights in this country.
President Ronald Reagan praised Mr. Rustin at the time of his death in 1987 stating, "He will be sorely missed by all those who shared his commitment to the twin causes of peace and freedom. As few men have, Mr. Rustin understood that the struggle for the two is inseparable; either we achieve them both or neither. Mr. Rustin held to this belief all his adult life."
N 2013, PRESIDENT BARACK OBAMA posthumously awarded Mr. Rustin the Presidential Medal of Freedom, our nation's highest civilian award, for his dedication and leadership in the quest for equal rights for all Americans.
Throughout his life, Mr. Rustin was troubled by his criminal record and status as a registered sex offender. If he were alive today, Mr. Rustin would have the opportunity to address this injustice by seeking to erase his criminal record and status as a registered sex offender. Because he is not, we have a responsibility as a state to grant Mr. Rustin a posthumous pardon.
I believe your action will send an important message that we in California reject the government's oppression of any people, no matter how long ago, and that we are committed to learning from and correcting grievances from a shameful past as well as preserving and protecting the rights and dignity of all people.
Copyright 2020, Metropolitan News Company